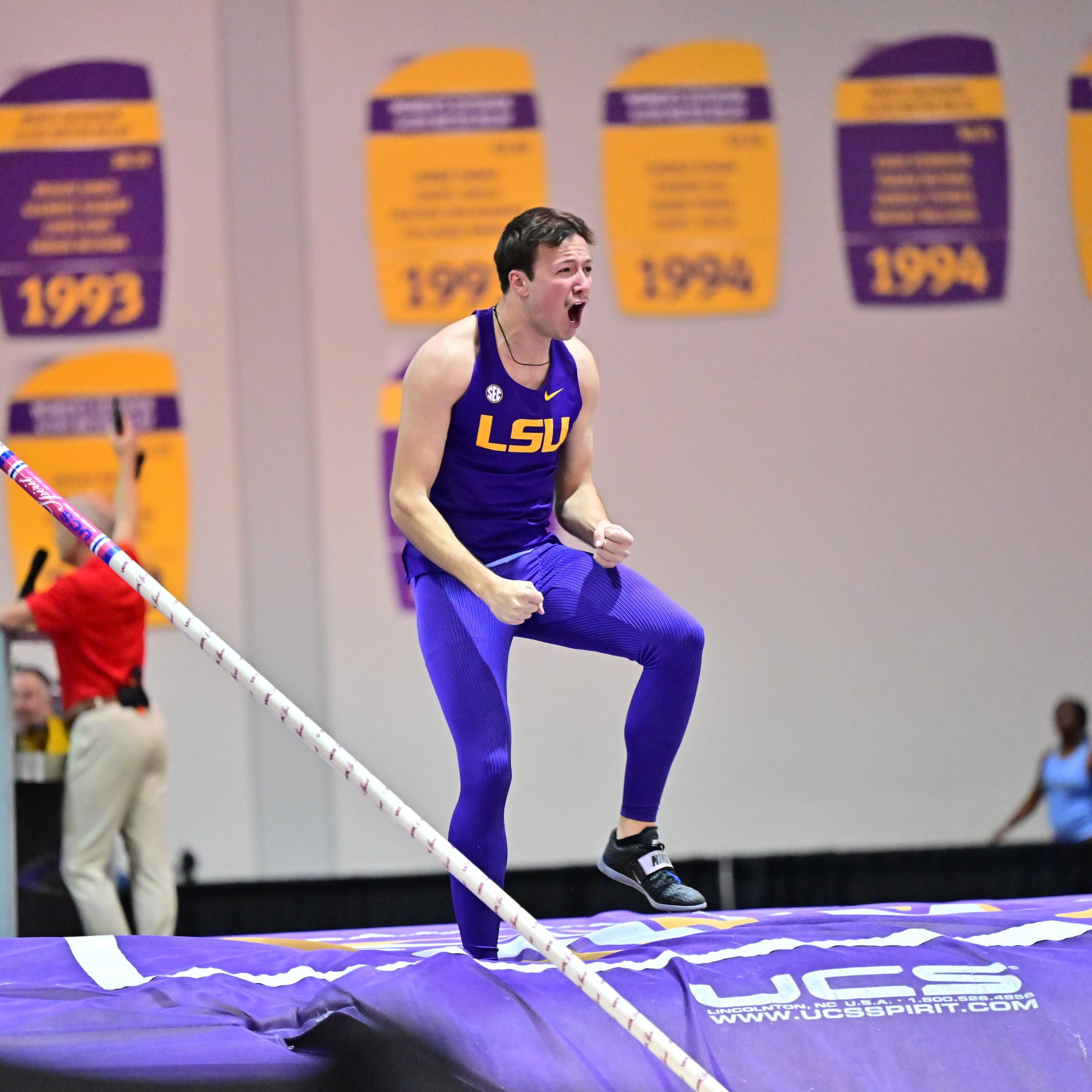 With a partial team assembled for the last performance before next week's SEC Indoor Championships, LSU produced 12 first-place efforts at Friday's LSU Twilight Meet at the Carl Maddox Fieldhouse.
The LSU men won seven events, the women five.
Sprinter Godson Oghenebrume ran a personal best 6.58 to win the 60 meters. The time is the third best in school history.
Distance runner Adele Broussard was the meet's lone double winner with wins in the mile (4:57.28) and 3,000 meters (10:15.78).
Luke Witte won his specialty – weight throw – with a season's best effort of 70-6 ½ while the Tigers also picked up wins from Matthew Sophia in the 60 hurdles (7.93), Will Dart in the 3,000 (8:34.18), Claudia Romero in the shot put (59-3) and Ji'eem Bulloch in the long jump (24-8 ¼).
The Tigers swept the pole vault competition with Kameron Aime winning for the men (16-6 ½) and Johanna Duplantis (13-1 ½) the top college jumper for the women.
Sprinter Favour Ofili was tops in the 60 (7.18), Leah Phillips in the 60 hurdles (8.18) and Morgan Smalls in the high jump (6-0).
ALEX WILSON INVITATIONAL
LSU sent its two distance medley relay teams to Notre Dame Saturday with both the men and women producing school records.
The women's finished fourth in the race but ran 10:56.41 with the team of Michaela Rose, Ella Onojuvwevwo, Lorena Rangel-Batres and Cindy Bourdier breaking the school mark of 1:57.61 set in 2017.
The men's team of Ashton Hicks, Alex Selles, Davis Bove and Parker McBride was 10th in the race with a time of 9:22.83, breaking the existing school mark of 9:31.66 set in '17.