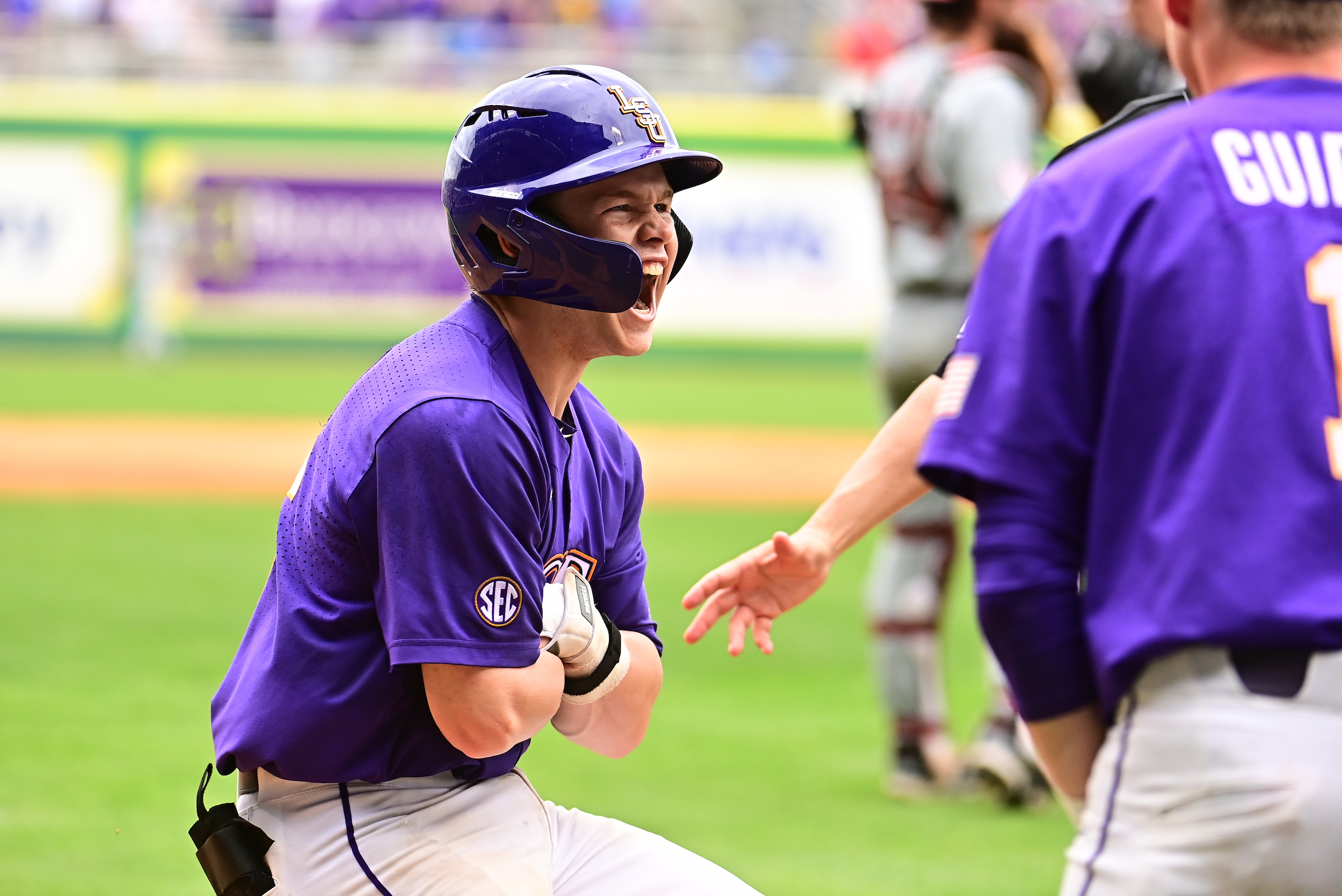 Call it a knockout between two Southeastern Conference college baseball heavyweights.
No. 1 LSU is the one now having to peel itself off of the canvas heading into a suddenly crucial Saturday doubleheader.
No. 5 Arkansas scored eight runs in the top of the 10th inning, using the deadly combination of a three-run pinch-hit home run from a freshman and then a monster grand slam from a veteran to beat LSU, 9-3, at Alex Box Stadium, Skip Bertman Field.
The game was tied at 1-1 heading into extra innings.
Arkansas freshman pinch-hitter Reese Robinnet hit a three-run homer to left center to break open the 1-1 tie in the 10th for a 4-1 lead. Designated hitter Kendall Diggs followed a few batters later and launched a no-doubt grand slam to break the game open, 9-1.
LSU (19-3, 2-2 SEC) added two runs in the bottom of the 10th when center fielder Dylan Crews hit a two-run home run, but that was all the Tigers could muster.
The teams will play two games on Saturday to complete the weekend series. The next game is scheduled for a 1 p.m. Saturday and will be televised on SEC Network. The second game on Saturday will start at 6:30 p.m. and it will be streamed on SEC Network +.
Both games on Saturday will also be broadcast on LSU Sports Radio Network affiliates (98.1-FM).
"It was two good teams going at it," LSU baseball coach Jay Johnson. said. "You can't ask for a better performance than what Paul Skenes delivered today; it was complete domination. Unfortunately for us (Arkansas starter) Hunter Hollan was really good, and Hagen Smith is a guy we really had a hard time with last year. You have to credit those guys for executing pitches, so we have to re-set and get ready to go tomorrow."
LSU freshman pitcher Chase Shores (0-1) was the losing pitcher with two innings in relief of ace Paul Skenes. Shores allowed one run on only one hit and struck out three, while Skenes pitched seven full innings. He allowed only one run on two hits and struck out 12 but walked three batters after walking four all season coming into the game.
Sophomore pitcher Hagen Smith (4-0), a former starter who is working his way back from injury through the bullpen, picked up the win. He gave up three runs on five hits and struck out eight in 4.2 innings of work.
LSU freshman catcher Brady Neal tied the game at 1-1 in the bottom of the eighth inning when he hit a one-out, 1-0 pitch over the left-center field fence for his second hit of the game.
The Razorbacks (20-2, 4-0) scored once in the top of fourth after Skenes proved to be human. The Tigers' junior ace gave up a lead-off double to Josenberger after being up 0-2 in the count.
With Josenberger on second base, a wild pitch moved him to third and scored on Peyton Stovall's sacrifice fly for the first run of the game.
Neal's homer tied it in the bottom of the eighth-inning with his blast.
In the bottom of fourth, LSU blew a scoring opportunity when Tre' Morgan botched an attempt to steal home. It was the first of two major base-running gaffes for the Tigers in the game.
Morgan hit a two-out triple to deep center off of Arkansas' starting lefty Hunter Hallan, throttling a change-up left up in the strike zone. Morgan attempted to steal home with freshman Designated Hitter Jared Jones at the plate when Hallan's pitch got away from catcher Parker Rowland. Morgan hesitated, then took off to home but was once Rowland quickly located the ball was tagged out at the plate.
In the top of the sixth, Skenes struck out Rowland then, after only walking four batters total so far this season, walked shortstop John Bolton and Josenberger on back-to-back at-bats – both after full counts. Stovall grounded out to second base for the second out of the inning, but that advanced both runners 90 feet. With Bolton on third base and Josenberger on second, Skenes went up 1-2 to left fielder Jared Wegner, but then also walked him to load the bases. Skenes struck out first basemen Brady Slavens looking, to stop the bleeding without incurring any more damage.
Skenes ended the sixth at 94 pitches, but he threw 34 pitches in the sixth alone.
Neal singled to right field to lead off the bottom of the sixth. Hallan then struck out Pearson for his seventh strike out of the game. It was his 84th pitch and Arkansas coach Dave Van Horn decided to make a pitching change before Hallan had to face Crews for the third time.
Smith relieved Hallan in order to face the LSU All-American. Smith struck out Crews and then jumped ahead of Tommy White, 0-2, and struck him out swinging two pitches later to end the inning with the Hogs still up, 1-0.
Arkansas right fielder Jace Bohrofen singled to center field to lead off the seventh, a short fly ball that dropped before Crews could get to it. The inning ended when Neal threw Bohrofen out attempting to steal second base after Skenes had forced Diggs to fly out and then struck out third baseman Harold Coll, his 12th strike out of the game.
In the bottom of the seventh inning, a base-running mistake hurt an LSU scoring opportunity again.
With two outs, Brayden Jobert singled to right giving the Tigers runners on first and second. Dugas had led off the inning by getting hit by the pitch. However, Smith caught Jobert sleeping on the base path and picked him off to end LSU's second scoring threat of the game to that point.
Shores relieved Skenes to start the eighth inning.