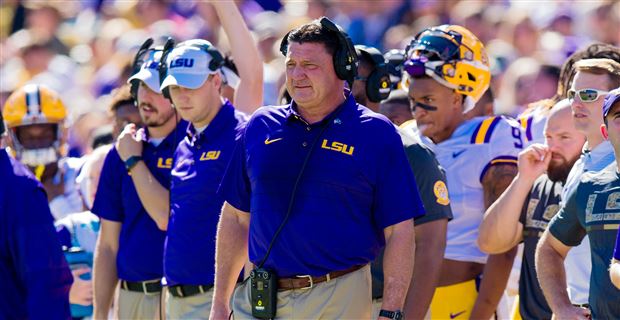 A contract extension that would come with a significant raise for LSU coach Ed Orgeron is on the agenda for Wednesday's meeting of the LSU Board of Supervisors.
The contract, if approved, would extend Orgeron through the 2023 season, a two-year addition to his current deal. Orgeron would earn $4 million per year — a 14 percent raise — with $400,000 in additional incentives under the proposed agreement.
Orgeron's buyout would increase to $10 million with the amount set to decrease by $250,000 each month through March 2021. The buyout will remain $4 million for the balance of his contract if the agreement is terminated without cause.
News: There's a proposed contract extension and raise for Ed Orgeron on the agenda for Wednesday's #LSU Board of Supervisors meeting

If approved, Orgeron would receive a 14 percent raise. Story will be posted shortly pic.twitter.com/YwvzKSmQbn

— James Moran (@SmartestMoran) March 18, 2019
The contract is already signed by LSU Athletics Director Joe Alleva as it appears on the agenda. The meeting is set for 9 a.m. Wednesday.