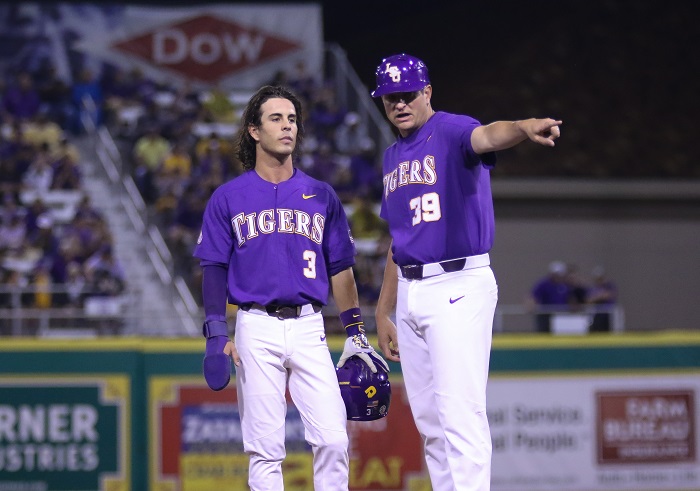 By JAMES MORAN | Tiger Rag Associate Editor
Tuesday wasn't a great day for LSU's 2017 recruiting class, with three blue chip signees agreeing to terms before being selected on day two of the MLB Draft.
Wednesday, however, went much better.
Two of LSU's top recruits, outfielder Daniel Cabrera (Parkview Baptist HS) and right-hander Nick Storz (Poly Prep County Day | Brooklyn, NY), affirmed that they'll be coming to school despite being selected on the final day of the draft.
"Blessed to say I'm 100% a tiger and can't wait to play at the box with the best fans in the country!" Cabrera posted on twitter shortly before being selected in the 26th round by the San Diego Padres.
"Since the day I committed to LSU I couldn't wait to play in Alex Box Stadium in front of the best college fans! Very excited to be a tiger," Storz wrote. The Detroit Tigers selected him in the 31st round not long after.
Joining them on campus will be blue chip catcher Mason Doolittle (Jupiter High School | Jupiter, Fla.), who went undrafted. He's expected to compete for time behind the plate right away next season with Mike Papierski being drafted in the ninth round by the Houston Astros.
The Tigers may lose one more signee, however, with JUCO right-hander Cam Sanders being selected in the 18th round by the Padres. His chances of coming to school are viewed as a coin flip by the staff.
TWO RELIEVERS TAKEN
Two LSU relievers were selected on day three of the MLB Draft, with at least one of them fully expected to sign professionally.
Hard-throwing right-hander Hunter Kiel was taken in the 18th round by the Chicago White Sox. Left off the postseason roster, Kiel left the program weeks ago to begin attending professional workouts. He pitched to an 18.47 ERA in 6.1 innings across 10 relief appearances.
The more interesting decision belongs to right-hander Doug Norman, who was selected in the 25th round by the Cincinnati Reds. Norman made three appearances this season before undergoing Tommy John Surgery.
It's not immediately known if Norman will sign with the Reds or return to LSU next season, but considering the uncertainty of Tommy John surgery, the possibility certainly exists that he signs for whatever is offered.
FORMER TIGER TRACKER
Two former LSU players were taken on days two and three of the draft.
Lefty Jake Latz was selected in the fifth round (No. 164 overall) by the Texas Rangers Tuesday. Latz, who left the program last summer, sat out this season after transferring to Kent State. Arm injuries plagued his two seasons as a Tiger.
Outfielder Brody Wofford was selected in the 14th round by the Cincinnati Reds. Wofford spent last season as a backup outfielder for LSU before transferring to Chipola Community College over the winter.