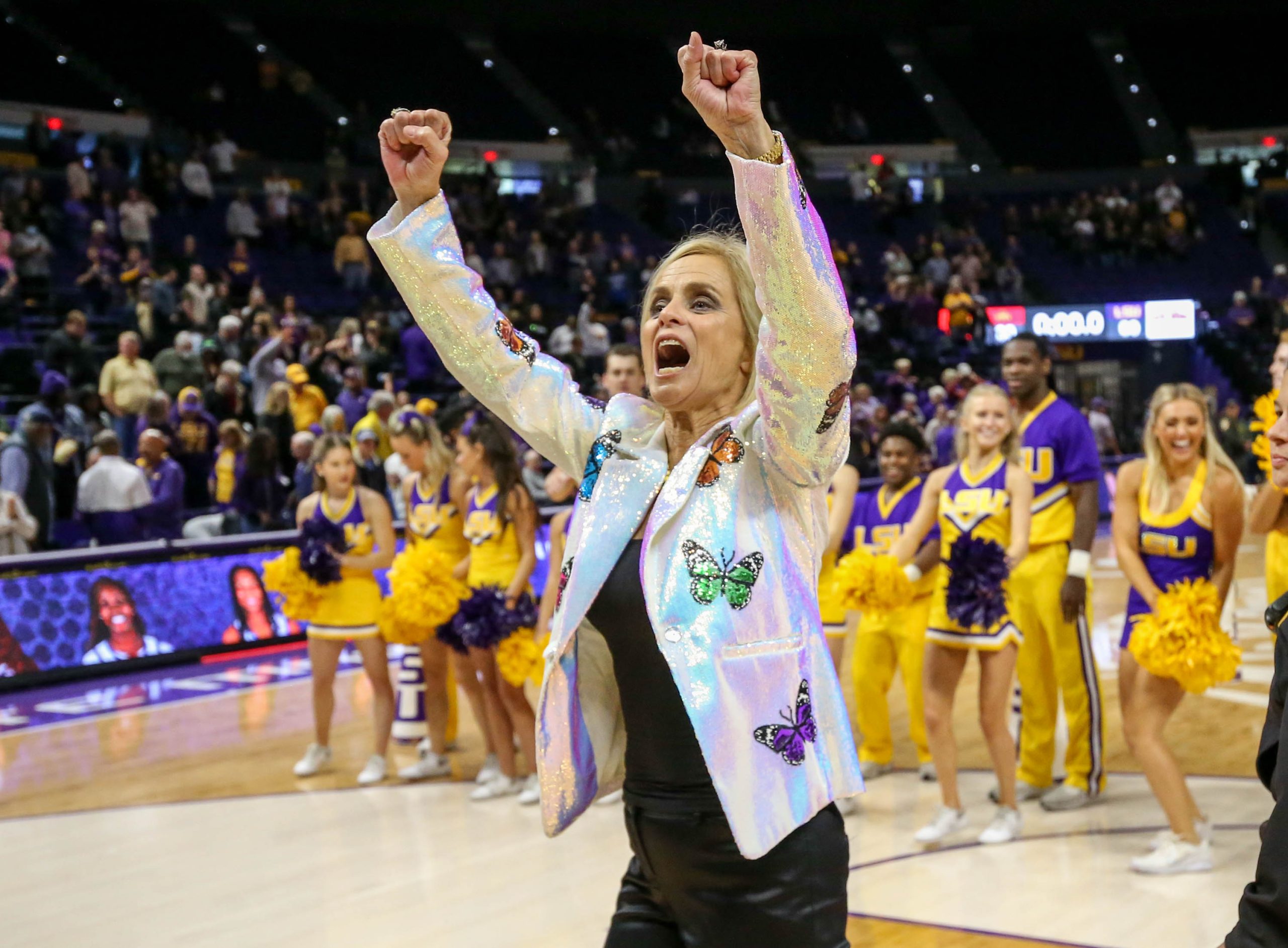 In getting to host the NCAA Tournament at home, the LSU women's basketball program of first-year coach Kim Mulkey helped erase several long-standing droughts for the program.
When the No. 3 Tigers (25-5), who are part of the Spokane Region, host No. 14 Jackson State (23-6), the Southwestern Athletic Conference, at the Pete Maravich Assembly Center Saturday at 4 p.m., they will do so for the first time since 2012 on ESPNU.
The other bracket in Baton Rouge features No. 6 Ohio State tipping at 1:30 p.m. against the winner of Missouri State/Florida State play-in game with the eventual winner facing the LSU-Jackson State survivor on Monday at a time to be released.
"I just get excited for the people sitting there that are going to see the first-and-second round deal here the PMAC," Mulkey said. "I just get excited for the players that have never been in part of this. That's my excitement"
LSU last appeared in the NCAA Tournament in 2018 where they last won a game (76-67 over West Virginia) in 2014. The program's No. 3 seed is the highest since they were third in 2003 in the Eugene Regional.
"I'm excited for LSU amongst a lot of negativity right now," Mulkey said. "What a great feeling for everybody."
LSU's first season under Mulkey has been a trendsetting one in many areas.
The Tigers have won their most games since the 2007-08 season when they were 31-6 and earned the program's fifth straight trip to the Women's College Final Four.
LSU started this season 14-1, including Top 25 wins over Iowa State, Georgia and Texas A&M, before going toe-to-toe with No. 1 South Carolina in a 66-60 home loss to the Gamecocks.
One of the hallmarks of the Tigers' season has been their consistency marked by a season-high losing streak of just two games.
LSU finished the regular season on a seven-game win streak, including a 57-54 road win over Tennessee to secure the league's No. 2 seed. The Tigers, who played their last three games without second-leading scorer Alexis Morris, fell 78-63 to eventual SEC Tournament champion Kentucky in the quarterfinal round.
The team's strength has been rooted in its backcourt play with graduate student Khayla Pointer, a two-time All-SEC first-team guard, leading the way at 19 points and 6.5 rebounds followed by Morris (15.8) and graduate student center Faustine Aifuwa (9.7, 6.6 rebounds).
Mulkey said Morris' status hasn't changed since suffering a strained MCL in the early stages of the Feb. 24 game with Alabama. She said Morris has been present at the team's practices but has not taken part in a full-team workout.
"She's been rehabbing," Mulkey said. "She's done stuff on her own on the floor."
LSU faces the nation's hottest team in Jackson State which has the longest winning streak of 21 games.
The Tigers began with a 2-6 record, losing to eventual NCAA Tournament teams Miami, Ole Miss, Texas and Arkansas over that stretch, before tipping off its current win streak Jan. 5 with a 75-49 win over Alcorn State – the start of SWAC play where the Lady Tigers went 18-0 and won the league's tournament (101-80) over Alabama State.
SWAC Player of the Year Ameshya Williams-Holliday, a 6-4 senior, leads Jackson State in both scoring (19.6) and rebounding (11.4), while second team All-SWAC guard Dyzsha Rogan is second (14 points). Junior forward Miya Crump, who scored a team-high 22 in the SWAC Championship game, is third (9.3).