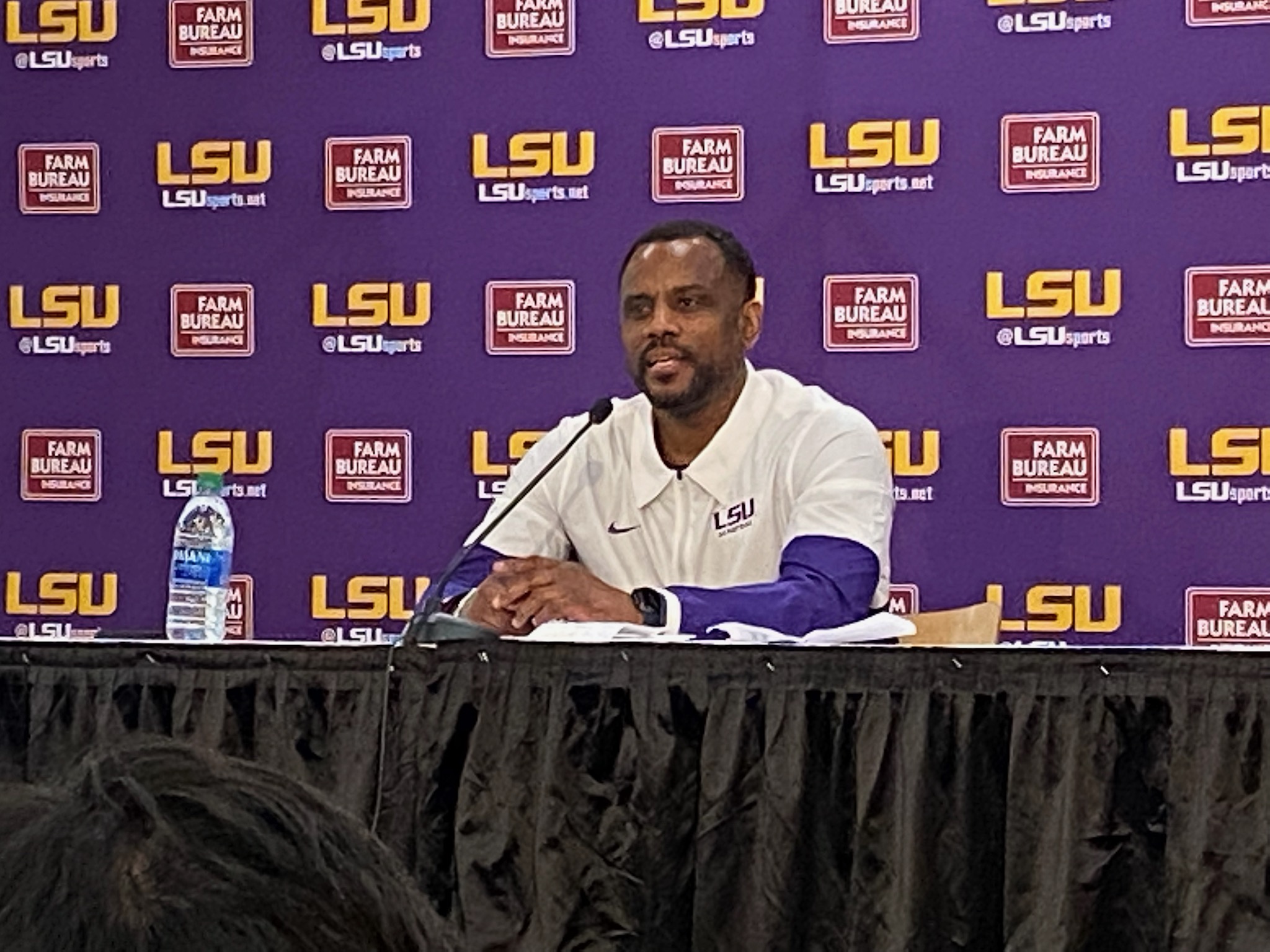 A day after having its top two coaches removed for the remainder of the season the LSU men's basketball team got a dose of good news from the NCAA's Selection Committee.
Despite the firing of both head coach Will Wade and associate head coach Kevin Armstrong, LSU (22-11) received a No. 6 seed and will face No. 11 Iowa State (20-12) at Fiserv Forum in Milwaukee, Wisc. in the Midwest Region.
The game, which will be broadcast locally by 98.1-FM, is set for 6:20 p.m. Friday and will be televised by TBS. The LSU-Iowa State winner is matched with the No. 3 Wisconsin-No. 14 Colgate winner on Sunday at a time to be announced.
LSU (22-11, 9-9 SEC) has reached the NCAA Tournament in each of the last three seasons with the 2020 postseason canceled because of the COVID-19 pandemic.
The Tigers are going into postseason play for the second time in four years with an interim coach, this time they'll be led by interim head coach Kevin Nickelberry, who has recently been a head coach at Howard. He's been on staff since 2019 where he was elevated to an on-floor coaching position in 2020-21.
"I'm not the first interim coach in America," Nickelberry said. "No one's going to feel sorry for me. Iowa State's not going to feel sorry for me. They're not going to feel sorry for our players. We've got to go out and play, we've got to compete."
Wade was suspended by LSU from coaching the SEC and NCAA tournaments for his lack of cooperation in meeting with school officials in 2019 to talk about recruiting allegations.
The school announced it fired both head coach Wade and Armstrong on Saturday in the wake of a notice of allegations from the NCAA.
"The team was heartbroken," Nickelberry said. "But they're resilient. We're going to love them up. They're going to learn that at the end of the day that resiliency will bring us together. Will bring us closer. We'll play for LSU. They'll play for the letters on their jersey."
LSU split its two games at the SEC Tournament, opening last Friday with a 76-68 win over Missouri. The Tigers were sent packing following a 79-67 loss to Arkansas.
The Tigers advanced to the second round of the NCAA Tournament a year ago, registering a 76-61 win over St. Bonaventure only to drop an 86-78 decision to Michigan.
"This is a tough situation for everybody," Nickelberry said. "But right now I'm charged with the responsibility of getting these young men focused for the task at hand. Even in these challenging times I think the staff can lead these young men to where they want to be. They've had a great year."
LSU won its first 12 games this season until opening SEC play with a 70-55 loss at Auburn. The Tigers rebounded with home wins over both Kentucky (65-60) and eventual SEC Tournament champion Tennessee (79-67) but in the process lost senior guard Xavier Pinson with a knee injury.
LSU wound going 9-9 in league play, finally getting Pinson back near 100 percent healthy to finish fifth with an 80-77 overtime win over Alabama.
Sophomore transfer Tari Eason was voted the SEC's Newcomer of the Year and first team selection, leading LSU in scoring (16.9), while senior Darius Days was a second team selection at 13.7 points and team-high 7.7 rebounds. Pinson and guard Brandon Murray, a choice on the SEC's All-Freshman team, both averaged 10.1 points.
Iowa State is back in the NCAA Tournament for the first time since 2019 under first-year head coach T.J. Otzelberger. The Cyclones began 12-0 this season and peaked at No. 8 in the national polls, a span which included wins during the NIT Preseason Tipoff on Nov. 26-27 with wins over No. 25 Xavier (82-70) and No. 9 Memphis (78-59).
The Cyclones finished seventh in the Big 12 Conference with a 7-11 record and lost in their first game in the league's postseason tournament to Texas Tech (72-41) on March 10.
They were led on the All-Big 12 Conference team by senior guard Izaiah Brockington, a Penn State transfer, who is team's leader in scorer (17.2) and rebounder (7.1) – a pair of categories that rank him third in conference play.