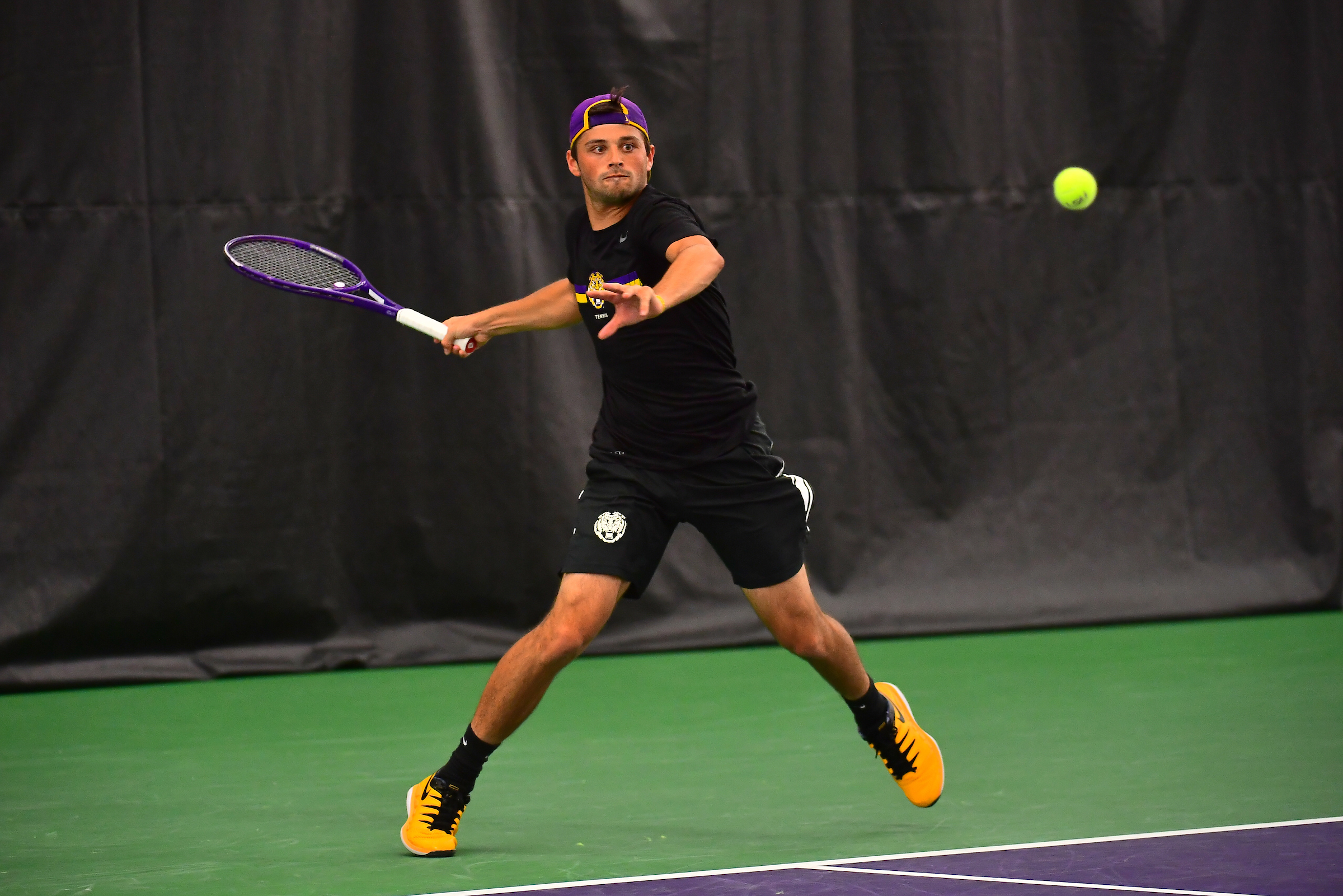 The LSU men's tennis team scored its biggest win since last April with a 4-3 upset of No. 20 Ole Miss on Sunday. The Tigers completed a weekend sweep on the day with a 7-0 victory over New Orleans.
Ole Miss Match
In doubles, Ronald Hohmann and Vlad Lobak took down the No. 2 ITA ranked duo in the nation of Finn Reynolds and Lukas Engelhardt on court one, 6-3. The last time a Tiger took down a top-5 opponent, Joao Graca and Joey Thomas defeated then Tennessee's No. 3 ITA-ranked Pat Harper/Adam Walton, 6-4, on April 9, 2021.
LSU (9-5, 1-3 in SEC) kept its composure after losing the overall doubles point, winning five of the six courts in singles. Hohmann, ranked No. 50, made quick work on court one, defeating No. 21 Nikola Slavic 6-2, 6-1. Kent Hunter would give the Tigers the lead after a 6-3, 6-4 (4) win over Hallqiust Lithen. The Tigers took the lead back after Gabriel Diaz Freire's straight-sets loss when Vlad Lobak defeated Finn Reynolds, 6-4, 6-4. LSU completed the upset after Joao Graca defeated Simon Junk, 7-6(5), 7-5. Boris Kozlov would finish the match off and giving LSU a 5-2 victory after defeated No. 104 Jan Soren Hain, 7-6 (7-2), 6-4.
New Orleans Match
LSU finished with a perfect day in their second match against UNO. The Tigers dropped three games in doubles as Hohmann/Lobak defeated Lagarde/Volz, 6-2, and clinched the doubles point after Ben Koch and Nick Watson defeated Armbruster/Tangri, 6-1.
LSU went perfect in singles on all six courts ended in straight-set victories.
Hunter and Lobak shutout their opponents, 6-0, 6-0, on courts two and three and Hohmann capped his 4-0 day with a victory on court one, 6-2, 6-2.
Koch made his dual season debut in singles and only dropped three games in his 6-2, 6-1 win on court six. Kozlov would put the Tigers up 6-0 after a 6-2, 6-1, victory on court five and Diaz Freire capped off the sweep with a 6-4, 6-1, on court five.
LSU is back at it next week when they travel to Nashville to take on Vanderbilt on Friday, March 18, then to Tuscaloosa on Sunday, March 20.
#50 LSU 5, #20 Ole Miss 2
Singles
#50 Ronald Hohmann (LSU) def. #21 Nikola Slavic (OM) 6-2, 6-1
Vlad Lobak (LSU) def. Finn Reynolds (OM) 6-4, 6-4
Kent Hunter (LSU) def. J. Hallquist Lithen (OM) 6-3, 6-4
Lukas Engelhardt (OM) def. Gabriel Diaz Freire (LSU) 6-4, 6-2
Joao Graca (LSU) def. Simon Junk (OM) 7-6 (7-5), 7-5
Boris Kozlov (LSU) def. #104 Jan Soren Hain (OM) 7-6 (7-2), 6-4
Doubles
Ronald Hohmann/Vlad Lobak (LSU) def. #2 Finn Reynolds/Lukas Engelhardt (OM) 6-3
Jan Soren Hain/Simon Junk (OM) def. Gabriel Diaz Freire/Kent Hunter (LSU) 6-0
Nikola Slavic/J. Hallquist Lithen (OM) def. Boris Kozlov/Nick Watson (LSU) 6-2