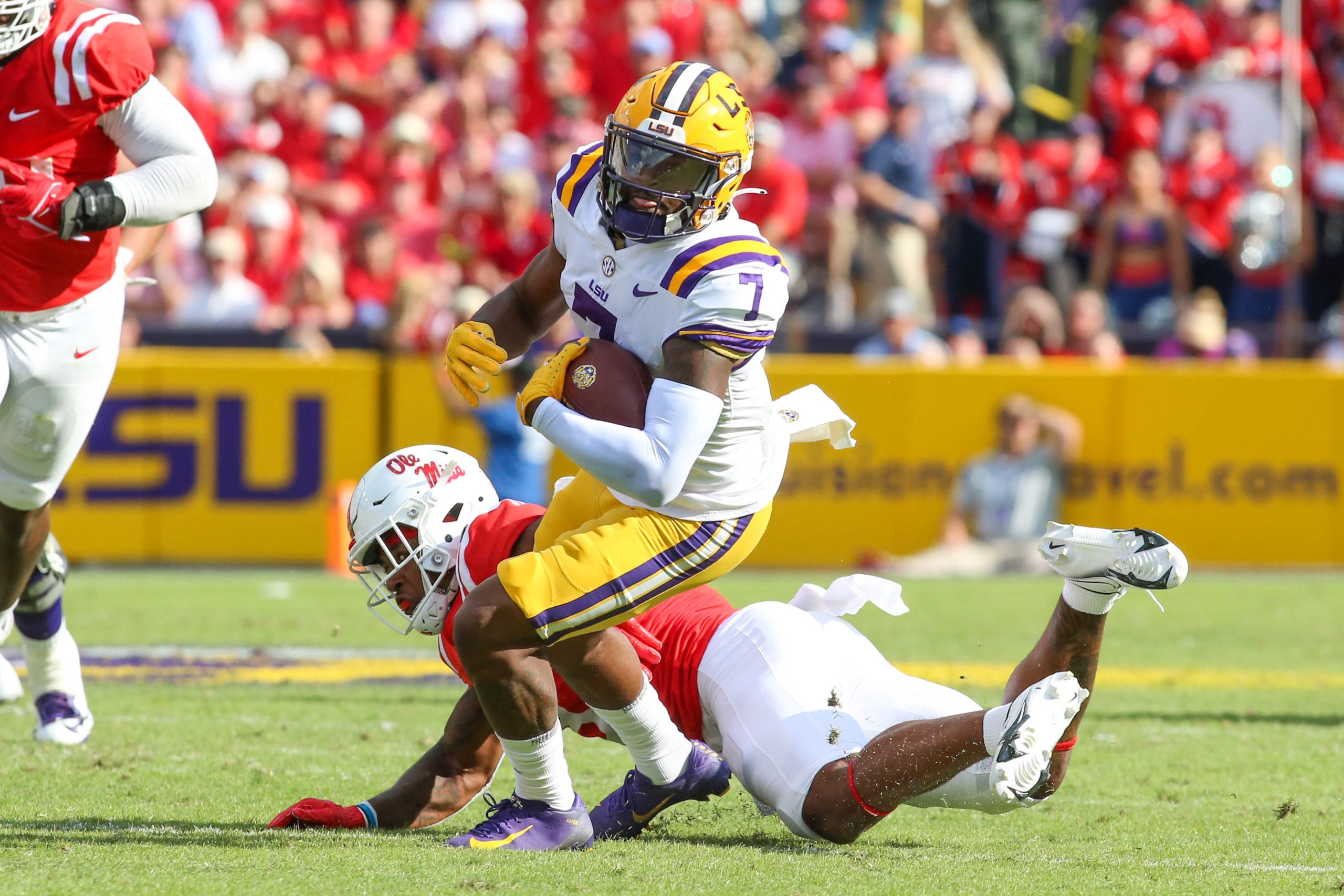 There's been no real good way this week for LSU first-year football coach Brian Kelly to answer the question.
Just how do you beat Alabama?
Considering the Tigers have only defeated the Crimson Tide once in their last 11 matchups and haven't beaten them in Tiger Stadium since 2010, it's been a perplexing question for more than a decade.
"We must get off to a good start because we've shown that we're going to play well in the second half, but we have to play well for four quarters," Kelly said. "We have to play consistently, one play at a time. All the basic tenants of a game like this. That's why you come to LSU. It's not pressure, it's a privilege to play in games like this. Certainly, this is why I came to LSU, to play in games like this."
Kelly gets his first taste of SEC Western Division matchup when No. 15 LSU (6-2, 4-1 in SEC) hosts No. 6 Alabama (7-1, 3-1) at 6 p.m. Saturday on ESPN.
The game will be carried locally by 98.1-FM.
"I feel this is the team you want to play," LSU junior wide receiver Kayshon Boutte said. "I wouldn't say we would want to play anybody else. It's a great time for us. We're in a great position. Adversity's at our hands. We've just got to execute."
LSU rallied from a low point Oct. 8 in a 40-13 home loss to Tennessee, the No. 1 team in the CFP rankings, with a 45-35 victory at Florida. They also knocked off previously undefeated and then No. 7 Ole Miss 45-20 before enjoying last week's bye in the schedule.
The Tigers appear rejuvenated after their open date and are certainly healthier with the expected return of starting safety Major Burns on defense along with running back John Emery Jr. and wide receiver/return specialist Jack Bech on offense. Kelly offered conflicting reports Thursday about sophomore left offensive guard Garrett Dellinger, whose playing time may come down to a game time decision.
"Those guys are playing better and better all the time, too, and making plays and are being productive," Alabama football coach Nick Saban said. "So, this is a really, really good team, all the way around. And now they're starting a new system, offensively, lots of new players. They're starting to get confidence and believe in exactly what they're supposed to do and how they're supposed to do it, and they're playing really effectively."
LSU junior cornerback Mekhi Garner downplayed the significance of the game which would give the winner a leg up in the race for the West Division's championship and a berth in Atlanta for SEC title game.
"It's just another game for us," he said. "The stakes are a little higher this week."
Alabama dropped from the ranks of the unbeaten Oct. 15 in a 52-49 loss at Tennessee. The Tide, which won the SEC Championship last season but lost in the rematch to Georgia in the national title game, responded with a dominant performance in a 30-6 home win over Mississippi State two weeks ago.
The Crimson Tide is propelled once again by reigning Heisman Trophy winner Bryce Young, who missed the Texas A&M game with a shoulder injury, to complete 146 of 221 passes for 1,906 yards with 18 touchdowns and three interceptions. Jahmyr Gibbs leads the Tide in both rushing (98 carries, 672 yards, 6 TDs) and receiving (31 catches, 301 yards, 3 TDs).
"Pressing the pocket," LSU sophomore defensive tackle Mehki Wingo said of defending Young. "Just making sure he's not back there just sitting on his spot, getting to his first read. We want to get him moving a little bit, flush him and get him outside of the pocket."
Kelly knows defensing Young will be unlike anything his defense has faced to this point.
"There's no real good answer," he said. "In many instances you can't defend him because he's so elusive and he wants to throw the football. He could take off so many times when he's trying to find receivers down the field and just has a great awareness. In a sense he's a true quarterback. He's not a scramble around guy that's just throwing it up there. He's very intentional about everything that he does. He's not taking sacks. He's the Heisman Trophy winner, and he should be. He's the best player in college football."
Not only has LSU improved its national ranking to a season's best No. 15 in The Associated Press but debuted this week at No. 10 in the CFP rankings.
One of the driving forces in the Tigers' ascent has been because of the play of junior quarterback Jayden Daniels, who combined for 11 touchdowns in his team's last two wins.
Daniels directs an offense averaging 35 points and 450 total yards, having completed 69% (165 of 236) of his passes for 1,812 yards with 12 touchdowns and one interception. He's also the Tigers top rusher with 524 yards and a school-record nine touchdowns.
Junior Josh Williams is the team's top rusher from the running back position with 305 yards and four TDs, while sophomore Malik Nabers tops the Tigers with 36 receptions for 455 yards and a TD.
"Magnitude of the game," Wingo said of Saturday's contest. "They're going to get our best and we're going to get theirs. It's going to be a big game for us, a tough test."