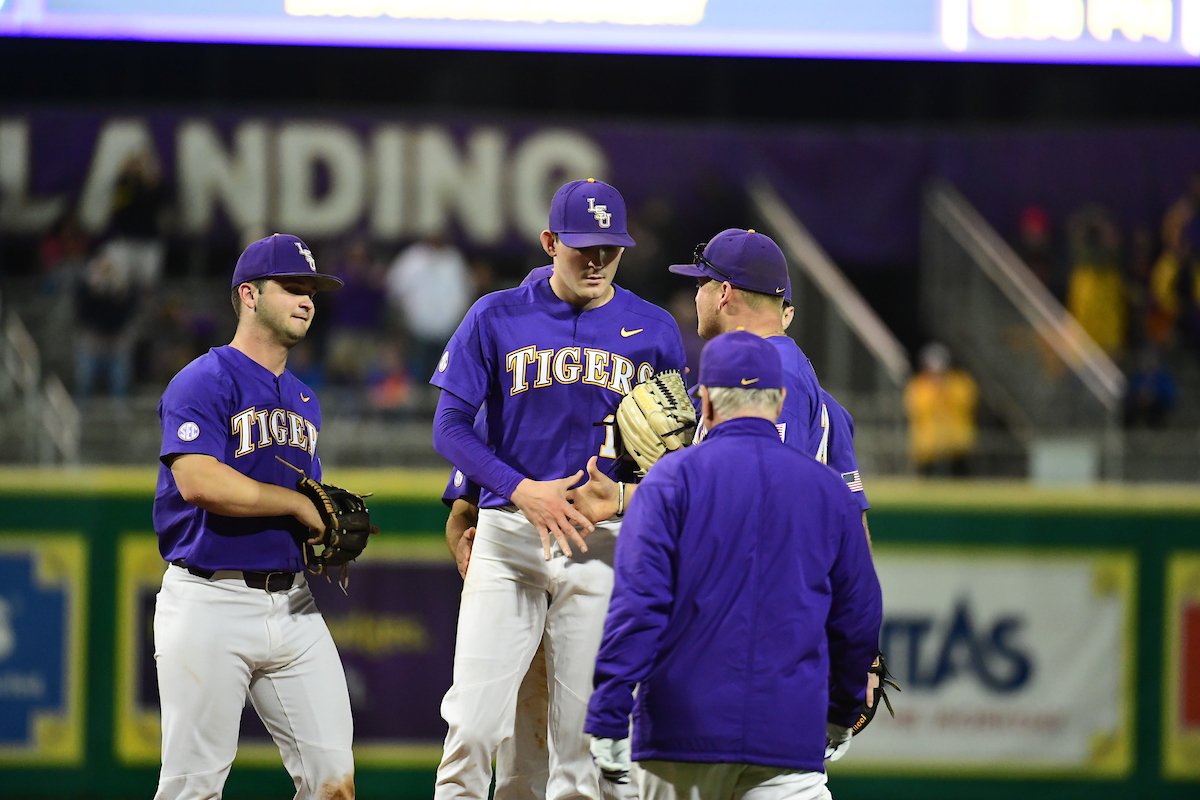 Just when LSU seemed to be getting healthy, its blossoming superstar of an ace is being left home from a Southeastern Conference series.
Cole Henry is out for this weekend's series at Alabama due to elbow soreness, LSU coach Paul Mainieri announced on Thursday. An MRI came back clean, but Henry is being left in Baton Rouge nonetheless.
"It was a shock me to, to say the least, when I got that news," Mainieri said.
Instead LSU will go with a weekend rotation of Zack Hess, 100 percent back from his groin injury, Eric Walker and the ignominious TBA against the Crimson Tide.
There is reason to believe Henry won't miss an extended period of time, according to Mainieri. The plan is for the freshman to throw on his own this weekend, and if all goes well, he could rejoin the rotation next weekend.
It's worth noting that both Aaron Nola and Alex Lange both were given one-week breaks during their own freshmen seasons to prevent fatigue. The obvious difference of course is that those absences were planned ahead of time.
"Hopefully it's just one of those deals where he just needs to take a week, have some rest and recover," Mainieri said.
The Henry injury upends a plan Mainieri confirmed he'd been hatching since Easter Sunday. He spent Monday informing all involved parties that Henry would be ascending to Friday night with Hess moving back to the bullpen for the stretch run.
"Zack was gung ho and fired up about doing it," Mainieri said. "About two minutes later the trainer walked into my office and told me about Cole Henry's elbow being sore. So that kind of changed our plans. Every day is a new surprise it seems."
The decision to move a true freshman to Friday night isn't typical under Mainieri, even if he's had plenty of freshmen phenoms during his tenure.
Even Nola and Lange started on Saturdays behind Kevin Gausman and Jared Poche', respectively. But Henry's numbers through six SEC starts do compare favorably to almost every LSU pitcher who preceded him.
Take a look at how Henry compares to some other notable LSU arms through their first six SEC starts:
Cole Henry (2019): 37 innings pitched, 3.41 ERA, 11.92 K/9
Eric Walker (2017): 35.2 IP, 4.28 ERA, 7.57 K/9
Alex Lange (2015): 40 IP, 2.03 ERA, 10.35 K/9
Jared Poche' (2014): 35.2 IP, 3.53 ERA, 4.79 K/9
Aaron Nola (2012): 34.1 IP, 4.98 ERA, 7.86 K/9
Kevin Gausman (2011): 34.1 IP, 5.77 ERA, 7.08 K/9
Under the original plan, Hess would have pitched an inning in relief against Lamar on Tuesday night. LSU is in a way fortunate that Henry's soreness cropped up early in the week so Hess could get back on his typical routine leading up to a Friday-night start.
LSU's pitching had been a disaster in its last series opener with Hess out due to a groin injury. Now the onus falls to him and Walker to do what Henry and Walker did the weekend before: pick up the slack with one of its top arms missing.
"We know we're going to have to pick our guy up this weekend," said Hess, who did interviews before Mainieri unveiled his now abandoned plan. "With Cole being out, that just means the bullpen is going to have to step up and we might have to use a few more guys than we normally do on the weekends. That's ok. That's part of it."
As for Sunday, Mainieri confirmed the plan was always to wait in terms of deciding on a starting pitcher. Todd Peterson volunteered and remains an option, but Mainieri said he won't hesitate to use Peterson out of the bullpen if he's needed to win one of the first two games.
Landon Marceaux, who threw three shutout innings against Lamar, is the only pitcher who'll be held out until the series finale.
Mainieri confirmed he'd considered Peterson as a Sunday starter under the original plan, but that also is on hold since Hess will for now remain in the rotation.