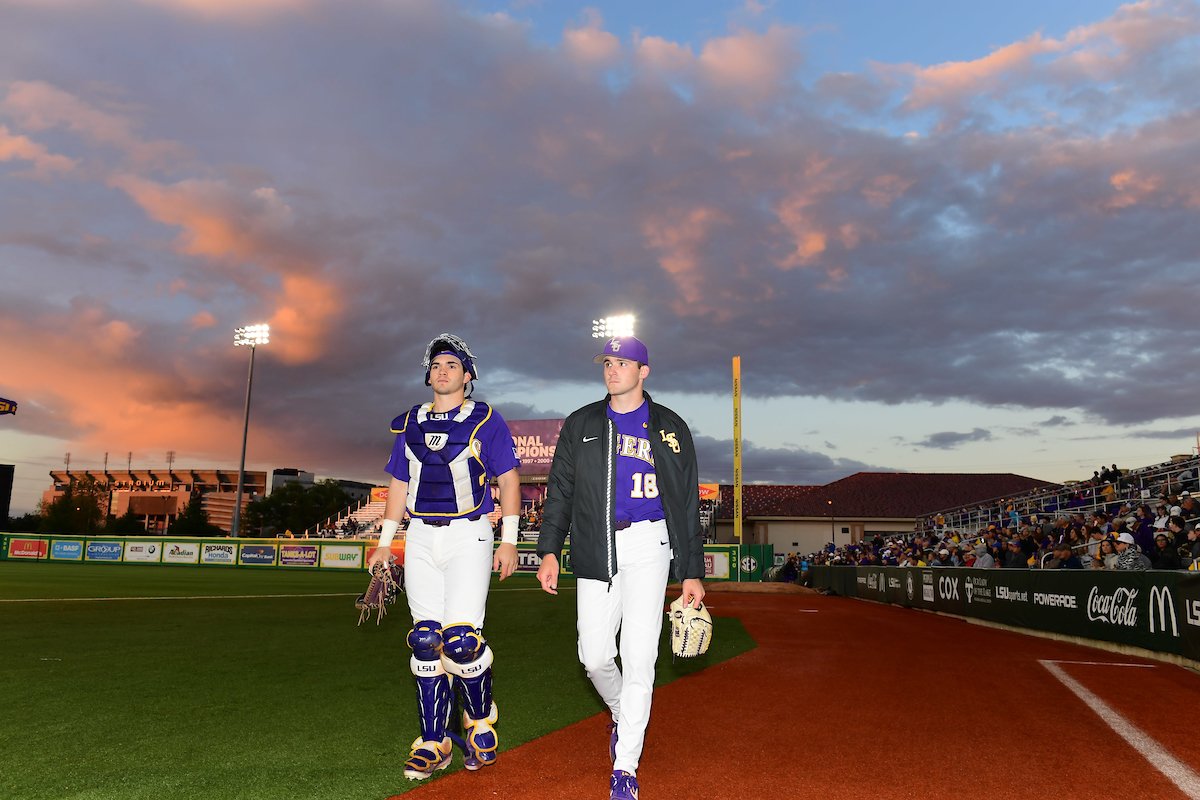 It was a loud, powerful bat that generated buzz around Saul Garza during the run up to LSU's 2019 season.
That part of his game hasn't come to fruition to this point in the campaign, but Garza is taking on an increasingly expansive role of late thanks to his quiet presence behind the plate.
Garza has started all three games at catcher during LSU's current winning streak. It started as a battlefield promotion after Brock Mathis took a foul tip off his right hand, but Garza's past two starts were coach's decisions made with Mathis healthy and available to play.
"I just wanted him to catch (Landon) Marceaux," LSU coach Paul Mainieri said after LSU's 5-3 win over Lamar on Tuesday night. "Marceaux is a guy who really tries to spot the ball, and Garza has some really good framing skills. He's kind of a big body so he gives a wide target. He has pretty soft hands.
"So I just thought it would be a confidence boost for Marceaux to throw to somebody of that stature behind the plate. I don't know if it helped or not, but I thought it would going in."
Marceaux threw three scoreless innings in his return to the mound, following the trend set by Cole Henry and Eric Walker with Garza doing the catching. All three earned the victory in their respective starts while holding Florida and Lamar to three earned runs on 13 hits in 14 cumulative innings of work.
LSU pitching coach Alan Dunn calls the pitches regardless of who does the catching, so Garza's value isn't in the way he calls a game. According to Marceaux, it's a matter of Garza's wide frame and the intricacies of how he receives the pitch.
"He's quiet. He's real quiet behind the plate," Marceaux explained. "I don't mean with his voice, I mean with his body. He receives the ball and presents it to the umpire. Sometimes you see Brock kind of moving around a little bit, falling forward. He's great to throw there. Big body back there."
Garza has also earned the additional playing time with the way he's thrown the baseball, which was an issue for LSU earlier this season.
The JUCO transfer gunned down one would-be base stealer against Florida and could've gotten another had Brandt Broussard been able to apply the tag at second base.
Though he only played three innings, Garza showed off that rocket again against Lamar when he back picked a runner who wondered off first base.
Garza has done enough defensively to make LSU's catching situation into a battle once again. As of Thursday morning, Mainieri still hadn't decided on how he'll handle the position during this weekend's series at Alabama.
"I think Saul has distinguished himself with his catching," Mainieri said. "Offensively I think they've done about the same, but I think Saul has emerged a little bit as far as his defensive skills. Now I just don't know how much I can use him with his leg situation.
I don't know that he has the endurance that Brock Mathis has where he can catch every game, so I've got to figure that out. I've got five hours to figure it out on this drive."