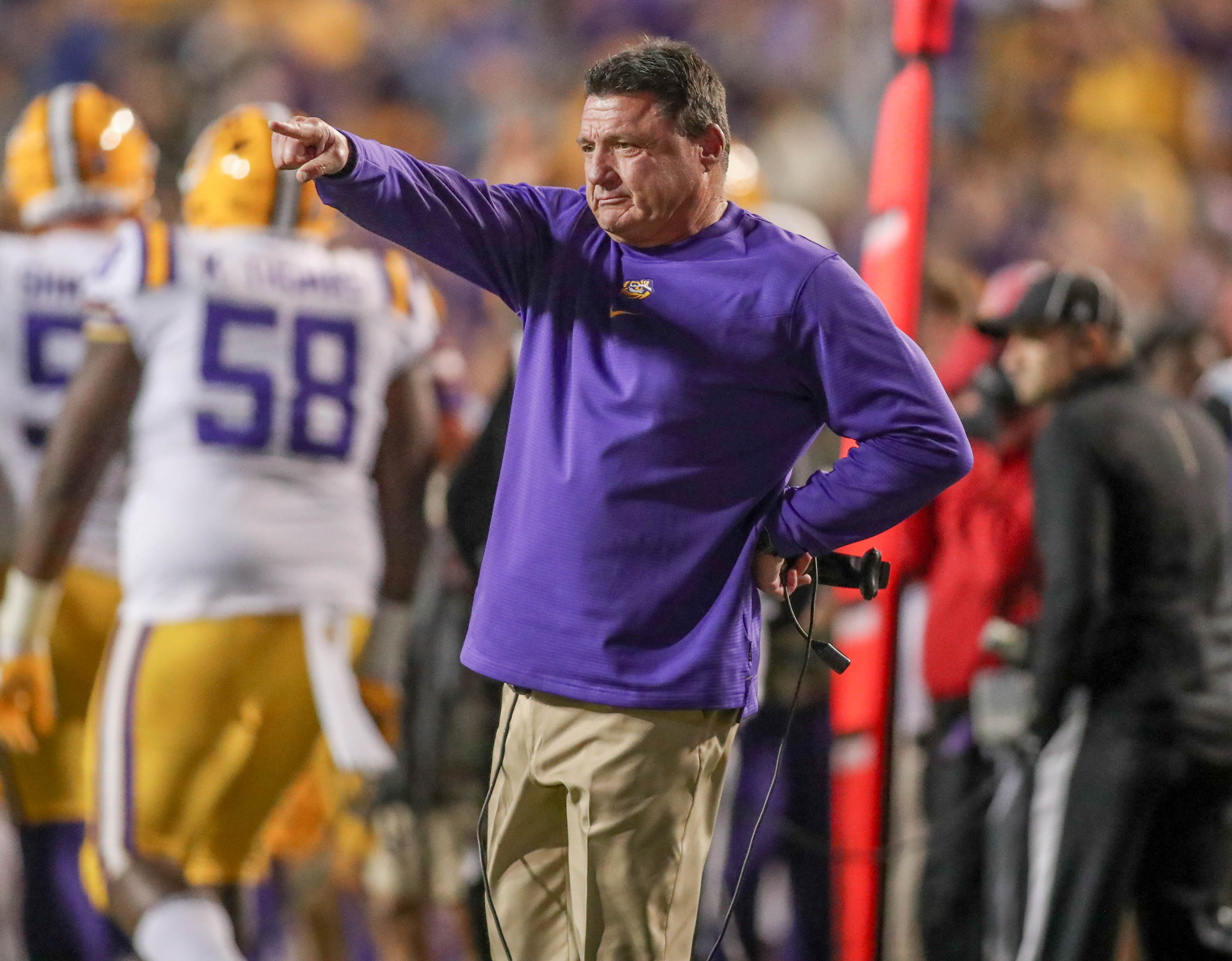 It took LSU's Ed Orgeron getting to the end of an answer before arriving at the watershed moment most fans believe would be the most memorable from his time in Baton Rouge.
In typical unassuming fashion Orgeron, who was fired Oct. 17 but allowed to finish the season, didn't rattle off the undefeated national championship season in 2019 among his coaching highlights in Baton Rouge. That seemingly career achievement took a backseat to other maybe more nondescript moments that have taken place in his rise from the team's defensive line coach to Saturday at 6 p.m. where he will coach in his 71st and final game when the Tigers (5-6 overall, 2-5) host No. 14 Texas A&M (8-3, 4-3) in Tiger Stadium.
"The day-to-day basis," Orgeron said of his fondest memories of the job during his final news conference Monday. "The excitement to come to work, to see the players. Going out recruiting. Coming down the Tiger Walk, the 2019 season. Getting the big recruit. Going out there and competing. For all the coaches and players, we've been through it's been phenomenal."
When asked whether the good outweighed the bad during his tenure, Orgeron didn't flinch.
"Oh yeah, no question," he said. "I hadn't had a bad yet. I'm not going to have a bad day. I think I'm going to make it."
Orgeron said there may be a time to become sentimental, but Monday wasn't one of them where he's trying to prepare LSU to play against one of its fledging rivals where the Tigers could use another win to qualify for postseason play.
Instead of taking any long, nostalgic walks through the last 70 games where's 50-20, Orgeron wanted to keep all of the focus on a 19-member senior class that will play for the final time in Tiger Stadium.
"With me it's always been about the team," Orgeron said. "We have 19 seniors. It's their last home game. I'm going to think about them first and we want to send them out the right way. I don't think it's going to hit me until the end. I'm appreciative of the time I had here. A lot of great days."
Senior players such as linebacker Damone Clark said after last Saturday's 27-14 win over UL-Monroe that they would be additionally charged up to play for Orgeron and send him off a winner in his final home game.
"I appreciate that, I love those boys," he said. "I want them to play for them. I want them to win for the Tigers. It's never been about me. I've been in a great situation here the whole time and I want them to win for themselves. It's about them."
Here's what else Orgeron had to say:
Opening statement
"(They have) Spread offense that's scoring about 30 points a game and they will run the football. They're pretty balanced. Isaiah Spiller and Devan Achane, who we tried to recruit here, is an excellent player that we didn't know would be a receiver or running back. He's an outstanding running back. T-Rob (Tommy Robinson) coaches the running backs. One of the things that stands out is how well their running backs and offensive line are. They have three great offensive linemen that we tried to recruit. It's going to be a battle in the trenches. They're very good on defense. They have a great defensive coordinator (Bill Elko). They're only giving up 15 points per game. Defensive end Tyree Johnson has nine sacks. (Linebacker) Aaron Hansford is all over the place and is physical and Leon O'Neal's a great safety."
On your final message to the players
"I took off my shirt after the game. I usually wait until before the game. I'm so excited about this game, I took off my shirt after the last game. We're going to be pumped up, we're going to be ready to play. This is about A&M. All respect for them. Coach (Jimbo Fisher) has done a good job. They have great players; they have great coaches. It's not like a love-hate deal. It's like a respect deal. This is LSU-Texas A&M."
On the memories of offensive tackle Austin Deculus
"His momma and daddy would come here in the spring and stayed at Lod Cook. We went there and sat there for breakfast, and it would turn into lunch. We would talk and we would joke. Austin's a very hard worker. He's a great player. He's always been there for me. Anytime I needed to call a senior leadership committee meeting I would go talk to Austin and he would handle everything. Think about all the great Tigers that played and he's played more (games) than any other Tiger. Tells you how tough he is. He was a young man that was raised right. Has great character. He came back this year for a chance at the NFL and I think he's going to be in the NFL and hopefully he plays a long time.
"Not only was he the right tackle for the (NCAA) championship football team. Players listen to Austin. There was no way I can take credit. There were some days at practice, and I never took it for granted and he misses very few practices, but when he's not there it's a different atmosphere at practice. Austin's a leader. He's kind of a jokester. Everybody likes him. He's hard to miss, he's a big man. He's been invaluable for us."
On the growth of linebacker Micah Baskerville
"Not a lot of people recruited Micah. I think they were afraid of his speed. He was very deceptive. He was the 5A MVP, the highest here in Louisiana. I was very impressed with him in high school. He has a nose for the football. Micah's gotten faster. He's worked with (strength and conditioning coach) Tommy Moffitt. He's dropped some of his body fat and turned it into muscle. He came back to have a great year for the team and also be an NFL football player. I believe he's going to fit in with some of the linebackers we've had here that played late like Duke Riley that went to the NFL and played for a long time."
On recruiting current roster
"Stay here. You came to LSU, stay committed. It's a great school for you. (Wide receivers coach) Mickey Joseph and a couple of the other coaches took out all the freshmen to eat, had a nice dinner with them. They were like, 'What should we do'? Everyone said to stay here. You made a decision to be here and they're going to hire a great man. We've sold LSU as much as we can."
On the possibility coaching in a bowl game
"I'm going to talk to the administration. I don't know what's going to happen. I want to leave here and make sure everyone's clear and when I do leave, I did the utmost I could for the LSU Tigers. If we do go to a bowl, I'll talk to the administration. We need to have a conversation and see what's best for the football team."
On performance of defense in last game
"We missed some plays. We let them run the football. We missed some gaps, we missed some coverages, we missed some sacks. We had a good game; we didn't have a dominating game. That's good because the expectations are high. They're playing much better defense than at any time earlier in the season."
On play last week of Max Johnson
"I think he played really well. We all want our quarterbacks to be perfect. We all want Joe Burrow back there. He wants to be perfect back there, too. But nobody plays a perfect game. There's still somethings to grow. He's still holding the ball way too long. Sometimes he's holding the ball because a guy's not open. You can't blame him. A couple of times they went zero-blitz on us, and we didn't pick the guy up and got sacked. It's a combination of getting better on offense. It's a combination of calling better plays and him getting rid of the ball."
On your immediate plans after the season
"I'm taking the year off for sure. I've got some things I've got to get done and see what happens after that. I'm in a program of sobriety. I can't go to meetings here every day. I'd like to attend meetings. I've got a couple of speaking engagements set up already to speak to people about sobriety and my story. There are some other things I can talk to other people and help them out. Someone talked to me about representing their company in a PR (public relations) deal. Some people are talking about TV. I don't know what's going to happen. I'll take it one day at a time."
On the life lessons the senior class learned
"After you win a championship, everyone puts their fingerprints on that trophy and everybody's head gets a little bit bigger and you forget how you got there. The reason that team became a championship team is they had great assistant coaches, they had great players and the day after we lost to Troy (in 2018) we decided we wouldn't be in that position again. That's when I believe that championship started, the day after we lost to Troy. We beat Florida, went to a bowl and won. We had great players, we had great leadership. You can't take anything for granted. Life's going to throw you a bunch of curves. I tell the guys it's not what happens to you, it's how you react. This team has learned how to fight through adversity. No matter what the circumstances are outside of you, you've got to get up in the morning and decide to fight and this team has done that."
On your message to the fans
"I hope it's a great atmosphere. I think it will be. We're playing Texas A&M. It's our last game. It's a rivalry game for us. For a lot of guys, it will be their last game. It's going to be good. Those that come, I want them to cheer for our players."
On missing any specific player in senior class
"All of them. Look at Andre Anthony. I recruited him with coach (Les) Miles. We talked yesterday and we've been through everything together we're part of. We're close. A lot of them are like my sons. It's not like we're saying bye. It's going to be our last game together, but we've got each other's phone numbers and I'll text them."
On what's lacking from offense being more productive
"We just haven't clicked on all cylinders. Sometimes we're running the ball well, sometimes we're throwing the ball well and sometimes we get down in the red zone and just get bogged down. We should score more points there. It's just been a combination of a bunch of things. We just haven't put it all together yet."
On the value of having kickoff specialist Avery Atkins
"Avery's been invaluable to us. Sam Nader coached his father, that's how we got to know Avery Atkins. (Special teams) Coach Greg (McMahon) went to recruit him. He came here as a walk on. He's a great young man, great student. Wears the No. 18. Almost guaranteed the thing's going through the end zone, we're starting on the 25. His (fake punt) pass was on the money if Jontre' wouldn't have fallen, he would have gotten it. He brings a lot of stuff to the team. When I heard him speak at one of the events this summer, the guys very intelligent. I think the guy has a bright future ahead of him."