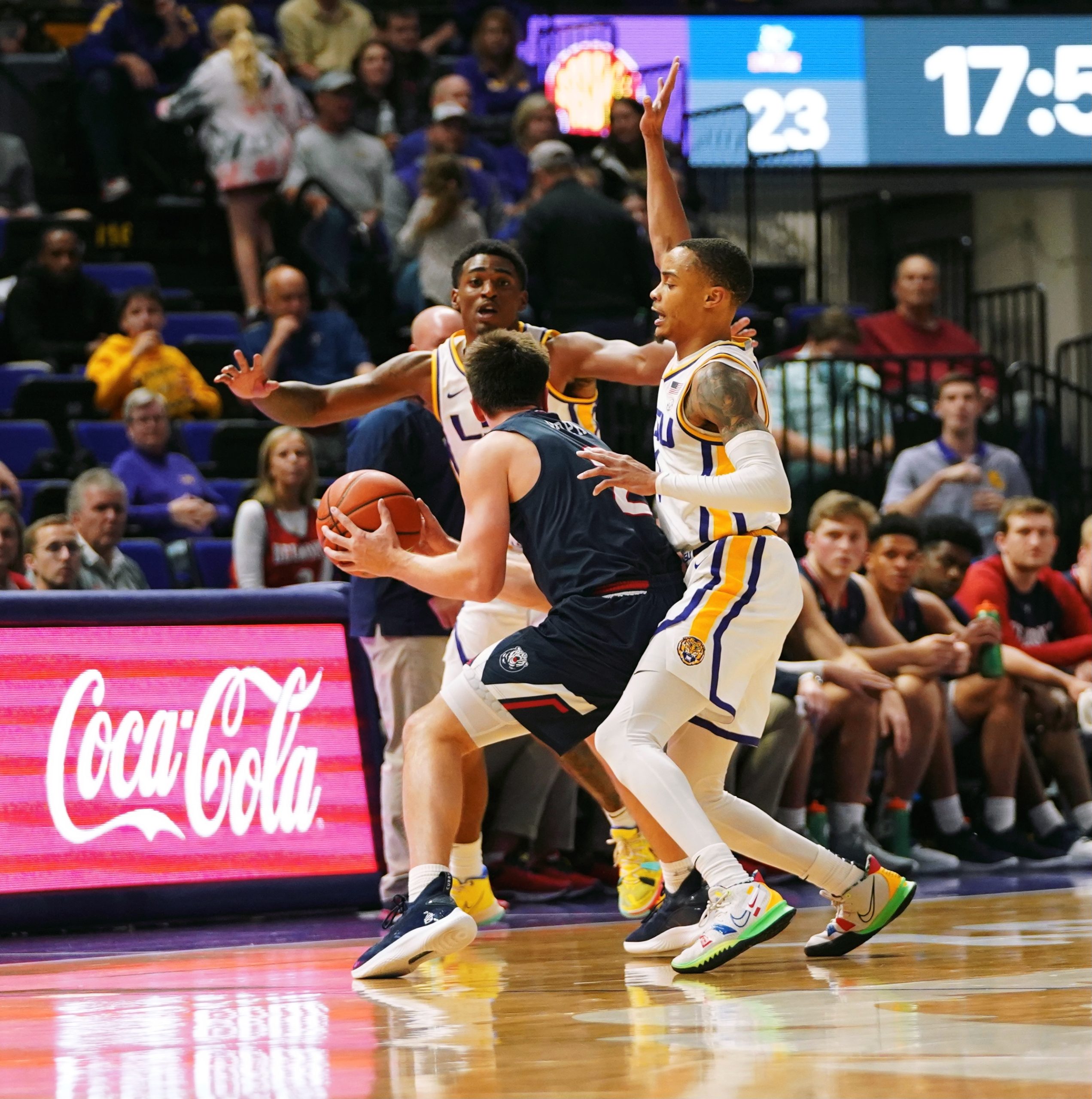 Five mid-major basketball programs, three of which won their conferences last season, have visited the Pete Maravich Assembly Center in the first two weeks of the 2021-22 season.
And all were sent back home with an average defeat margin of 35 points.
"This is a new LSU," Tigers' point guard Xavier Pinson said. "We're good defensively. We're good offensively. We feed off our defense and let it dictate our offense."
Belmont College, three-time defending Ohio Valley Conference champions and eight-time NCAA tournament participant, was the latest to get dissected by LSU's defense in the Tigers' 83-53 home victory Monday night.
The length, athleticism and defensive tenacity of unbeaten LSU (5-0) wore out the visiting Bruins (3-2) as they were held 30 points under their scoring average. It's the first time since 1946-47 LSU has held its first five opponents to under 60 points.
"Belmont's a top 30 offense, borderline top 25," LSU coach Will Wade said. "This was just not some bye-game we dominated. They are going to win 25 plus games. They are the real deal."
The Tigers bounced Belmont in what has become a familiar pattern so far this young season. A slow LSU offensive start – in this case a 7-0 deficit – is soon flipped into a burst of LSU points – in this case a 14-2 run – as the Tigers blitzed the Bruins with a barrage of defense that never let up until Wade cleared his bench late in the game.
Belmont shot 32.3 percent from the field, 25.6 from 3-point range and committed 16 turnovers leading to 21 LSU points. The Tigers' 15 steals and 42-31 rebounding dominance were factors in LSU outscoring Belmont 29-8 in fast break points and 50-20 in the paint.
"This wasn't a typical Belmont performance at all," Belmont coach Casey Alexander said. "We had a lot of trouble getting into rhythm offensively. We had a lot of good looks tonight that couldn't go down. That was a product of LSU speeding us up."
Four of the Tigers' first-year faces scored in double figures, combining for 56 points and 23 rebounds.
Transfers Tari Eason from Cincinnati and Pinson from Missouri scored 15 and 14 points respectively for the Tigers while freshman signees Brandon Murray and Efton Reid contributed 15 and 12 points respectively.
"We were just everywhere," Eason said "We were aggressive. We attack the ball. We just did what it took to win. We did all the little things."
It didn't matter that LSU senior Darius Days, the SEC's Player of the Week after averaging 20 points, 8.5 rebounds and 2 steals in wins over Liberty and McNeese last week, was held to 9 points and 7 rebounds by Belmont.
Because the Tigers' defense was again swarming and relentless, a departure from Wade's first four LSU teams. For the season, the Tigers are limiting opponents to 50.2 points per game and just 29.5 percent from the field. Also, LSU is averaging 13.9 steals and forcing 21 turnovers per game.
"You've got (Eric) Gaines and Pinson who can pressure the ball and heat that ball up," Wade said. "Then, you've got that goalie (6-11 center Reid) in the backline, you've got Tari who's got instincts, Wani (Mwani Wilkinson) who's got instincts.
"When you've got all that, you can be good defensively."
Now, the Tigers step up in class playing against Power 5 Conference teams in the Emerald Classic in Niceville, Fla. on Friday and Saturday.
LSU faces Penn State (3-1) of the Big 10 on Friday at 6 p.m., and then either Oregon State (1-4) of the Pac 12 or Wake Forest (4-0) of the ACC on Saturday.Under Wade, the Tigers are 4-6 in four holiday tournaments.
"We've been horrific in these early season tournaments," Wade said. "This is the one area that we've got to improve if we want to be the program that we want to be."