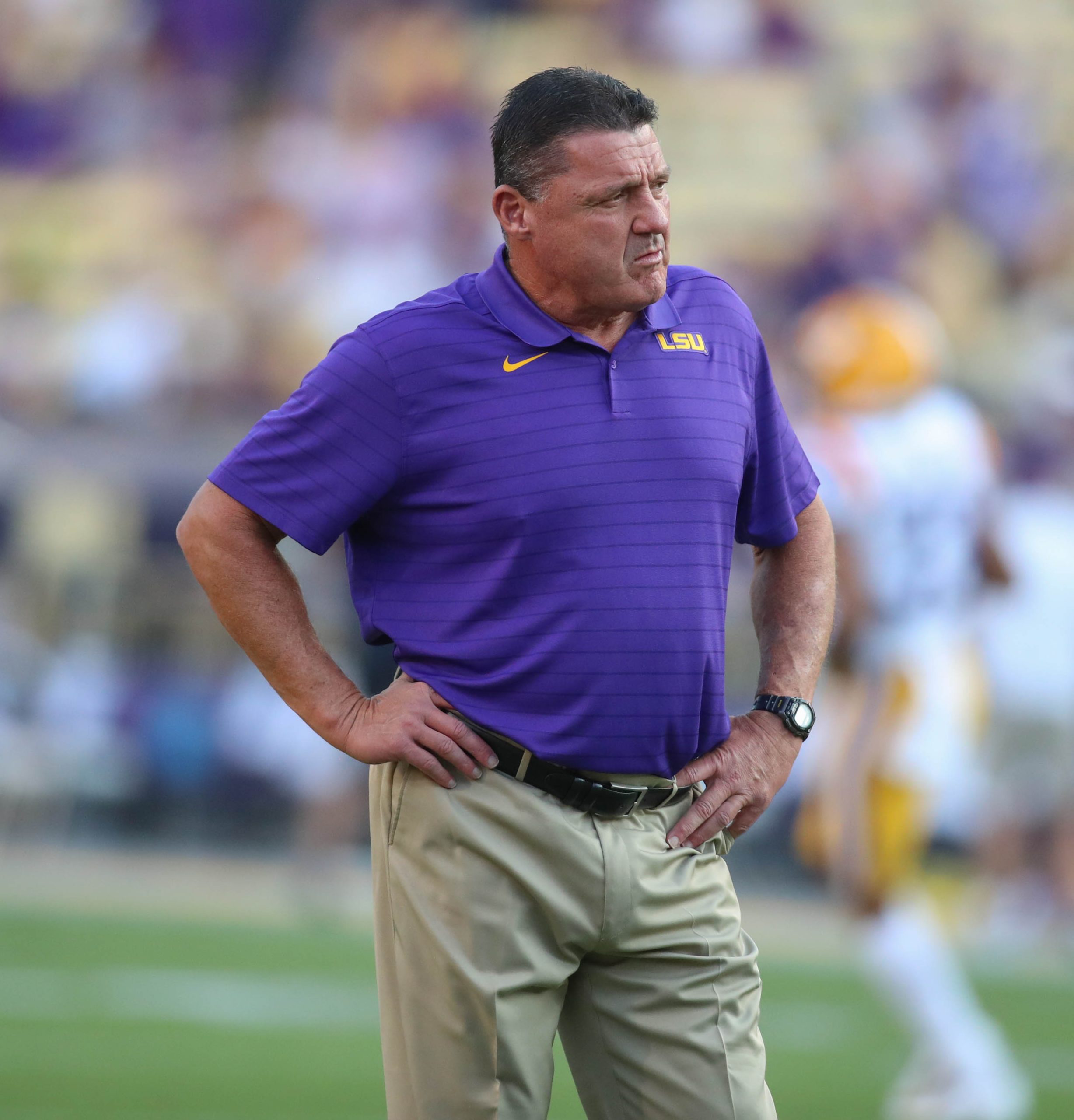 LSU football coach Ed Orgeron confirmed Monday junior running back John Emery Jr. is currently out for the rest of the season.
"As of now, John Emery is out for the year and I'm saying his unavailable," Oregron said during his weekly Zoom media teleconference.
When asked if Emery has any chance of returning this season, Orgeron said, "Right now, he's unavailable. Now if things could change, if they do change, we'll play him. But right now, he's unavailable. Could they change? Yeah, but that's out of my control."
LSU has not released any statement why Emery is ineligible. Jimmy Smith of Tiger Details said Emery's problem concerned a lack of cumulative hours earned to maintain eligibility.
"I think academics do a great of communicating with us, we meet with academics every week, " Orgeron said. "That's all I'm going to say about that."
Emery Jr., has played in 19 games in his LSU career and has 566 rushing yards and seven TDs on 114 carries as well as 20 catches for 133 yards.
Last season when he rushed for 378 yards and three TDs, Emery Jr. scored on a 54-yard TD run against Alabama.
Losing Emery Jr. is a blow for the Tigers, who rank second to last in the SEC in rushing averaging at 87.5 yards per game.
Here's Orgeron on other subjects:
On LSU's running attack
We wanted to improve in the run game and we did. We ran the ball outside, several players got the football. I was pleased with the improvement that we saw in the run game. You saw two freshman running backs (Corey Kiner, Armani Goodwin) who are outstanding. You see more of them along with Ty Davis (Price). I thought he ran the ball well. We got a lot out of our running game and more to get.
On Central Michigan
A very well-coached football team. A physical football team, 242 yards per game rushing, 34 points per game on offense led by a strong offensive line (with) really great protections and schemes. On defense, they run a 4-2-5.
On updates on running backs Armani Goodwin and Tre' Bradford
I do believe Armani Goodwin is questionable (sprained ankle) this week. It's a shame because he's an outstanding running back. Tre' Bradford (who transferred back to LSU last week from Oklahoma) as I know will be eligible for the game. We'll have to see how the week goes. Hopefully, we can play him this week.
On LSU's offensive tempo almost halting waiting for pre-snap adjustments to be signaled from the sideline
It's more we're trying to look over (the opposing defense) and get the perfect play for the perfect defense. We (the coaching staff) had a discussion that we're better off sometimes going what we call `warp' when we go fast and attack the defense. We're going to practice that this week. We're going to minimize the "check with mes". It does give the defense a chance to change defenses on our check with me and they've changed defenses almost every time. We have some mechanisms we're going to put in place this week.
On freshman running backs Corey Kiner and Armandi Goodwin possessing burst of speed
I do believe they need to touch the ball more and that's the same thing (the speed burst) I saw in camp. Those guys are dynamite, man. Both of them will be great backs. We also like Ty Davis (Price), he runs the ball well. He's a bull in there. He runs inside, outside. We need to use all three of those backs.
On the numerous dropped passes by the receivers
Every one of them (LSU's) receivers caught 10,000 balls (during the summer), they did it. We had the fewest drops in preseason camp that any camp I've been in (at LSU). So, that (the drops) came to me as a surprise. We're going to go back to fundamentals. Go back and see why they are dropping the ball. Some of them were right on the money. . .,their eyes, their hands, their technique, go back to technique and also catch some balls after practice on the JUGS machine.
On Central Michigan's run game
They run the ball very hard, they make yards after contact. They hardly go down on first contact. I saw limited film this morning. I watched their first two games. Their offensive line is very good, they have great schemes. They run all the plays people run these days but they run them fast and really attack you. The offensive line comes off the ball well. Their running backs run the ball very low and hard.
On freshman defensive tackle Maason Smith, who had three sacks vs. McNeese
He rushed the passer well against UCLA. Had some great, great moves in there. We use him on third down now, he's getting better against the run. He has a minor injury he's still playing with and has got some bumps and bruises. The guy is a monster. (McNeese QB) Cody (Orgeron, Ed's son) told me, `Daddy, when my eyes came up all I saw was No. 0 every time.'"
On the status of the three offensive line starters who missed the McNeese State game with injuries
I expect to get Chasen Hines back for sure, Austin Deculus maybe we'll have to see how the week goes and Cam Wire is out for the game.
On getting LSU's players to play to their potential
Practicing, schemes, coaching them better. I do believe we have the athletes on offense that can go. It all starts with protection first. That's mainly where our breakdowns have been. The wide receivers missed a couple of balls, but those guys are fantastic. I do believe that we can get the ball to our playmakers better in space and let them play.
On getting backup QB Garrett Nussmeier some snaps vs. Central Michigan
We'll see. We'll see how the week goes. I thought Garrett did well (vs. McNeese). Max (Johnson) is our starting quarterback and I thought he did some good things under some tough circumstances sometimes. But he did a great job. Garrett brought a spark to us. I like Garrett. If I can play him, I'll play him.
On situations where the LSU offense can speed the tempo
You've got to make it happen. We had a discussion this morning. We've looked at some things we've done in the past, how we've done it. We're going to practice it better. We're going to have a session of tempo every day this week. We're going to push it more.
On what range he (Orgeron) feels comfortable letting placekicker Cade York attempt a field goal
I try it at 60 (yards). It all depends on the game and how it's going. We won't be stupid. But if he had a nice shot at 60, I'd let him try. I think he deserves it.
On whether the UCLA game rattled LSU's confidence:
I think they're confident. It (38-27 loss at UCLA) showed us we needed to get some things fixed and it showed our weaknesses. I like when you play a good team, they show your weaknesses. Thank God we found out our weaknesses so we can fix it at the beginning of the year. All those things that happened in the UCLA game, we're working on fixing every week. I'm running the UCLA (offensive) plays again today, because I know we're going to see it. The mistakes we made in the UCLA game, some of them got fixed on defense. Now, we played a lower-tier team (McNeese) that wasn't sound on the offensive line. But we've got to continue to fix those things because we'll see them again.
On the lack of continuity on the offensive line because of injuries
We need continuity, we need everybody back, we haven't had it the whole camp.