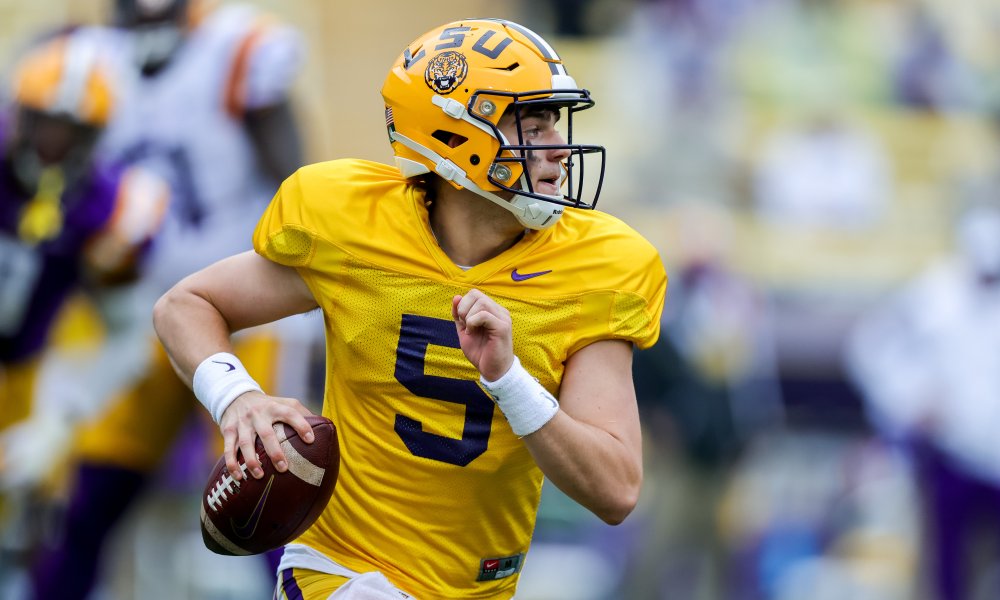 Since LSU just decided in its ninth game of its 4-5 football season to start blitzing, why not re-open the starting quarterback competition in game 10?
Tigers' lame-duck head coach Ed Orgeron, with three regular season games left plus possibly a bowl game, announced Monday sophomore starting QB Max Johnson and freshman backup Garrett Nussmeier will play in Saturday's SEC West battle vs. Arkansas in Tiger Stadium.
"They'll split reps in practice and we're going to play both Max and Garrett," Orgeron said. "Max is going to start but I'm going to give Garrett significant snaps at the beginning of the game and we'll see how it goes.
"We haven't decided exactly how we're going to do it in a game. It all depends how practice goes and it all depends on the game plan.
"If Max plays better than Garrett, he's the starter. If Garrett plays better than Max, he's the starter. I'm going to let them battle it out."
Nussmeier, a four-star pro-style signee from Marcus High School in Flower Mound, Texas and son of Dallas Cowboys quarterbacks coach Doug Nussmeier, has thrown for 150 yards and a TD this season playing in three games.
The NCAA will allow a freshman to redshirt if he plays in a maximum of four games. Orgeron has been reluctant to play Nussmeier because he didn't want him to burn his redshirt for sporadic action in five games or more.
But a combination of Johnson's inconsistency in LSU's 20-14 loss at No. 2 Alabama this past week and Nussmeier's strong desire to play now led Orgeron to change his mind.
"He came into the office yesterday and was adamant about playing," Orgeron said of Nussmeier. "He was mad he didn't play (against Alabama).
"I talked to his father Doug on Thursday and told him for me to play Garrett that they would have to be snaps that were significant and if we put him in that he's going to play the rest of the year.
"I didn't feel it was time to throw him in there for a couple of plays (against Alabama) and then burn his redshirt year. I didn't want to do that to him.
"His father called (offensive coordinator) Jake (Peetz) and said, `Here's the plan. He wants to play, let him play.'"
Johnson completed a season-low 50 percent of his passes – 16 of 32 for 160 yards, two TDs and an interception – vs. Alabama. He was sacked five times and hurried eight.
"It is mechanics sometimes," Orgeron said of Johnson's recent struggle. "But it is a matter of his proper reads, where should he go according to the coverage. Sometimes, he's doing it right, sometimes he's doing it wrong."
Here's what Orgeron had to say about other subjects:
Opening statement
All last week, I loved the mindset of our team. Like I said, we went there to win the game. I really thought we were a better team (than Alabama) that night. I still feel that way after watching the film. We were a couple of plays short.
I wish we could have put our offense in a better position to make some plays, especially on the 8-yard line down there when we had a chance to score.
Really proud of our defense. For our defense to hold them to 26 points below their season average, first time in 34 games they didn't score 30 points. Dominated the run – think about this, 6 yards rushing (by Alabama) tying for the lowest rushing yards in school history.
You've got to give credit to our players and defensive coaches. That was phenomenal. It shows that we are physically tough here at LSU.
Four of 13 on third-down 30 percent, they were first in the country. I just thought our defense whooped the offensive butt. Damone Clark and Neil Farrell did an outstanding job, but give credit to our coaches. They fought hard.
On offense, we've got work to do. Ty Davis (Price) had 100 yards rushing, I like the way he ran the football. We couldn't get a steady pace. We'd fall behind in the chains, their pass rush was too much for us at times and we just didn't have a good enough plan.
This week, we're going to let Max (Johnson) start (at quarterback), but we're going to put in Garrett (Nussmeier). Garrett's going to get some plays. I've already talked to him. We're going to let the best man. It's time to let Garrett play. He's a great quarterback. I like Max a lot. Max is our starting quarterback. I want to give Garrett a chance. I talked to him, he wants to play, so he will play against Arkansas. And the guy that ends up playing the best is going to play the most.
On Arkansas
Sam Pittman is a great coach, a great offensive line coach. I'm so glad to see the job he's doing at Arkansas, I'm happy for him. He's a good man, he's a hard-working man. They have a spread offense, the offensive line is very-well coached, big quarterback that's going to run the ball, hurry-up offense led by Treylon Burks. I recruited Treylon, a great basketball player, a great young man. I feel like he's one of the best players on the team, one of the best players in the SEC.
On defense, their coach is a great coach, (they run) a 3-2-6 scheme with five returning starters, (allowing) 24 points per game, they are very multiple. Defensive end Tre Williams leads them in sacks. Monteric Brown and Grant Morgan are outstanding players. This is a very coached team and hard-playing.
On whether LSU has an offensive identity after nine games
I wish we had more of an identity. Things break down obviously. I thought our run game came alive against Florida, we're still having problems in our protections, we're still not efficient on third-down, that's more or less some play calling, more or less execution.
On whether LSU can carry the confidence it gained vs. Alabama into the remainder of the schedule
I feel good about it. I feel good about the mindset of the team. I told them, "You play like this, we may win the rest of our games and go to bowl." They deserve that. I think this team is going to finish strong. I see a lot of fight in them. I see a lot of guys getting their opportunities and playing their butts off. Not only does the record mean a lot but these guys are playing to go to the NFL. They want to have a good showing.
On whether blitzing be part of LSU's defensive game plan the rest of the year
We weren't playing the run very well out of base 4-3 defense and we wanted to give different looks. We stemmed out of a 3-4 look many times, which they weren't ready for. We're going to continue to expound on our blitz package and see where it takes us.
On getting his players to play hard despite the lame-duck status
I think at the end of the year some people may be looking to quit and have had enough, but I don't see that in this team. I don't see that in me for sure. I'm going to enjoy all these three weeks, every day love coaching for the Tigers.
I think when you have proper leadership, this team is going to finish strong.
On Orgeron smiling and showing emotion on sideline vs. Alabama, something he hasn't done much this year
Just going into that stadium, so much had been made of the statement I made, that they are going to do this to me and all that stuff. I just wanted to compete. I love competing. Things said about me personally I don't take lightly. I can't say nothing about it, but I can do something about it. Neither I or our team was intimidated by anybody and I mean anybody on the sideline at Alabama or in the stadium. We went there to win, no disrespect to them, great coaches, great team, great fans but we were not going to go in there and get intimidated.
On what would it mean for LSU to qualify for a bowl
It would mean a lot and it starts with Arkansas. I think these guys want to keep on playing. It's good for the team. It's good for the younger guys to have 15 extra practices. It would be good for everybody as long as it has blue water and white beaches
On if he expects to have Derek Stingley Jr. back this year
Not that I know of. I haven't heard anything different. Nothing has changed.
On his first job as an assistant strength coach at Arkansas
Think about this. When I went there, I made $25 every two weeks. That was my check. I lived in the dormitory and I remember you could get something to eat (with the rest of the athletes). I remember walking in there on a Saturday morning and I saw this big bowl of white stuff. I asked my podnah, "What's that?" He said, "That's gravy." I said, "Gravy ain't white where I'm from."
It was a great experience, my first time in Division 1 football. They let me be an assistant strength coach, I was really a graduate assistant. Then, Coach (Ken) Hatfield brought me on the field. Coach Hatfield and Coach (Fred) Goldsmith taught me how to break down film.
I was always there early in the morning. I worked with Coach Hatfield's special teams. It was a wonderful experience and that experience at Arkansas got me to be a G.A. at Miami because those guys knew Coach (Jimmy) Johnson and (Tommy) Tuberville.
It was a great connection. It was a great springboard. I never dreamed all this stuff would happen. I'm very grateful. I love Arkansas. Dean Weber hired me there, he's still a good friend of mine. Coach Hatfield will have breakfast with me when we go up there. I made a lot of great friends and it's a great place.