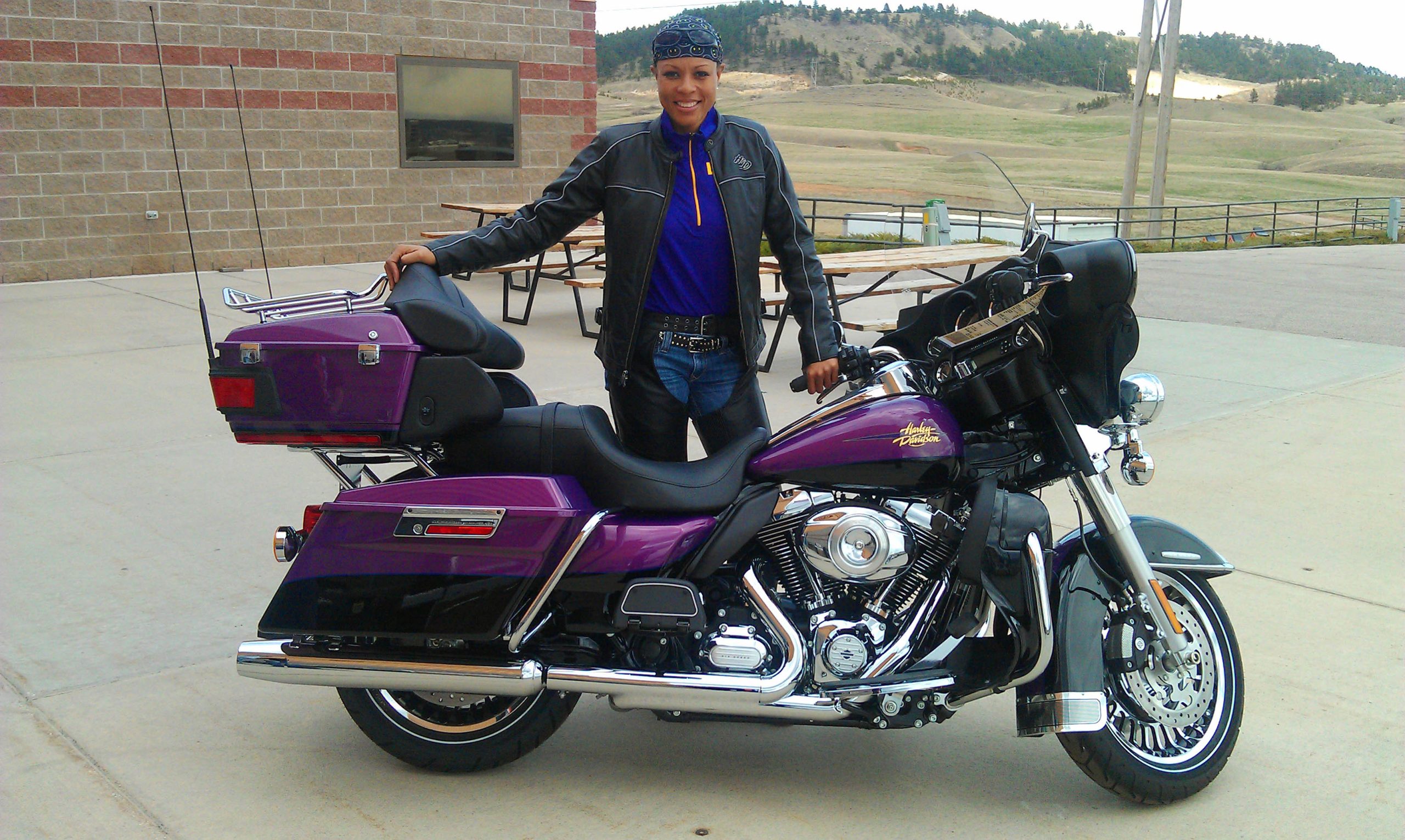 As Nikki Fargas met with LSU fans gathered at the Redneck Riviera in Nashville for a Coaches Caravan event ahead of the football team's game against Vanderbilt, she had to maneuver around the bar on crutches.
During a live radio appearance in front of the crowd with local ESPN Radio host Matt Moscona and former LSU running back Jacob Hester, Fargas revealed the cause of the injury, and the cause came much to the surprise of many in the room.
"For those of you guys who don't know, I actually ride a Harley," she said on the broadcast. "I own my own bike, and it was just a freak accident. I had to lay my bike down."
Fargas has had a love affair with motorcycles since the first time she hopped on one during her college days at Tennessee where she played under legendary coach Pat Summit.
She learned out to ride on a GSXR, a common speed bike manufactured by Suzuki. The hobby quickly turned into a passion, and by the time she was in her mid-20's, she owned her own bike and had a crew she road with on bike nights twice a week.
"I met a lot of great people," Fargas said. "You know, bikers get a different rap, but they could be your dentist, they could be a doctor, they can be a coach. Everybody rides from all facets of life, and I found that part of it to be interesting because I got to meet people from all over."
Fargas enjoys the community aspect that comes almost inherently with riding . They have their own signals and inside jokes.
But her favorite part of riding might be telling people it's a hobby of hers.
"It just shocks people when I take off my helmet," Fargas says. "Then they're like 'Oh, you ride?' It's not the norm to see a six-foot woman with boots with the heel on the end."
The bike club eventually led to an interest in touring, which led to Fargas purchasing her first Harley-Davidson, a Road King Classic.
That's when she really fell in love with the road. She got into the idea because she thought it could be therapeutic to cross the country in such a visceral way, and she wasn't disappointed.
"I find it to be relaxing," she says. "All your senses are heightened because you're outside. After you've ridden a long day, you're going to be fatigued. Like, you're burning calories."
Fargas has always connected her riding philosophically to basketball. Whereas when riding across the country, one sets a list of goals and objectives to meet in order to hit necessary stops and eventually reach their destination. Fargas says the key to succeeding in basketball is similar.
She gives the example of the Lady Tigers' ultimate destination being just more than an hour down the road in New Orleans, which will host the 2020 Women's Final Four. It will be a journey full of pit stops and challenges, but they will enjoy the journey and hopefully, if they do things right, they reach their final destination.
While Fargas was serving as an assistant for Summit at Tennessee, this love of both cross-country biking and basketball served as the inspiration for "Cruisin' for a Cause," a series of long-distance motorcycle road trips aimed at promoting breast cancer awareness in the name of friend and colleague Kay Yow.
Yow, a trailblazer in the world of women's basketball who spent 32 years coaching at N.C. State, battled cancer on and off for 22 years before finally succumbing to the disease in 2009.
The Kay Yow Cancer Fund was founding in 2007, and in an effort to contribute, Fargas and her fellow Tennessee assistant Holly Warlick — now head coach at Texas — hatched an idea that would combine their love and admiration for Yow with their passion for riding.
"Holly Warlick and I wanted to do more than just ride," Fargas said. "So we created the foundation 'Champions for a Cause.' We would ride to raise money and awareness for breast cancer."
Together, they organized the event. They put together a group of riders, a team that could work on the bikes if necessary, a mobile home that had a trailer to store the bike and they garnered sponsorships to pay for the trips.
They organized events at each planned stop where they would raise money.
Before long, they shipped their bikes to California and began a cross-country trek that would change their lives.
After it was all said and done, Fargas and Warlick flew to N.C. State to surprise Yow with a $10,000 check for the Kay Yow Fund.
"That's when we knew this could be something really special," Fargas said. "That's kind of how it started and what kept driving us to do it every year."
Throughout the years, these events took Fargas all over the country, raising money for the Kay Yow Fund at every stop along the way.
"We road all the way across the Mojave Desert and the Grand Canyon," she said. "We've been all the way to Niagara Falls, we've been to Key West, we've been to the Natchez Trace Parkway. I mean, we've been a little bit of everywhere."
In the span of just three years, Fargas' and Warlick's Champions for a Cause Foundation raised nearly $100,000 to support the fight against breast cancer, and the impact on the duo can still be felt today.
Fargas doesn't ride as much today as she did in her younger days. Having a family will do that. Being the head coach of the LSU women's basketball team limits free time pretty significantly.
And she has know intention of turning the hobby into a family affair. Her husband former Oakland Raiders running back Justin Fargas doesn't ride, and she made it very clear that her daughter Justice will never touch a bike if she has any say in it.
"I'm not letting Justice ride," Fargas says. "No, no, no. Not riding."
She still owns one bike, however. One she bought shortly after accepting the job at LSU in 2011.
"We were doing our annual ride, and we typically stop at a Harley dealership," Fargas says. "We're in there, and I see this purple bike, and I've got to get that bike. I'm buying that bike right there."
It felt like fate. She shipped the bike to Tennessee to one of her guys who adorned it with some gold lining and painted tiger eyes on the front. She still rides that bike to this day. It's the one she had to lay down when she tore her ACL during the offseason.
Fargas currently serves as vice chair of the Kay Yow Fund, and she plans on playing a role in raising money for the organization for the foreseeable future, as she will serve in that capacity for two years before becoming the chair of the organization.
Playing basketball and riding motorcycles used to simply be about breaking down barriers for Fargas, becoming living proof women can participate in any activity they want, no matter how stereotypically masculine.
But those two passions have given her the opportunity to give back in a meaningful way. She may not ride as much as she used to, but she'll continue to help raise money for cancer research for the foreseeable future.