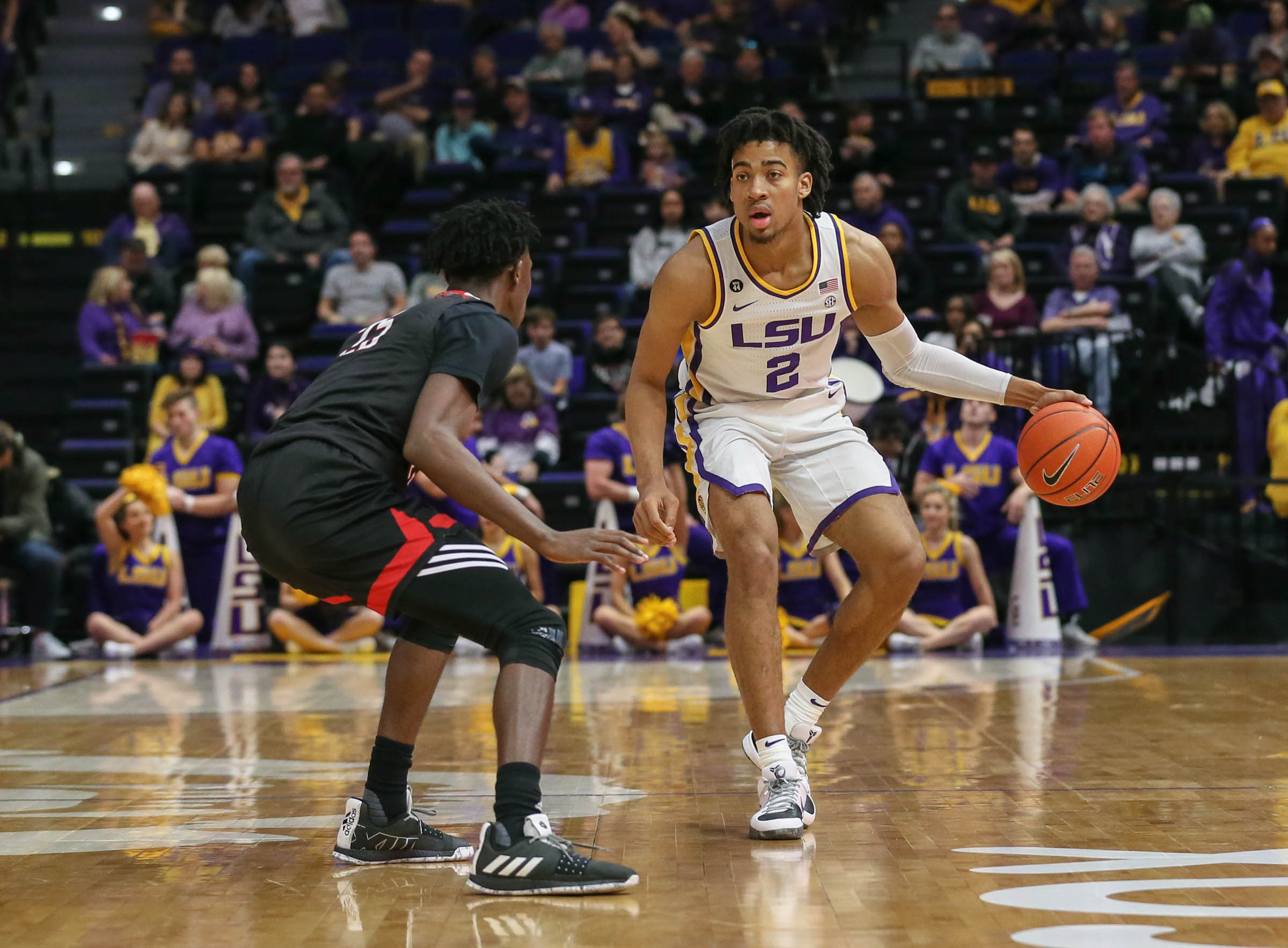 Just more than a week after failing to defeat VCU on the road, LSU will get another chance at beating a top-tier mid-major program as it takes on No. 15 Utah State on Friday at the Montego Bay Convention Centre.
The Tigers (3-1) will face the Aggies (5-0) at a game that will tip off at 6 p.m. Central on the CBS Sports Network before taking on unranked Rhode Island to close out the their stint in the island nation on Sunday at 1:30 p.m.
"We already lost out on one opportunity last week," LSU head coach Will Wade said referring to LSU's 84-82 loss to VCU. "So we need to make the most of these opportunities we have coming up. These are big, big games for us."
Utah State enters the game undefeated and, frankly, not even close to being defeated. The Aggies have defeated their opponents by an average of 32.6 points per game, the closest game being their opener against Montana State, which they won 81-73.
They will also enter the game hoping to garner respect, as they have had minimal opportunities to play in front of a national audience despite their No. 15 ranking.
Wade seemed exhausted just thinking about the upcoming matchup, saying that Utah State is a team he can see making a run as deep as the Final Four despite their status as a relative unknown.
"They're a legit team," Wade said. "They can go to the Final Four. They're that good. They're (ranked No. 15), and they're underrated. They're Top 10. They are really, really good. From what I've watched on film, it's going to be a beg, big test for us on a neutral court."
The Aggies are led by senior guard Sam Merrill, who averaged 17.4 points per game wiht a top-tier effective field-goal percentage of 54.5 percent.
He's also picky when choosing his 3-point opportunities, but when he does take them, they usually fall. He's hit 12 of 22 shots from behind the arc this season.
Both teams enter the game with great guard play, but the most intriguing matchup will be under the rim to see who wins the rebounding battle.
Both teams have top-15 offensive rebounding percentages, according to KenPom (LSU's is 39.3, No. 9 in the country while Utah State's is 38.8, No. 11), but the Aggies have a significant advantage in defensive rebounding as they have an average margin of +16.4 boards per game compared to the Tigers' +12.0.
In order to win the game, LSU will have to limit Utah State's second-chance points. Doing so will be a challenge, as the Aggies' offense is designed to put their players in position for putbacks and stray balls.
"They're so good offensively, ah man," Wade said. "I get a headache thinking about it. …It's like a dream watching them play offense. The way they move. The way they move the ball, the way they cut, the way they share the ball; they always find the open man who can shoot the ball."
LSU will likely rely on Darius Days, assuming he can stay out of trouble.
The 6-foot-6 sophomore forward continues to sneakily remain one of the most consistently efficient offensive layers in the country, and he's recorded back-to-back double-doubles in the Tigers' last two contests.
"He's been awesome," Wade said after LSU's victory against UMBC. "It says a lot (Tuesday), he had a double-double and he didn't make a 3. There are a lot of other things he can do to contribute to our team. … I think that's a big step for him."
Highly-touted freshman Trendon Watford also continues to improve, and while he's been a bit turnover-prone, the rest of his game has come along quite nicely as he transitions to the college game.
Watford touches the ball in a vast majority of LSU's offensive possessions, and he's averaging 12.5 points and 7 rebounds per game in the early part of his freshman season.
Unfortunately, he leads the team in turnovers, many of which have come as he's tried to drive from the perimeter to the paint using his handles.
Wade said the Tigers need to do a better job of getting the ball to him in the paint, rather than relying on him to get the ball there himself for the time being.
" I think a lot of it is him playing in tighter spaces," Wade said. "He is playing like I said, with the adjustment of the speed, so it takes some time. (VCU) is as tough as environment as we have played in. You put a freshman out there at VCU, it is not easy, it is not high school. I think he has adjusted well and there are certainly some other ways we can help him get the ball closer to the basket a little easier without him having to dribble it eight times to get down there which increases the margin for error."
WHO: LSU (3-1) vs. No. 15 Utah St. (5-0)
WHERE: Montego Bay Convention Centre (6,000)
WHEN: Friday, Nov. 22, 6 p.m.
TV: CBC Sports Network
RADIO: Eagle 98.1 FM
KenPom Prediction: 77-75 LSU (70.0 Thrill Score)