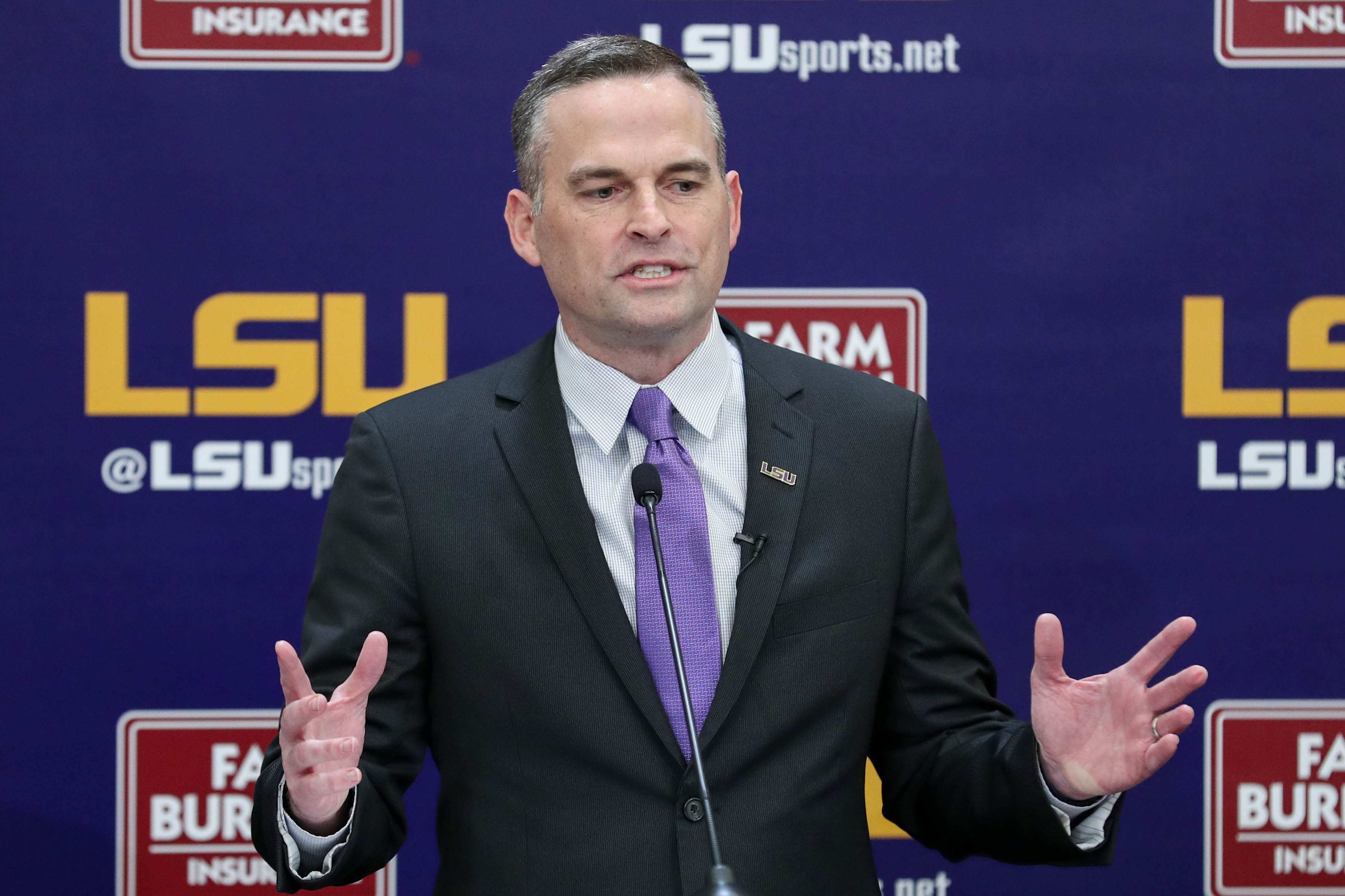 First-year LSU basketball coach Matt McMahon knew when he was hired away from Murray State last March to replace fired coach Will Wade, he would have to spend this season superintending a major construction project.
On Monday, McMahon donned his proverbial hard hat, preparing to lead his completely renovated roster into the construction zone for the first time.
McMahon made it clear the project is now entering its most critical phase.
The development phase for McMahon – otherwise known as "summer" in college basketball – is over and is officially in the process of giving way to this next phase.
In construction terminology, this next phase is known "initiating operations."
Initiating Operations means the earliest point in time when a capital infrastructure project is ready for use, even if only for system testing purposes.
System testing/preseason practice starts Wednesday for McMahon and his 13 scholarship players. LSU opens the season in the Pete Maravich Assembly Center on November 9 against Kansas City.
That leaves McMahon 42 days: 28 practice sessions, two closed scrimmages and 12 off days in between to complete this phase of his work.
McMahon said he has no idea how it is going to end up.
"I don't have a handle on it at all," he said during his news conference Monday. "This summer and fall have been all about laying the foundation, what the culture of the program is, what we want it to be. And I'm excited to get started on Wednesday because now it's about competition and a player evaluation, and really start to determine what our core group is going to look like."
LSU's 17-man roster includes 13 new additions McMahon pulled in from the transfer portal and via recruiting. Three of the transfer additions followed McMahon from Murray State and will have important roles.
"It is going be a process. That's why I'm so excited about the start of practice on Wednesday. We haven't faced any adversity at all other than a couple of tough conditioning workouts here and there. So, you know, get in practice," McMahon said.
"My goal as a coach is to create some chaos out there in practice and find out what we have and find out who we can become. So, I don't really have any great answers for you here today. Having not started practice, but I think it'll start to emerge as we go through these first four weeks, then you get to those two closed scrimmages. We had the option of playing exhibition games. I didn't want to do that. I wanted us to play closed scrimmages against other D1s so you can find out where you stand going into November."
LSU returns three scholarship players from Wade's 2021 LSU NCAA Tournament team, including guard Adam Miller. Miller, who transferred to LSU from Illinois before last season, has never played a single minute for the Tigers after injuring his left ACL before last season began.
Miller entered the transfer portal after LSU fired Wade. He opted to return and play for McMahon after it came down to TCU and LSU.
McMahon's glad Miller returned and said he will look to him, along with Mwani Wilkinson and Justice Williams, two other returnees from last year's LSU team, as well as Justice Hill, a senior point guard who transferred from Murray State, for leadership.
Miller is a scorer, an electric player, but McMahon tried to temper expectations for the redshirt sophomore who was cleared to play from his injury less than four weeks ago.
"Love him. Obviously a very good player can really shoot the ball at a high level," McMahon said. "What I've enjoyed most about coaching him, he is a relentless competitor. Incredibly smart, has a great basketball IQ and he wants to win. And so I think it's going to be important for him not only to carry the load on the floor himself as a player, but to be a leader on the team.
"All that being said, I think we have to temper expectations for as well. This is going to be a process. He hasn't played college basketball game in 18 months. He's been cleared for four weeks, so it's not going to happen overnight, but he's going have a great year for us been an absolute joy to coach, been a lot of fun to build that relationship starting in the spring. And quite frankly, was honored he chose to stay and be a part of what we want to build here at LSU."
When McMahon initiates operations on Wednesday he said he will also be begin the process of looking to see who will form the core group of players for this team moving forward.
"Ultimately, the players will determine who plays through their production on the court and practice their ability to impact winning," McMahon said. "And so we'll have very competitive practices. I'm equal opportunity there. You can come and earn as many minutes as you want and really work to determine your role within the team where I might vary from others.
"You won't see us running any platoon systems, 12 players aren't going to play. We like to get to that top eight or nine and keep our best players on the floor as much as possible. So these next six weeks will be critical in determining who those guys are going to be."