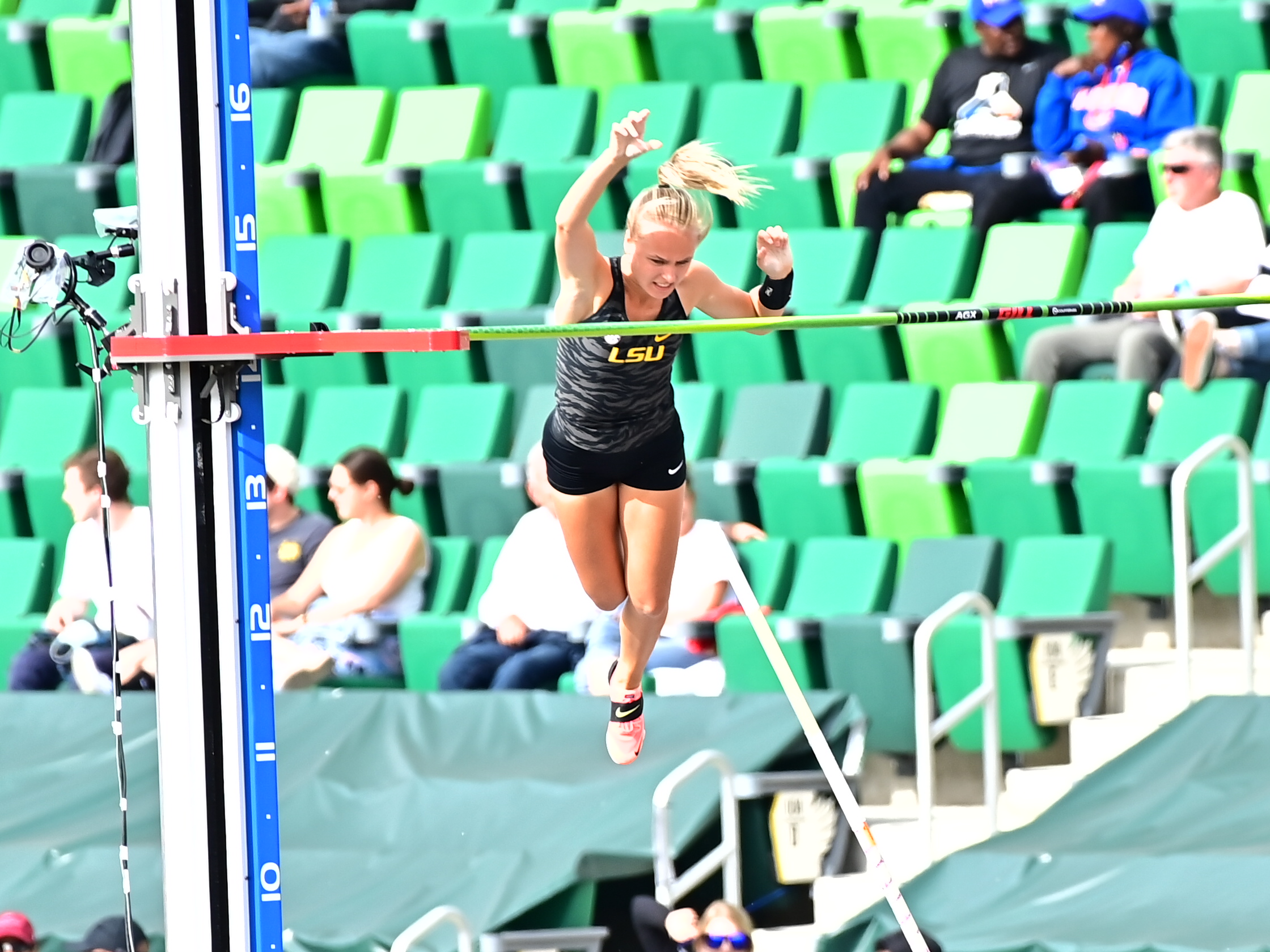 LSU fifth-year senior Lisa Gunnarsson used to soaring to new heights.

She became the first female since 2010 to sweep both the NCAA indoor and outdoor pole vault competitions
during the 2021 seasons, a feat that landed the native of Paris, France on the Preseason Watch List for The Bowerman Award ahead of the 2022 season.

Gunnarsson, the school's first NCAA champion in the pole vault and record holder at 14 feet 11 ½ inches, continues a trend for the program, giving LSU an athlete on the Bowerman Award Watch List for the sixth straight year.

With a two-time national champion in Gunnarsson returning, LSU opens the '22 indoor track season Friday at home in the Purple Tiger Invitational with an effective blend of strength on both the field and on the track.

Graduate student Abigail O'Donoghue is the school record holder in the indoor high jump (6-2 ¼) and is part of an event that could prove fruitful for the Tigers with the return of junior Nyagoa Bayak (6-0 ½) and the addition of USC transfer sophomore Morgan Smalls.

"I think the jumps we're really, really solid this year or maybe more solid than we've been in a long time," LSU track coach DENNIS SHAVER said. "Abigail O'Donoghue went over six feet last season numerous times and Nyagoa made big strides in the fall. Morgan Smalls has been over six feet and is also a really good long/triple jump prospect also."

LSU also returns its top two performers in the triple jump from a year ago with fifth-year senior Kyndal McKnight (42-6) and junior Serena Bolden (41-7) and graduate student Amber Hart (50-8) in the shot put.

The sprints and hurdles are another area of strength this indoor season for LSU which returns sophomore sensation Favour Ofili, graduate student Symone Mason, junior Amber Anning along with sophomores Thelma Davies and Leah Phillips.

"We've got everybody back in the sprints, we really didn't lose anybody," Shaver said.

Ofili, a midterm graduate who arrived at LSU last January, turned in a team best of 22.75 seconds in the 200 (3rd at the SEC indoors) which ranks third all-time in program history. Her time of 22.96 was good enough for sixth at the NCAA indoor championships. She was a member of the team's 4×400 relay that was fourth in the SEC indoors in a time (3:29.69) that's the third fastest in school history.

"I thought she had an outstanding season and a great fall," Shaver said. "We're looking for big things with her Alia Armstrong's had an outstanding fall and certainly we look forward to her taking over for the graduated Tonea Marshall. Leah Phillips has really progressed from last year and she's had a great fall."

Armstrong was second to Milan Young in the 60-meter hurdles (8.21) last season and just ahead of Phillips (8.36).

Mason turned in the team's fastest time in the 60 meters (7.38) and was second in the 200 (23.38), while Anning, also a member of the 4×400 relay, was fourth in the 60 (7.51) and 200 (23.71). Her 51.83 time in the 400 was fifth on the team.

"She's had a great fall and look forward to what she can do," Shaver said of Mason. "She can do the short sprints with the ability to do the 400."

Davies is another 60/200 threat with the third-best time in the 60 (7.40) and fourth in the 200 (24.00). Alabama State transfer Tionna Brown is expected to help bolster the sprints.

"We're really looking forward to the lining the women up," Shaver said.

Middle distance and distance races are in good hands thanks to the experience LSU returns this season.

Senior Katy-Ann McDonald can have an impact in several different races after the native of London, England became just the second female competitor in school history to qualify for the NCAA cross country championships.

McDonald was the Tigers top competitor during the last indoor season in the 400 (56.70), 800 (2:04.59) – the ninth best time in school history – and mile (5:08.79).

"Not only can she run the 800, but run some 400s and 4x4s to facilitate her in 800," Shaver said. "Occasionally, maybe she might run the mile indoors just for fitness level. We're looking for big things from her."

Sophomore Lorena Rangel, an All-South Central Region performer in cross country, led the team in both the 600 (1:35.31) and 800 (2:08.40) last season and graduate student Alicia Stamey was tops in both the mile (4:54.71) and 3,000 meters (9:48.51).

Shaver also said freshman signee Michaela Rose of Suffolk, Va. can be a multi-event performer, helping the Tigers in the 800 and 400 hurdles.
2022 LSU Indoor track schedule
JANUARY
14
Purple Tiger Invitational, Carl Maddox Fieldhouse
21
Red Raider Invitational, Lubbock, Texas 28-29
Razorback Invitational, Fayetteville, Ark.
FEBRUARY
4
Bayou Bengal, Carl Maddox Fieldhouse
5
New Mexico Collegiate, Albuquerque, N.M.
11
Tyson Invitational, Fayetteville, Ark.
11-12
Iowa State Classic, Ames, Iowa
18
LSU Twilight, Carl Maddox Fieldhouse
24-25-26
SEC Championships, Bryan-College Station, Texas
MARCH
11-12
NCAA Championships, Birmingham, Ala.