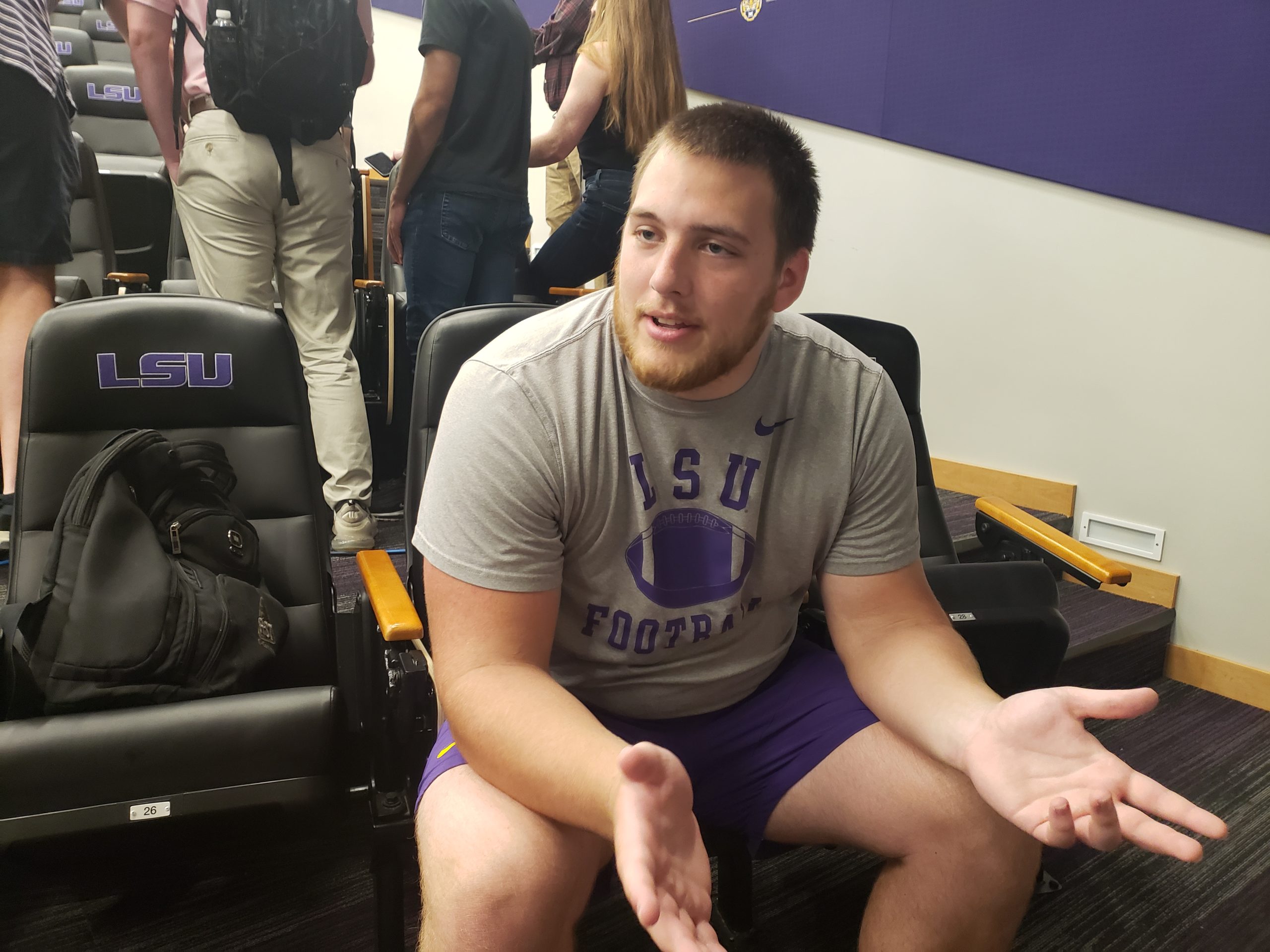 LSU football coach Brian Kelly acknowledges Garrett Dellinger's challenge is a steep one.
Dellinger – who played offensive guard, tackle and tight end as a freshman in 2021 – has moved to center for the 2022 as part of a rebuilt offensive line that currently has five new faces battling for starting positions.
"Dellinger is playing center for the first time," Kelly said after Thursday's practice.
"He's doing a real good job and becoming a center overnight is not ideal for anyone, especially in the SEC West. He's a guy that had a high football IQ. He's physically gifted and he's got a strong mindset that he wants to go in and do it. He has to call out fronts, he has to direct the offensive line and he's got to snap the football."
It's something the 6-foot-5, 320-pound Dellinger has learned to do on the fly since Kelly took over in December and began constructing his first offensive line going into spring practice.
Although Dellinger was injured and had shoulder surgery, he was cognizant of the position change and began non-contact work with offensive line coach Brad Davis. That carried over into preseason practice, and now Dellinger is snapping as the team's No. 1 center.
"Playing those other positions helps me play center," he said during an Aug. 9th interview with the local media. "I know what everyone else is supposed to do."
Dellinger – a four-star recruit who was listed as ESPN's No. 31 overall prospect, No. 6 offensive lineman and No. 2 player in his home state – signed with LSU out of Clarkston (Michigan) High, located about 40 miles northwest of Detroit.
An early enrollee who benefited by taking part in spring practice in 2021, he played in 12 games under then-LSU coach Ed Orgeron, getting three starts at left tackle and one at left guard.
The opportunity to play guard for an ailing Ed Ingram enabled Dellinger to play in a season-high 85 snaps in a home overtime loss to Arkansas. He also figured prominently in the team's 49-42 win over Florida in mid-October, when the Tigers utilized him as an additional blocking tight end.
Shoulder surgery limited Dellinger's contact in spring practice but the transition to center was imminent, as was his new role as a vocal leader. While unable to hit, he worked on taking snaps and the necessary footwork associated with the position.
"I decided in the spring everyone should learn how to play center and I might as well start," Dellinger said. "I was still there at practice every day, doing a little bit.
"In the spring I did most individual drills. I couldn't do things against the team defense. I couldn't go against the full defense. It's a little frustrating to have to sit back and recover. I felt like more of myself near the end of spring. I was hitting the bags with the trainer, got the confidence back in the weight room. I did little things so that when I came back, I was fully prepared."
LSU's search for a successor at center to two-year starter Liam Shanahan included junior Charles Turner starting in the spring and the addition of freshman signee Fitzgerald West Jr., a converted defensive lineman from Lafayette Christian Academy.
With experience at guard, tackle and tight end, Dellinger joked that mastering the center position was a check in the final box he needed on the offensive line.
"It's the last position I've got to learn on the line," he said. "I feel like I've been killing it."
Shanahan was a converted guard when he transferred from Harvard to LSU and bulked up to 300 pounds to handle the demands of the position in 2020-21.
He was also regarded for his acumen to call out pass protections and defensive fronts, aspects of the position Dellinger has had to pick up along with snapping the football – whether LSU's quarterbacks are under center or in shotgun formation.
"This year I understand the offense," Dellinger said. "It's learning center and not all of the other details. I understand it because I played guard."
The meticulous task of snapping the football has involved countless moments of working outside the field of play and involved the kind of high-volume repetition that's helped Dellinger gain separation at this point of preseason practice, all with an eye on the team's season opener Sept. 4 against Florida State at the Superdome in New Orleans.
"I've practiced snapping every single period, after practice and walk-throughs," Dellinger said. "I've gotten plenty of stuff, maybe over 150 snaps a day. I've learned to snap and take your step at the same time. Just make sure it's perfection."