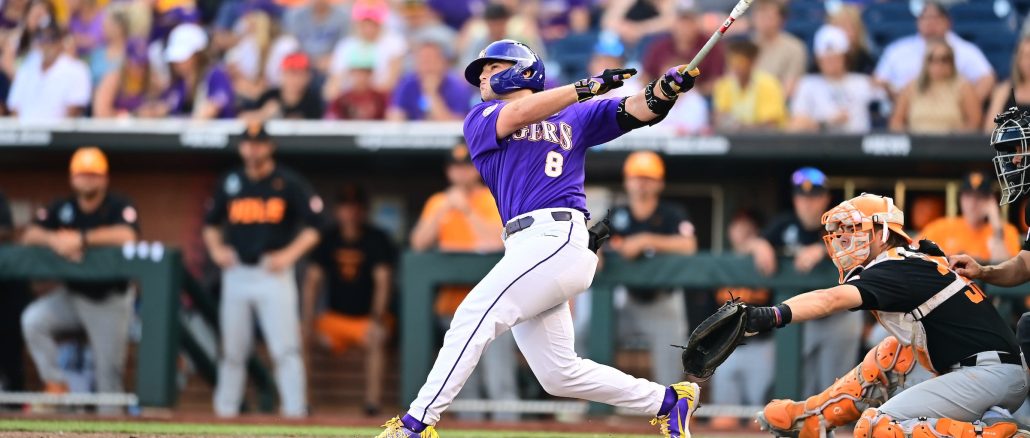 When LSU needed a lift to ignite its offense in the bottom of the second of Saturday's College World Series opener, graduate second baseman Gavin Dugas was there to lend a helping hand.
After visiting Tennessee finally broke through in the eighth with three runs and were able to get LSU ace Paul Skenes out of the game, Brayden Jobert had the answer the Tigers needed.
"I've been waiting a long couple of days since we've been in the hotel, everybody else has," Dugas said. "It was awesome to see the environment and take it all, that first pitch of the game. It's everything you could expect and more."
Together the Nos. 6-7-8-9 batters in LSU's batting order turned in a potent outing that played its part in helping the Tigers advance in the World Series with 6-3 victory Saturday over Tennessee before a Charles Schwab Field crowd of 25,010.
"This is what you come to play for," Jobert said. "To play on this stage. I'm very proud of my team. Very proud of Paul, very proud of Gavin. We all work really, really hard and it's for these moments. I'm just happy to be a part of it."
Dugas and Jobert combined with Jordan Thompson and Josh Pearson to collect six of the team's 10 hits and drive in four of six runs to send the Tigers into Monday's winner's bracket game at 6 p.m. Monday against Wake Forest.
Home runs from Dugas and Jobert extended the team's total 135 with their 16th and 12th, respectively, on the season. Jobert (3-for-4) also doubled and tripled for two of the team's five extra base hits.
"I don't know what we did to Gavin (Dugas), but he hates us. I'm only speaking in brevity— best I can do," Tennessee coach Tony Vitello said. "He's done well against us for the four games we've played this year."
Dugas' solo shot came with one out in the second – clobbering a 2-1 offering off Tennessee starter Andrew Lindsey – over the bullpen in left field.
"Our game plan was to get balls up with a guy that had a lot of sink, a lot of run," Dugas said. "The only way to be successful was to see him over the plate and fortunately I was able to spit on two balls and see one ball up. I was lucky to put a good swing on a good ball and put the Tigers up front right there."
Pearson spearheaded LSU's run in the third, driving a single through the right side of the infield ahead of Dylan Crews' similar single through the right side. After both runners moved up on a groundout, Pearson scored on Tre' Morgan's groundout.
Pearson was also active on defense with five putouts, including a nifty catch on a sinking liner for the first out of the fourth.
"We played him because I think he gives us professional at-bats and he's a pretty good defensive outfielder and that paid off," LSU coach Jay Johnson said. "He's obviously earned his spot in there with how he's performed throughout the postseason. But left field here is a really tough place to play at the 6:00 o'clock game. The sun sits right over there. And we actually had to warn him about it.
"We were here in '21," Johnson said of the team he coached, Arizona. "We hit a double over the left fielder's head and then we misplayed a ball in the first inning. It's really tough, and he did a nice job. And (LSU assistant) Mark Wanaka, I've said this before, is the best positioner of outfielders on the planet. And he did a great job of that tonight. They hit a couple right at Dylan and right at Josh."
Jobert's triple off the fence in right-center drove in Hayden Travinski who walked and moved up on a wild pitch in the sixth. Thompson followed with a hard smash off Tennessee shortstop Maui Ahuna for an infield single, enabling Jobert to make it 4-0.
The hit from Jobert was the first for LSU with six runners in scoring position, a stretch that included three strikeouts.
Tennessee closed to within 5-3 with three runs in the eighth, but LSU was able to grab a run and some momentum back on Jobert's homer to right off Tennessee reliever Hollis Fanning.
"I was just trying to get the ball up," Jobert said. "Stay in the bottom of the zone was something I needed to improve on from last weekend. That was focus in BP (batting practice) and all of the training this week. Just sticking to our plan and sticking to what our coaches tell us. It worked out positive for me."
It continued a resurgence for Jobert, who after batting .246 with 18 homers with 58 RBIs last season, is batting .312 and collected his 12th homer and 43rd and 44th RBI of the season.
"He's done a great job," LSU coach Jay Johnson said of Jobert. "In every phase – last year's evaluation, there were areas we needed marked improvement. We've talked about those things, athleticism, defense, vision, play discipline, at-bats between homers. He's literally done all that.
"You win games this time of year when guys like him step up and play their best, game-winning homer against Oregon State and that 1-0 game of the regional was obviously big," Johnson added. "And three great at-bats tonight. When I look up, because we're looking at him in the face from the third base dugout, just the self-control and locked in and he was a professional hitter tonight."