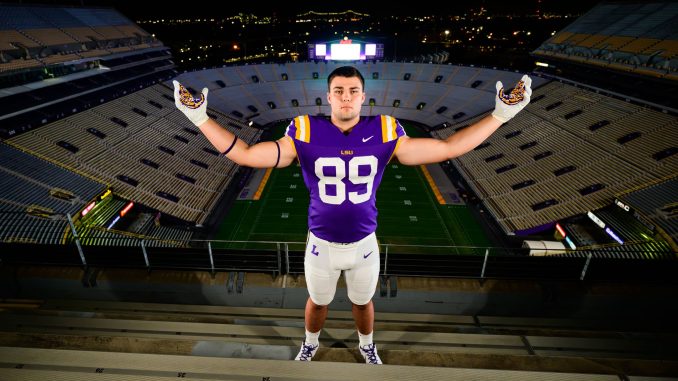 LSU's red-hot week on the recruiting trail reached a high note Saturday night.
The Tigers secured their fourth commitment of the week, this one from blocking tight end Connor Gilbreath of Butte (California) College during his official visit to the school.
The 6-foot-6, 268-pound Gilbreath confirmed his intentions on his Twitter account with, 'Committed!!! Thank you LSU!'
Gilbreath, who will arrive in July and be part of the 2023 team, joined Class of 2024 commitments Ondre Evans of Nashville, Tennessee, Kylan Billiot of Houma and Joel Rogers of St. Francisville this week. The Tigers have 18 pledges from high school prospects in their current recruiting class.
The Tigers also have a pledge from East Feliciana tight end/wide receiver Trey'Dez Green. Gilbreath played the 2022 season at Butte College and has a redshirt year remaining among his four years of eligibility.
LSU returns sophomore Mason Taylor from a standout first season and signed three tight ends in Ka'Morreun Pimpton, Jackson McGohan and Mac Markway, adding depth to the team's roster which now includes 82 scholarship players.
Gilbreath also took an official visit to Missouri and Arizona before deciding on LSU during his official visit this weekend. He also received scholarship offers from Colorado, Miami, Mississippi State and North Carolina State. He was also scheduled to visit N.C. State and Mississippi State.
Gilbreath, a native of Redding, California who played at University Prep, was part of a team last season at Butte that went 7-4 overall and 4-1 in conference play. Butte averaged 35.7 points and 368.9 total yards per game where Gilbreath, who didn't catch a pass, was attached to the offensive line at either offensive tackle or tight end.