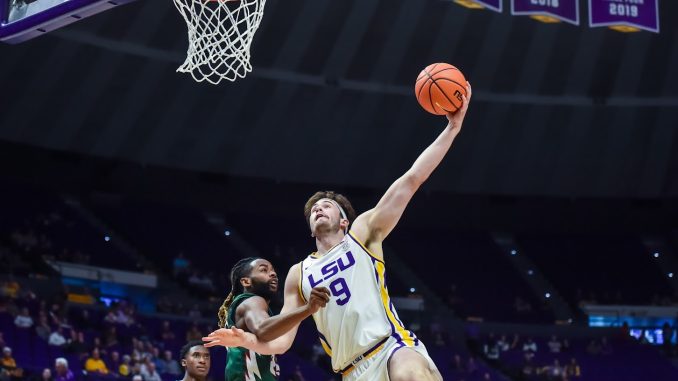 Will Baker scored a career-high 29 points to lead LSU's new beginning in head coach Matt McMahon's second season and the Tigers opened the 2023-24 season with a 106-60 dominating win over Mississippi Valley State Monday night at the Pete Maravich Assembly Center.
Baker, the seven-foot graduate transfer from Nevada, showcased his versatility in the post for LSU and the Tigers turned to him almost exclusively during one crucial stretch with a little more than eight minutes left in the first half when Mississippi Valley State went on a 7-0 run, cutting the lead from 17 points to 10 at 28-18.
Prior to that, LSU had dominated every way possible in jumping out to a 26-9 lead with 11:12 in the first half following two free throws from Jalen Reed.
Jordan Wright, Tyrell Ward and Damion Collins also scored in double figures for LSU. Wright had 12 points while Ward and Collins each added 11.
"Great way to start off the season," McMahon said.
"Really appreciate all the fans and the students that came out tonight. Love the unselfishness and effort our guys played with. Like I said good way to start things off. I thought our shot selection was good. Had seven turnovers in the first half and a lot of unforced errors. We went about twelve minutes there in the second half without a turnover, so I was excited to see that improvement.
"I think defensively we were able to be disruptive with the press and some of the defensive concepts. This pointed at our defensive rebounding. Too many offensive rebounds allowed and that will be an area we work in practice as we start preparing for Nicholls State on Friday night. Excited to go 1-0 and looking forward to getting to play in the PMAC again Friday night at seven," he said.
The win marked the 10th consecutive season-opening victory for LSU and its 100-point scoring game since 2021.
LSU (1-0) will host Nicholls State on Friday at 7 p.m.
"I thought LSU came out and played really great basketball," Mississippi Valley State coach George Ivory said.
"They've got a great basketball team this year. They have all the good pieces to be a good team this year.
"I thought we competed a little bit. We just missed on turnovers and it hurt us. When you play against a great team like LSU for the first time, you find out your weaknesses and things you need to work on. It was a great experience for us to play against LSU," Ivory said.
Baker shot 10-of-11 from the floor for the game, including a pair of 3-pointers and was 7-of-8 at the free-throw line Baker, who scored 21 points in the first half, also pulled down five rebounds and had one assist and one block.
Will the Thrill 🫨@thrillbaker | #BootUp pic.twitter.com/qlmglevJHf

— LSU Basketball (@LSUBasketball) November 7, 2023
Meanwhile, Wright had a game-high four steals.
Rayquan Brown led Mississippi Valley State (0-1) with 17 points, and Arecko Gipson and Donovan Sanders followed with 15 and 13 points, respectively.
Overall, LSU shot 57.6% from the floor (34-of-59) and 53.6% from 3-point range (14-of-26). The Tigers held the Delta Devils to a 38.2 field goal percentage and converted 22 turnovers into 35 points.
LSU had 12 steals in the game and outscored Mississippi Valley State 20-9 in fastbreak points.
LSU got off to a fast start, taking an early 9-2 lead behind a 6-0 run and increased its margin to 26-9 with 11:12 on the clock in the first half. That's when the Delta Devils trimmed the Tigers lead to 10 at 28-18 but that's when McMahon called a timeout to reset, he said, because he said he thought MVS's switch from the zone defense it opened with to a man defense started to cause a little hiccup offensively for the Tigers.
Wright said it was during that timeout that LSU collectively decided to lean on Baker in the post "because we knew he could do whatever he wanted to down there."
LSU elevated its intensity from that moment on and went into the half with a 56-29 lead.
"I thought we just lost focus there for whatever reason," McMahon said.
"We took a couple of questionable shots that put us at a disadvantage in transition defense. Missed a couple of defensive assignments that led to that little 7-0 run and wanted to use our timeout there to get us locked back into what needed to happen on the floor. Also, they had switched at that point from zone defense to the man to man and really wanted to establish Will Baker in the post and thought the guys did a great job executing out of that time out and got Will a lot of easy touches down there in the post where they were playing him one on one," McMahon said.
In the second half, LSU held Mississippi Valley State to 1-of-5 shooting at the start and kept its offensive pace by making six of their first 10 attempts to open a 72-34 lead at the 15:25 mark.
LSU led by as many as 53 points late in the second half after leading most of the second half from the 10:30 mark on by 49 points when Collins sunk two free throws after being fouled on a fastbreak layup attempt to give the Tigers an 86-37 lead.
LSU's previous 100-point scoring game was a 101-39 win over ULM on Nov. 9, 2021.
LSU improved to 95-21 in season openers and increased its active win streak to 18 games when shooting 50 percent or better in a game.