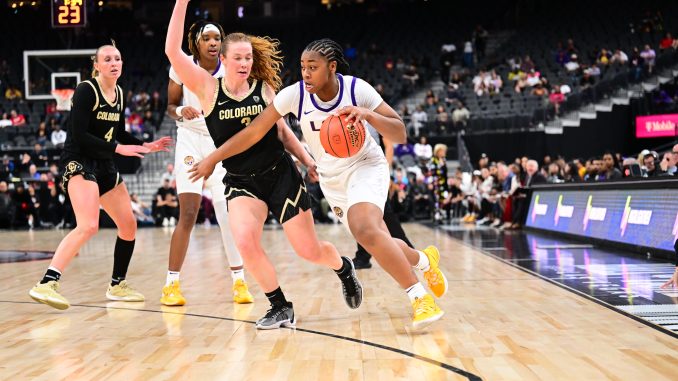 LSU women's basketball coach Kim Mulkey believed that it was unlikely her top-ranked and defending national champions would go undefeated this season.
She felt her team's first opponent – No. 20 Colorado – was more capable of being such a team and the Buffaloes handed the Tigers a 92-78 defeat in Monday's Naismith Hall of Fame Series at T-Mobile Arena in Las Vegas.
"I'm disappointed and surprised in some individual players that I thought would just be tougher, just have a little fight and leadership about them," Mulkey said. "I knew what we faced. When you have that many kids (7 of 8 top returning players) that played that many minutes together we had our hands full."
Sharp-shooting guard Frida Formann scored 18 of her career-high 27 points in the second half to lead Colorado which won its 24th consecutive season opener. Formann, a native of Denmark, made 7 of 11 3-pointers in the game and the Buffaloes' 92 points were the most scored against a Mulkey-coached team at LSU.
The Buffaloes, who shot 53.2% (33 or 62) from the field and 43.5% (10 of 23) from 3-point range, also had another player with 20+plus points in center Aaronette Vonleh with 24. Lightning-quick guard Jaylyn Sherrod had 12 of her 19 in the first half.  
Moreover, Colorado had 24 assists on its 32 made baskets and a decisive edge on LSU in fastbreak points, 28-9.
"I thought Colorado would do exactly what I thought they would do," Mulkey said. "They shot the ball well from three, they were poised, polished. I thought they were hungry."
Freshman Mikaylah Williams led three LSU players in double figures with 17 points on 8 of 16 shooting to go with four rebounds. First team All-American Angel Reese had a double-double with 15 points on 6 of 15 shooting and 12 rebounds, sophomore Sa'Myah Smith came off the bench to score 16 and Louisville transfer Hailey Van Lith added 14 points and a team-high 7 assists.
According to ESPN, it's the first time the nation's No. 1 team lost its season opener since 1995-96 when UConn fell to Louisiana Tech.
"We needed more than just those two to have a little bit of fight within," Mulkey said of Williams and Smith. "This is not going to devastate us. The sky's not falling. I know a little bit about this game. I knew what we faced, but what I didn't know about my team. Those things are fixable, but I don't know how long it's going to take to fix it."
LSU never made a serious run at Colorado, a Sweet 16 team a year ago, in the second half and found itself trailing by as many as 22 points (77-55) following a 10-0 run with 6:09 to play.
The combination of Formann's outside marksmanship, Vonleh's power inside and Sherrod's quickness and playmaking ability were too much for LSU to contend with.
"No one could guard her for us," Mulkey said of Sherrod. "We just couldn't keep her in front of us and consequently if that happens to you, you have to have a second line of defense and it usually falls on the shoulders of the post a lot today. It was non-existent today. The effort wasn't even there."
Colorado threatened to bury LSU in the early stages of the third quarter behind 3-pointers from Formann and Quay Miller, the latter opening a 48-37 lead, until Williams kept the Tigers afloat in the middle of the quarter.
Williams made 4 of 8 shots and scored a team-high eight points in the quarter, her final 15-footer keeping the Tigers within 54-47 with just over three minutes showing.
"I didn't want to go without a fight," Williams said. "Just give it everything I had at the moment and just see what could come out of it."
Colorado took a 63-51 lead into the fourth quarter when Williams narrowed the margin to 66-55 at the 7:58 mark. The Tigers then went scoreless over the next 2 ½ minutes, enabling Colorado to seize its 22-point cushion on contributions from four different players, the final point coming on Sherrod's free throw with 6:09 to go.
"For a game like this that a large part of the world said no to, and a large part of the world said why would you play that game? It was everything that we wanted," Colorado coach JR Payne said. "We wanted a challenge and we wanted to take our team into the national spotlight so that I can show the world how great they are. I'm really proud of how we played, proud of how we competed and it's a great start to the year."
LSU built a six-point lead (22-16) at the 6:39 mark – its biggest of the game – on Van Lith's two free throws and maintained an edge until the 3:25 mark when Colorado scored seven unanswered points to make it 25-all. The Buffs took the lead for good on Formann's 15-footer to help spark an 11-7 run for a 38-32 halftime lead.
"You live with poor shooting. You live with just a tough night offensively," Mulkey said. "What I don't live with is just guts and fight and physical play. You got that dog in you, and I just didn't think we had that tonight."