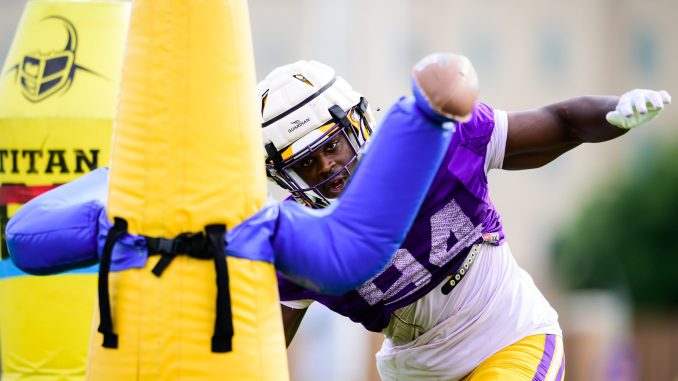 Paris Shand has been on a far-reaching nomadic athletics journey.
Basketball and football have taken Shand from his home in Toronto, Canada to Windsor, Connecticut to Tucson, Arizona and Baton Rouge.
If the 6-foot-5, 280-pound junior defensive lineman seems well adjusted to his new surroundings on the bayou, it's because exploring new adventures has always been commonplace.
"The biggest transition is like living, just the environment," Shand said of LSU to reporters after an Aug. 23 practice. "To me football is football. You're always trying to get better, always constantly trying to improve. The biggest thing was a different environment from the desert to the bayou."
Given the state's constant heat wave this summer, Shand didn't wilt under the glaring Louisiana sun after three years at the University of Arizona where he started in 10 of 24 games with 41 tackles and five sacks. After starting in seven of nine games with 23 tackles for the Wildcats in 2022, he sought another change.
"Just needed a change of scenery," he said. "It's no big story behind it. Just needed a change of scenery and felt LSU was the best place for that."
Shand was part of an upgrade in LSU's depth at defensive line where second-year coach Brian Kelly reached into the NCAA transfer portal to sign Shand, Justin Jefferson of West Virginia, Jalen Lee of Florida, Ovie Oghoufo of Texas and Bradyn Swinson of Oregon.
With the NCAA suspending projected starting tackle Maason Smith for Sunday's opener against Florida State, Shand is expected to be a part of LSU's rotation at tackle or end – two positions he's comfortable playing.
"I'm someone who feels like I can play anywhere," Shand said. "I know every single position on the D-line. I play mostly end, but I can play tackle whenever needed.
"It's constant competition," Shand added of LSU's defensive line. "We've got a lot of guys in the D-line room that are vets and that can play. It's going to be a great rotation this season because we all have experience and we know what's going on, on the field."
Shand may have been regarded as a better basketball player growing up in Toronto. He followed in the footsteps of his father Kevin who played collegiately at Duquesne, was a member of the Canadian National team, and extended his career overseas where he played professionally.
Paris was part of silver-medal winning Team Canada U16 team in the FIBA Americas Championship in Argentina. Canada went 3-0 in group play and advanced to the championship game before losing to Team USA. He was also a silver medalist in the shot put in the Ontario Federation of School Athletic Association.
He moved to Connecticut to attend The Loomis Chaffee School where he competed in football, basketball and track. He built a three-star resume with 50 tackles, 10 sacks and a forced fumble, took official visits to Vanderbilt, Rutgers and Arizona and selected the Wildcats of the Pac 12 Conference.
"In high school one of accounting teachers told me that I should try football and I just tried it that one year," he said. "Then the next year I went to a basketball school and after that played basketball and football."
Shand had two tackles against Washington during true freshman season. He also played against USC, UCLA and Arizona State that season before his playing time increased in 2021 with three starts in 11 games. He enjoyed a season-high four tackles with 1 ½ TFLs against USC and helped the Wildcats rank second in the conference in average tackles for loss (5.8) per game.
His final year at Arizona, under head Jedd Fisch who replaced Kevin Sumlin, included a career-high five tackles with a forced fumble against San Diego State. He also had five tackles with 1 ½ TFLs for minus-11 yards against Mississippi State.
Little did Shand realize it wouldn't be his last game against an opponent from the Southeastern Conference when he announced his transfer to LSU in January for the spring semester.
"I felt like the opportunity to play at a school with such history and compete against players that are the highest level already," Shand said of LSU. "I feel like competition's the biggest thing on my mind. That's one of the biggest things that made me choose LSU."
Picking up on defensive coordinator Matt House's defense wasn't a difficult proposition for Shand, who said he played in three different defensive schemes at Arizona. Being asked to play both tackle and end took him back to his basketball-playing days.
"When I played basketball, I felt like I was versatile on the court and I could guard all of the positions," he said. "Just bringing that into football and being able to understand movement on the end and the tackle. Being bigger sized, but faster and strong enough to play both positions."