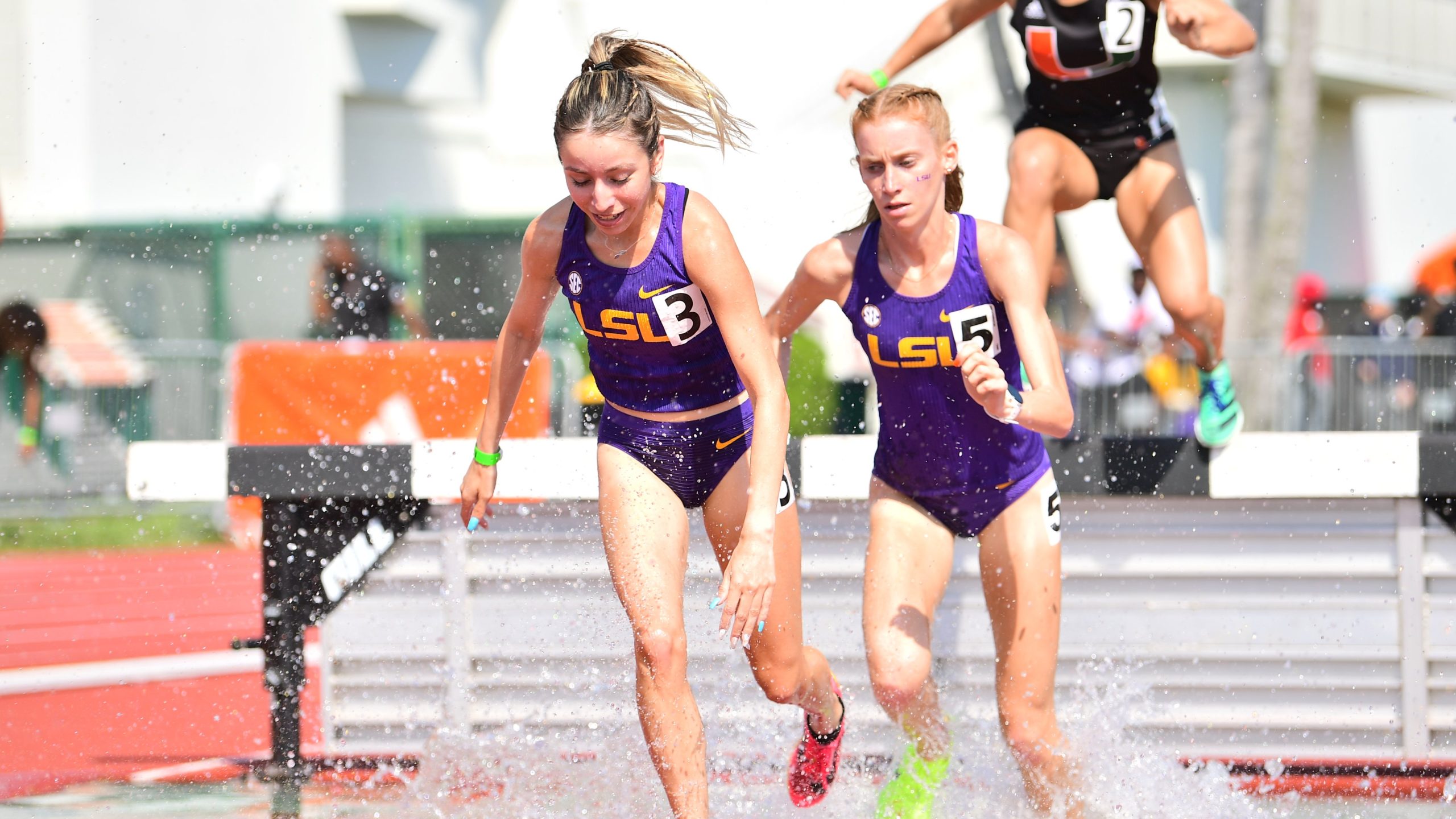 LSU swept both the men's and women's 4×100 and 4×400 relays and the Tigers combined for 12 first-place finishes in the two-day Miami Hurricane Invitational which served as the first meet of the 2023 outdoor season at Cobb Stadium.
After missing some time with an injury during the indoor season, Defending NCAA outdoor champion Alia Armstrong won her specialty – the 100-meter hurdles – in a time of 13.06 seconds and edged teammate Shani'a Bellamy (13.35).
The men's team of Brandon Hicklin, Dorian Camel, Da'Marcus Fleming and Godson Oghenebrume won the 4×100 relay (39.02) and the Tigers also captured the 4×400 relay with the team of Camel, Sean "Squirrel" Burrell, Shakeem McKay and Ashton Hicks (3:06.0).
LSU's women also won the aforementioned relays with the 4×100 team of Armstrong, Favour Ofili, Brianna Lyston and Thelma Davis running a time of 44.21 seconds. The quartet of Ella Onojuvwevwo, Hannah Douglas, Lyston and Leah Phillips put together a first place finish in 3:33.13.
LSU swept the 2,000-meter steeplechase with Will Dart (6:11.25) winning for the men and Ella Chestnut (6:51.80) for the women.
The Tigers also received winning efforts from 2021 NCAA javelin champion Tzuriel Pedigo (244-7), Lorena Rangel-Batres in the 800 (2:09.05) and Cindy Bourdier in the 1,500 (4:21.95).
LSU also picked up a pair of first-place efforts on Friday with freshman discus thrower Jaden James winning his first college meet with a personal best of 183-7 and Beau Domingue edging teammate Kameron Aime in the pole vault, 16-10 ¾ to 16-6 3/4 .
LSU opens the home portion of its outdoor season Saturday at Bernie Moore Stadium in the Battle on the Bayou.