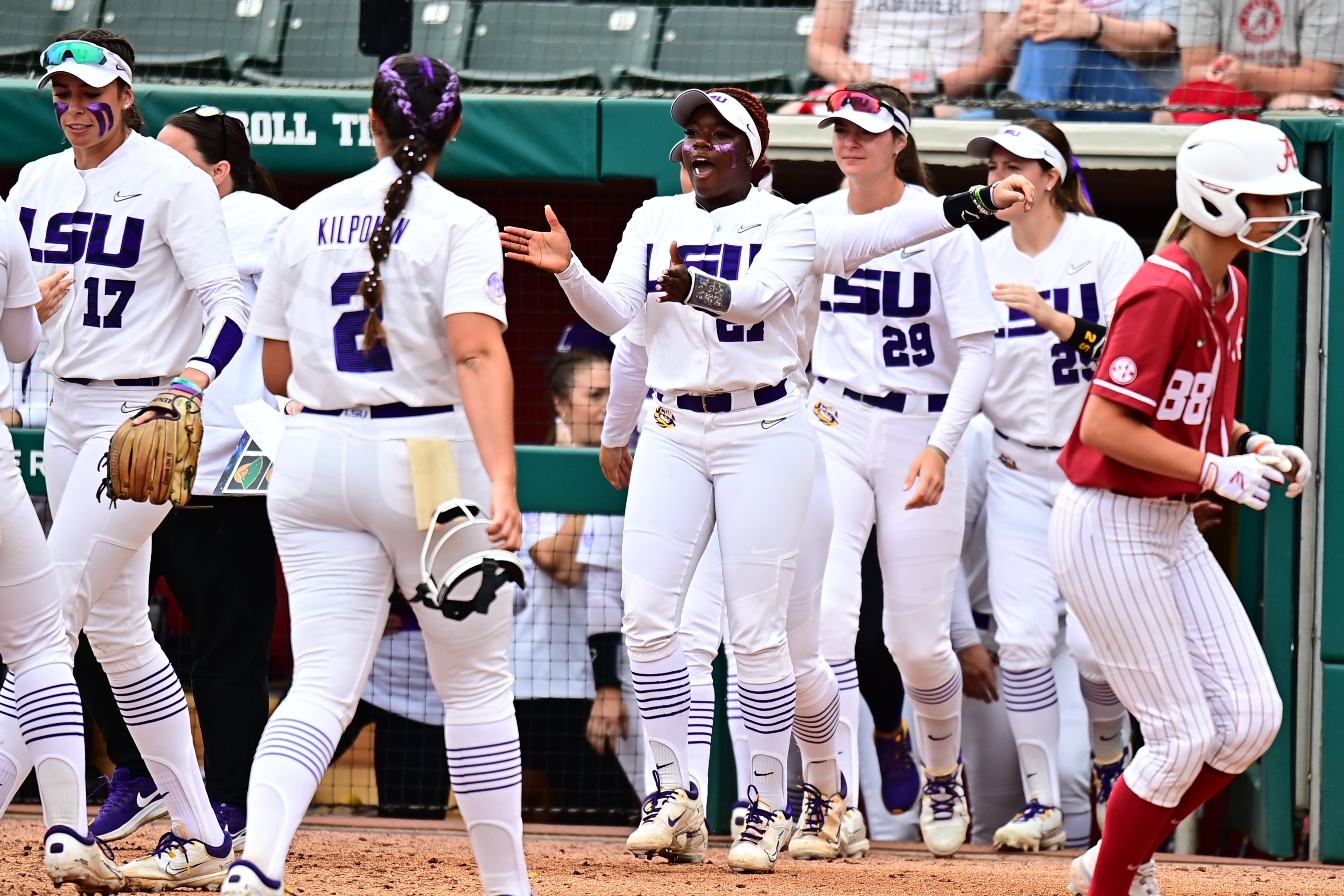 The hitting of McKenzie Redoutey and pitching of Ali Kilponen enabled No. 13 LSU softball to pull even in its Southeastern Conference series with No. 16 Alabama.
Redoutey went 3-for-4 and drove in a career-high four runs, backing the two-hit, complete-game effort of Kilponen in Saturday's 6-1 victory at Rhoades Stadium where the Tigers won for the first time since April of 2017.
LSU (38-12, 11-9) will try to win the series against Alabama (35-16, 11-9) at 11:30 a.m. Sunday. The game will be televised by ESPN and broadcast locally by 107.3-FM.
"I think scoring first was a huge lift for the entire team," LSU softball coach Beth Torina said. "It allowed Ali to be a lot more free in the circle and allowed our defense to play aggressively. We did a great job at setting the tone for a really good day."
LSU, which lost 4-0 in Friday's opener, scored four times in the top of the first against losing pitcher Lauren Esman (4-3) who didn't make it out of the inning.
The Tigers scored four of its six runs and compiled five of their 10 hits in the opening frame, taking a 1-0 lead on Ciara Briggs' RBI double to left. Georgia Clark followed with a run-scoring hit and Redoutey accounted for her team's fourth run with a two-run single through the right side.
Esman allowed four runs on five hits in two-thirds of an inning.
LSU added two more runs in the third on another two-run single from Redoutey up the middle to center. Left fielder Ali Newland, like Briggs, was 2-4.
Kilponen (12-5) pitched her 12th complete game of the season, allowing two hits, walked three and struck out three. She lost her bid for a shutout in the third on Bailey Dowling's solo homer.
The Tigers defense also turned a pair of double plays, one in the first that second baseman Karli Petty initiated to shortstop Taylor Pleasants and first baseman Raeleen Gutierrez. Petty also started another double play in the third with a throw to Gutierrez, who threw to Pleasants covering at second base.
"Kilponen is awesome," Torina said. "She has meant so much to us over the past five years. She's the leader of our pitching staff. She makes us brave; she makes us fearless; she competes and today was no different."