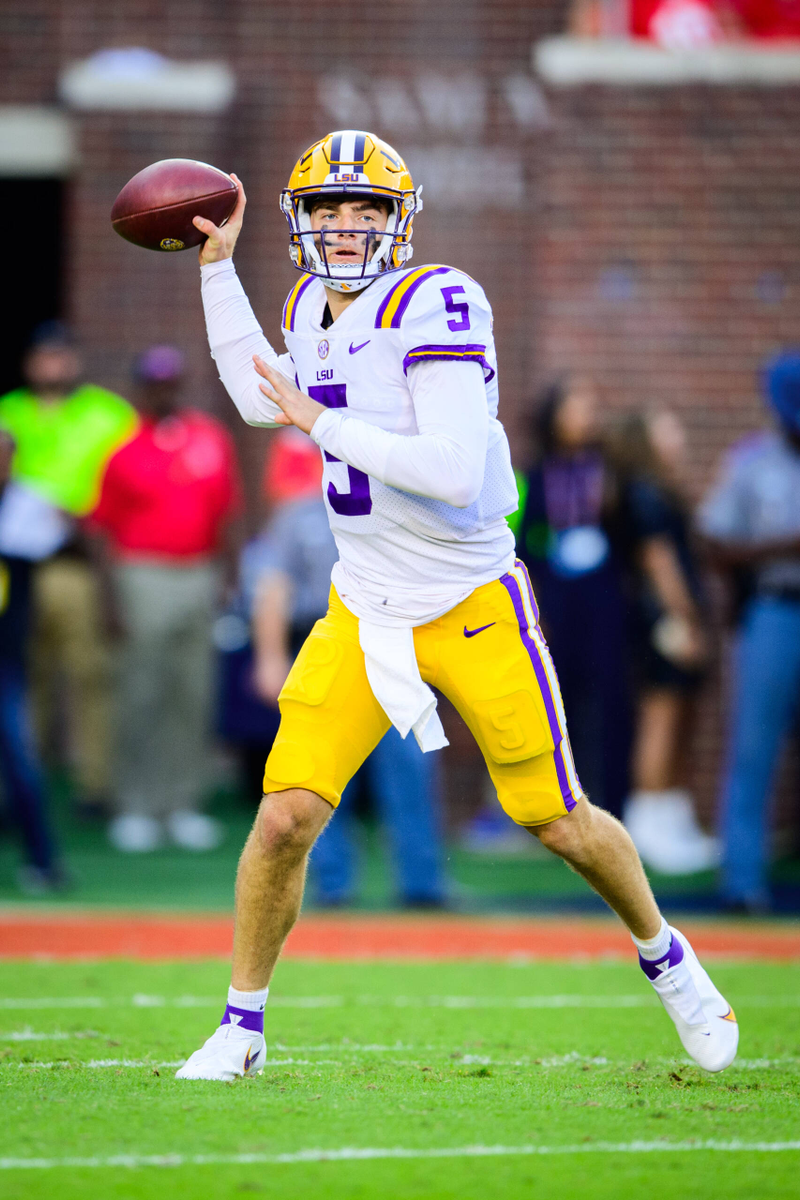 (Editor's Note: This is the second in a series of stories on LSU's quarterbacks this spring. Today: Garrett Nussmeier.)
In an era where the transfer portal rules college sports, Garrett Nussmeier was one who didn't want to go anywhere else.
Rather than seek greener pastures, the freshman quarterback chose to stay at LSU after Brian Kelly replaced Ed Orgeron following the 2021 season.
And when asked after a recent spring practice about a certain sore subject, Nussmeier didn't want to go there either.
To the issue, that is, of just how difficult it was for him to opt to not play in LSU's season-ending Texas Bowl game against Kansas State in Houston.
Yet Nussmeier, his emotions over the matter apparent, did go there.
With conservative but effective word choice, he efficiently managed to convey just how difficult of a decision it was.
There was no gunslinger in his delivery whatsoever, but instead a short volley of powerful points regarding a choice whose reason was obvious: Nussmeier had already played in four games last year and appearing in a fifth would have meant burning his redshirt and instead essentially wasting one of his four full seasons of NCAA eligibility.
"I don't want to speak too much on that," said Nussmeier, the son of former New Orleans Saints quarterback and current Dallas Cowboys quarterbacks coach Doug Nussmeier. "But obviously it was hard.
"I love LSU," added Garrett Nussmeier, who played at Marcus High in Flower Mound, Texas. "You know, I was born in Lake Charles. My family's in Louisiana. Even as a kid, every time I drive across the state lines (from Texas) it's a feeling of 'home.' So, watching, not being to help, that hurt, for sure."
Nussmeier was needed because LSU's other two scholarship QBs were unavailable.
Usual starter Max Johnson, who played in everything but the bowl game, already had bailed and transferred to Texas A&M.
Myles Brennan, who was injured and out and had entered the transfer portal too after LSU parted ways with Orgeron, wasn't about to play in Houston.
T.J. Finley, who started five games in 2020 after Brennan got injured and now is at Auburn, already had left the prior May, after coming up on the short of end a spring ball battle with Brennan and Johnson.
Nussmeier was the Tigers' most-experienced available quarterback, having gone 29-of-57 for 329 yards with two touchdowns and two interceptions in the four games he did play.
He tried to get a waiver from the NCAA, but those efforts failed.
And Nussmeier simply didn't want to give up the redshirt, forcing LSU to use usual receiver Jontre Kirklin – who hadn't played the position since his pre-2017 days at Lutcher High – at quarterback in the Texas Bowl.
"Feeling like you let some people down, that hurt, definitely, because I care for this university," Nussmeier said. "It means a lot to me to have the state on the back of my helmet and have LSU on my jersey.
"So, you know, like I said, I won't get too much into that – but, I mean, it definitely didn't feel great."
Even as time has passed and the calendar has flipped from bowl season to spring drills, the sting certainly seems to still be there.
But Nussmeier has simultaneously moved forward too, and now he's engaged in a fight for the starting job.
Brennan, who ultimately decided to stay after being swayed by Kelly, and transfer Jayden Daniels, a three-year starter at Arizona State, are the front-runners, with Nussmeier and early enrollee Walker Howard battling behind those two.
"I love the way things are going for us," Nussmeier said after an early April practice. "It's a positive mindset for us every single day. "Coach Kelly talks about 'being in the now,' and not worrying about, like, what happened, or the day before."
Or maybe, without saying it in so many words, the bowl game in which LSU had no scholarship quarterbacks to play.
The one that ended in a 42-20 loss to an 8-5 Kansas State team that went just 4-5 in Big 12 play.
The one that gave LSU its first postseason loss since the 2017 season's Citrus Bowl, where the Tigers, in Orgeron's first season in charge after replacing Les Miles mid-season, lost 21-14 to Kelly-coached Notre Dame in Orlando.
The one that gave LSU, which finished 6-7, its first losing season since 1999, when the Tigers went 3-8 in the final season before Nick Saban replaced Gerry DiNardo.
But that's then. This is 2022.
"It's all about what's next, what's right now," Nussmeier said, "and I think right now, and I think we're all getting better at that – just 'next rep, next play,' and switching our mindsets over to that."