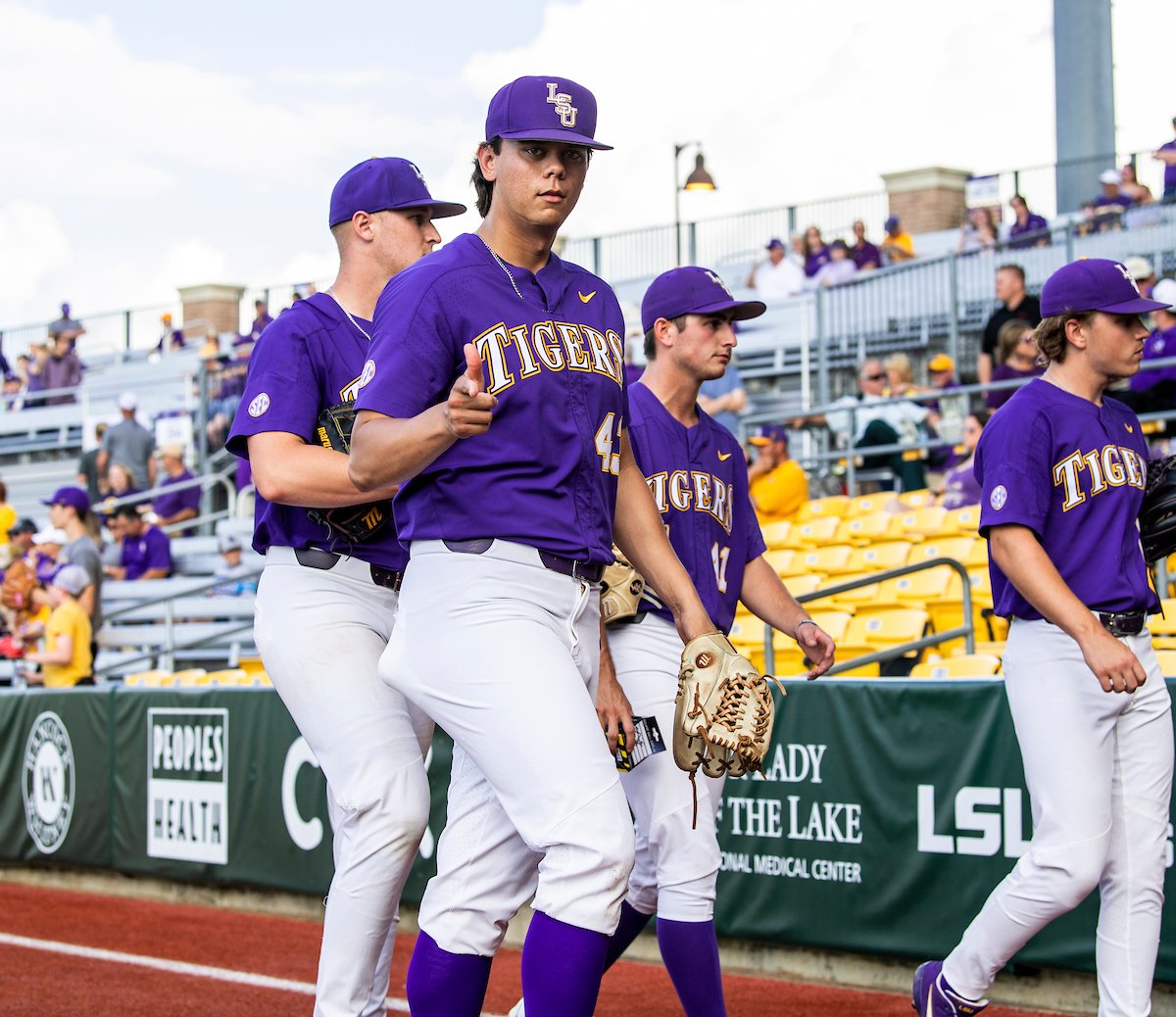 Todd Peterson spun off the mound, pounded his chest and screamed something that he didn't care to repeat when speaking with reporters a couple days later.
The ever-excitable reliever had just completed his fourth inning of stellar work to nail down LSU's 3-2 win at Arkansas on Saturday afternoon, a victory that salvaged the weekend and kept the Tigers in the hunt to host an NCAA Regional.
Peterson held the high-powered Razorback lineup to one hit over the final four innings. It was his longest outing of the season to date in terms of both innings and pitches (60), but Peterson swears he still had gas in the tank.
"We were walking down the tunnel and I said 'I've got five more in me,'" Peterson said. "As soon as that game was over, I walked into the room where we showered because they've got weights in there. I pounded out some curls. I was amped up.
"I don't know, I just feel like I've got a lot in the tank right now."
On a team full of steady, stoic veterans, Peterson stands out as a whacky energizer bunny of sorts. His double and the nuclear bluff that preceded it at last year's SEC Tournament earned Peterson folk hero status among LSU fans, and he hasn't toned it down since.
Peterson can often be seen running wind sprints of doing pushups outside the dugout as soon as LSU completes its postgame meeting in the outfield. If requested for interviews, he's usually worked up a pretty solid sweat by the time he wonders over for postgame interviews.
"I love bringing the energy, you guys all know that," Peterson said. "You've seen the emotion from me plenty of times, and I think that's something I do pretty well. I think right now it's crucial. That game was huge … For us to get one at least, we walked out of there with our heads up."
It's been a bit of an up-and-down junior season for Peterson coming off his ascension to rock star status during the 2018 postseason push.
Peterson started this season as the unquestioned closer of a top-ranked team, but he lost the job to Devin Fontenot after a series of rocky outings. His personal rock bottom came in a disastrous outing against Cal when Peterson blew a 1-0 lead and was tagged for five runs before being hooked.
Fontenot took over the closing duties before running into his own rough patch recently, but Peterson never lost that positive disposition, and LSU coach Paul Mainieri never shied away from handing him the ball.
"I'm a big Todd Peterson fan, and I always have been," Mainieri said. "He had a few outings that were less than what he'd expect from himself, and everybody wanted to give up on him. I don't give up on kids like Todd."
The coach continued: "His enthusiasm, his dedication, his work ethic; he wants it bad. He'll always take the ball. He'll take the ball in any situation. I love the kid, and you've got to live and die with the positives and negatives with him."
The legend of Todd Peterson — a moniker coined by Mainieri — was born in Hoover one year ago, and with one week remaining in the regular season, LSU hopes Saturday's outing is a sign that Peterson could be heating up with the weather again.
Perhaps even better things are ahead, if you ask the man himself.
"Honestly, I feel a lot better," Peterson said. "I feel a lot more healthy. I feel more in shape. More ready for where we're headed. It's my third year here and I've been through it twice. I'm ready to take it on."
Photo courtesy of LSU Sports Information