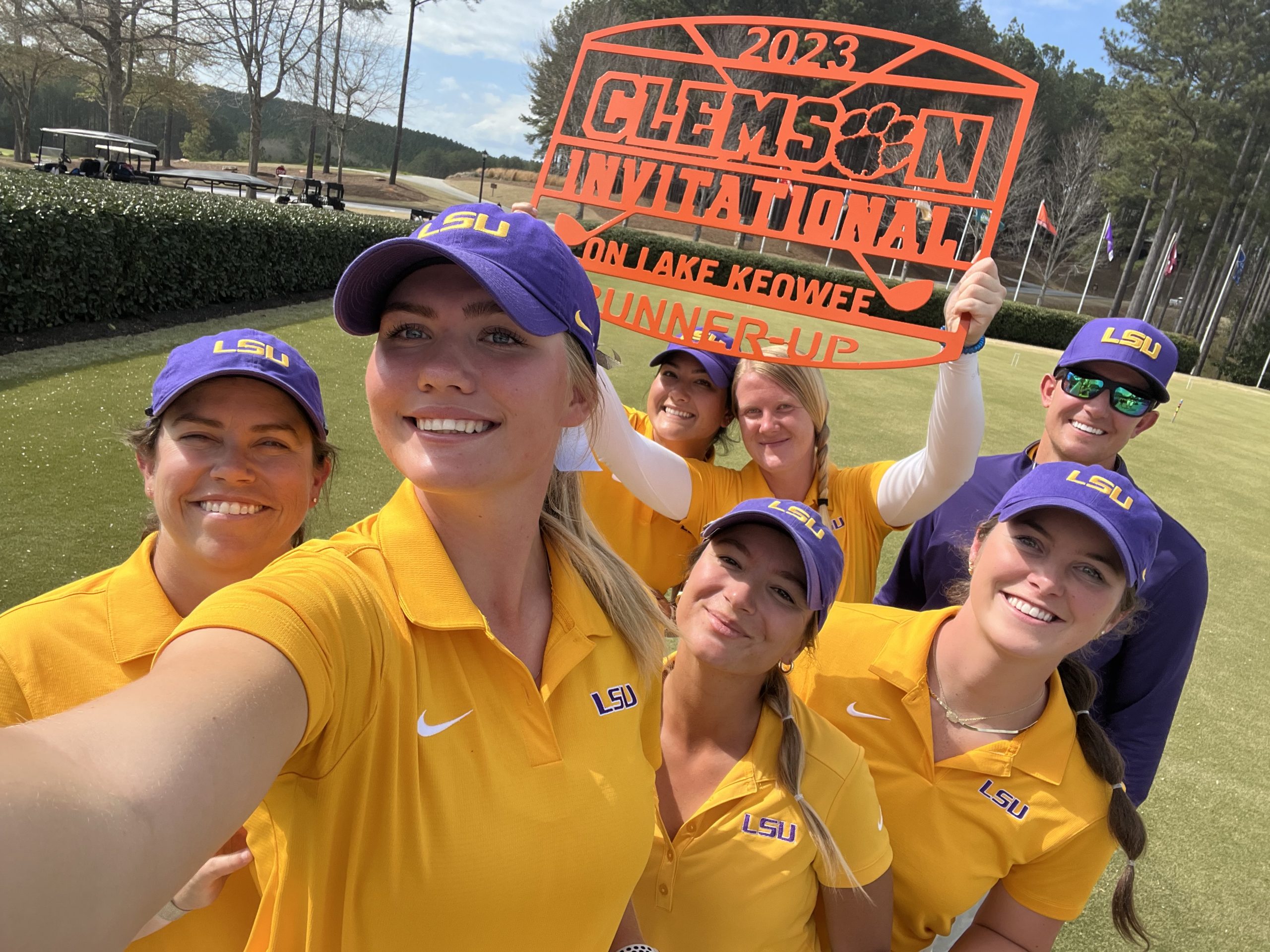 LSU senior Ingrid Lindblad added to her school record win total, capturing the 11th college title of her illustrious career Sunday at the Clemson Invitational at The Reserve at Lake Keowee in Sunset, South Carolina.
Lindblad shot 5-under, 211 and tied for medalist honors with three other golfers – Crystal Wang of Illinois, Morgan Ketchum of Virginia Tech and second round leader Annabelle Pancake of Clemson.
As a team, the No. 3 ranked Tigers finished a strong second at 7-under 857, one shot behind Ole Miss at 8-under 856. Second round leader Clemson finished third at 6-under 858.
Lindblad posted a clean card 67 on Saturday and then had four birdies in a 3-under 69 to finish with rounds of 75-67-69 for the win. After moving up 30 spots following the second round, she moved up five more on the final day.
Lindblad and Wang had the lowest round of the four players that tied for first as both shot 3-under 69 on the final day.
It was the Swede's second win of the season for the Tigers to go with her Battle at the Beach title in Mexico in the fall and Lindblad now has recorded 30 top 10 finishes in 37 LSU events.
Senior Latanna Stone helped LSU in the team total with a 2-under par 70 on her scorecard. Stone had four birdies on her final round card and finished T19 at even par 216.
Sophomore Aine Donegan finished with a 1-over 73 in the final round and recorded a top 15 finish with rounds of 71-71-73 for a 1-under 215 and a T14 posting in the final standings.
LSU's other counting score was a 1-over 73 from freshman Edit Hertzman, who rallied from a tough first round to shot 71-73 over the final 36 holes.
"If you would have told me this semester that we would go second-first-first-second, I would have taken it in a heartbeat," LSU coach Garrett Runion said. "While we would have liked to have ended on a win, I think it keeps us motivated to have a special year. We've had a great year so far, but to do something special we'd like to win one of the big ones at the end. The girls made a good point that we had a win in every tournament; Latanna (Stone) won when we finished second in the Bahamas, we had the two team wins, and then Ingrid (Lindblad) had the win here.
"Overall, it's been a great semester. I'm proud of the way everybody contributed. I'm proud of the fact we've been in the final group all four tournaments this semester. Consistency is a big word I like to use and to be a consistent team you have to be near the top to have a chance to win and we've done that. Now we are going to root on our three players at Augusta and then head to SECs."
The LSU trio of Lindblad, Stone and Carla Tejedo now head to Augusta, Georgia for the Augusta National Women's Amateur that will take place at Champions Retreat and Augusta National Golf Club. The three will be a part of the 72-player field that will have a practice round on Tuesday with competition to begin on Wednesday at Champions Retreat.
Clemson Invitational
The Reserve at Lake Keowee
Final Team Results – Par 288-864
1 Ole Miss – 287-286-283 — 856 -8
2 LSU – 288-284-285 – 857 -7
3 Clemson – 281-288-289 – 858 -6
4 Kentucky – 291-285-287 – 863 -1
5 Maryland – 297-283-284 – 864 E
6 Tennessee – 299-281-290 – 870 +6
7 Virginia Tech – 290-290-292 – 872 +8
8 Vanderbilt – 292-296-286 – 873 +9
9 Oklahoma State – 297-294-285 – 876 +12
10 Kent State – 300-294-286 – 880 +16
Individual Top 5 (Par 72-216)
T1 Ingrid Lindblad, LSU – 75-67-69 – 211 -5
T1 Crystal Wang, LSU – 69-73-69 – 211 -5
T1 Morgan Ketchum, Virginia Tech – 69-70-72 – 211 -5
T1 Annabelle Pancake, Clemson – 69-66-76 – 211 -5
T5 Andrea Lignell, Ole Miss – 73-69-71 – 213 -3
T5 Becca DiNunzio, Virginia Tech – 70-72-71 – 213 -3
T5 Laney Frye, Kentucky – 74-67-72 – 213 -3
LSU Scores
T1 Ingrid Lindblad – 75-67-69 – 211 -5
T14 Aine Donegan – 71-71-73 – 215 -1
T19 Latanna Stone – 71-75-70 – 216 E
T48 Edit Hertzman – 81-71-73 — 225 +9
T54 Carla Tejedo – 71-81-75 – 227 +11