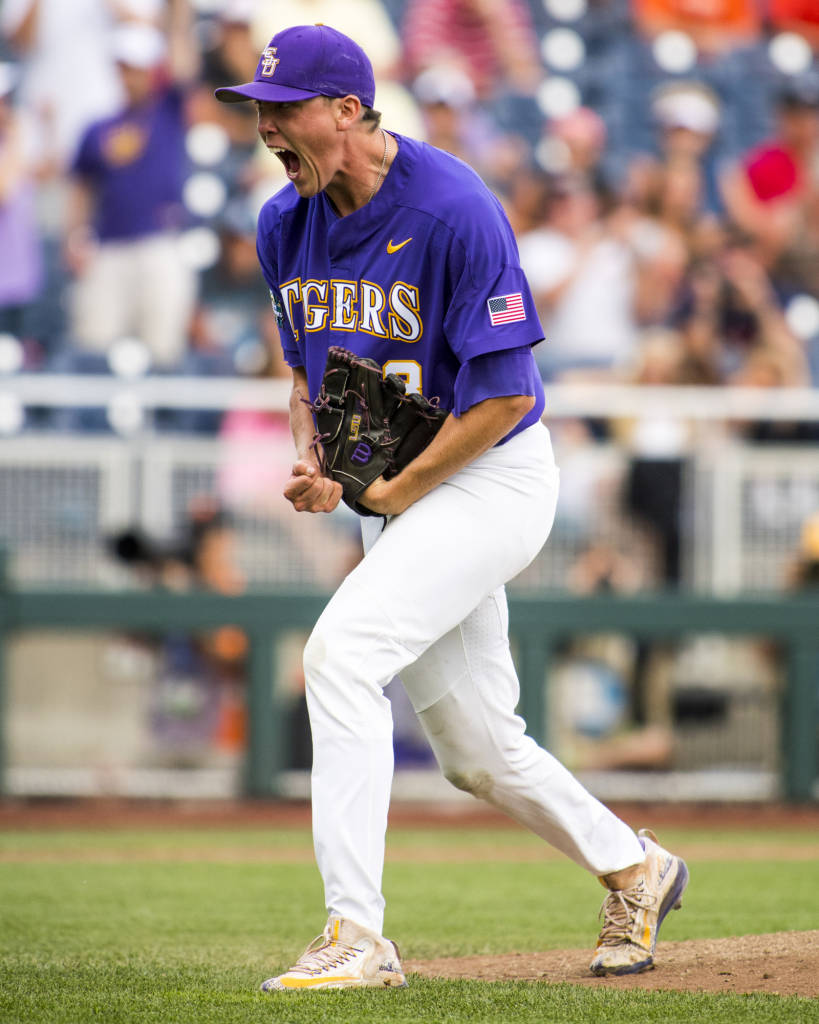 By JAMES MORAN | Tiger Rag Associate Editor
The LSU bullpen is getting some much-needed reinforcements — and an old friend is coming back to help out in the midweek.
Freshman right-hander Zack Hess is moving to the bullpen on a "permanent basis," LSU coach Paul Mainieri announced Monday.
Coaches were pleased with Hess' performance as a midweek starter so far this season, and his future is in the rotation, but as far as this season goes, he's too important an arm to not have available full time on the weekend during Southeastern Conference series.
"At this point, he's too valuable to burn him up in the middle of the week," Mainieri said.
As a result, Johnny Wholestaff is making its comeback to the midweek games. Todd Peterson will start on Tuesday night against Grambling, Mainieri said, with LSU likely to use as many as "nine or 10" pitchers through the course of the game.
In a strange bit of irony, LSU's success in developing a third (Eric Walker) and fourth (Hess) starters — a recurring bugaboo in recent years — has seemed to slow the development of a reliable bullpen.
"In a weird way, I kind of think it has hurt our bullpen," Mainieri said. "Those guys have pitched so many innings that we haven't given our bullpen enough work. So when you get to the weekend, you're not really sure who you can count on and who is sharp."
Evidence from this past weekend certainly supports the claim. LSU's three starters allowed only four earned runs in 22 innings this past weekend against Texas A&M, yet the Tigers lost two out of three games while the bullpen allowed eight runs in the remaining five innings of play.
Relievers by nature have to pitch more than once a week to remain effective. Consider that at roughly the halfway point of the season, only three relievers have made 10+ appearances. Seven different relievers made 20+ appearances last season.
"They're just not getting onto the mound enough times," Mainieri said.
As for Hess, who has never in his baseball life been a full-time reliever, the biggest adjustment will be quickly developing a new routine to get himself prepared to pitch.
Starting pitchers enjoy the luxury of knowing what days and when they'll pitch. Relievers, on the other hand, have to show up to the park every day ready to go at the drop of a hat if their number is called.
Hess has pitched in relief twice this season with unspectacular results. Mainieri isn't presently sure if it'll take him longer than a typical reliever to heat up in the bullpen.
The coach plans to use Hess in an unspecified inning late in the game against Grambling to give the freshman a taste of dealing with the unpredictability of the job.
"That's going to be the thing I'm going to have to work through, and I'm going to learn through that," Hess said. "Kind of have to develop a new routine to get myself ready for it. But I don't think that's going to be anything that impairs me or that I can't overcome."
And Hess knows just the man to talk to as he goes through the transition. Hunter Newman, LSU's veteran closer, also came to LSU as a starter before reinventing himself as a versatile, do-it-all reliever following the shoulder surgery that sidelined him for the 2014 season.
Newman pitched to a 0.93 ERA with four saves in 2014 and a 2.13 ERA with eight saves last season. His ERA is 0.93 this season and he had two saves before missing two weeks with a back injury.
Hess said Monday that he plans on having a conversation with Newman to pick the senior's brain about developing a new routine.
"As a starter, you know when you're going to pitch," Newman said. "In the bullpen, you have to come to the field every day mentally ready to pitch. So just getting that mindset that you may pitch, you may not pitch, but you have to be ready to throw strikes. It was tough sometimes, but once you got a couple of outings under your belt, it gets easier and easier."
"I know his personality," LSU pitching coach Alan Dunn added. "He's going to love that aspect."
Provided that's true, Hess has the kind of power arm that can flourish in a short relief role.
His arsenal includes a 92-94 mph fastball and a power curveball, and working in a relief setting — being able to 'empty the tank' for roughly 25 pitches as opposed to pacing himself over 85 — should add some additional velocity.
Hess has struck out 33 batters in 28.1 innings of work so far this season, which equates to a K/9 rate of 10.5. That could also go up a tick with him in the bullpen.
"It sets up great for his personality," Dunn said. "Aggressive kid. Strike thrower. His stuff plays for both roles, which is valuable for us and valuable for him as he learns about who he is as a pitcher."
NOTES
– Jake Slaughter will be back in the lineup at first base Tuesday, Mainieri said. The freshman sat the final two games of the Texas A&M series, which Rankin Woley starting in his place. Mainieri indicated Slaughter remains the team's primary first baseman, but felt he needed to sit the rookie down for a couple days once an offensive slump manifested itself in defensive mistakes.