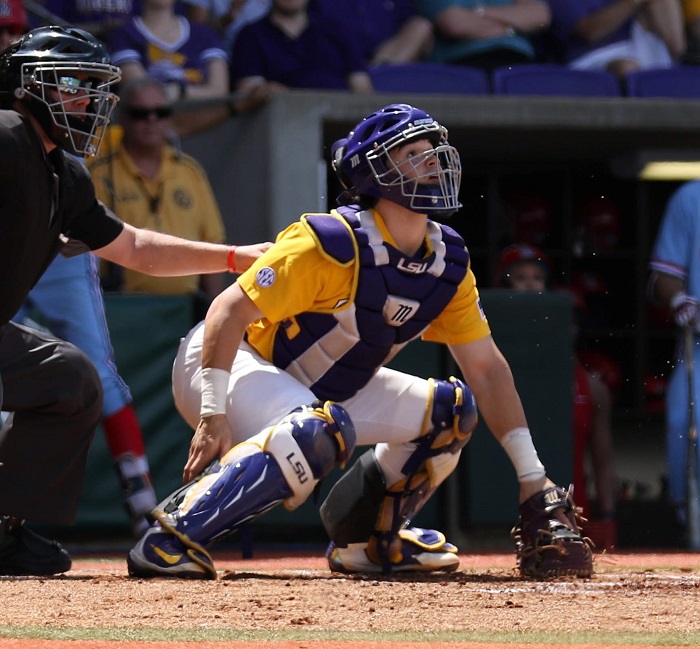 It's early February and LSU is preparing for another intra-squad preseason scrimmage, but the real show takes place during pregame batting practice.
Saul Garza, LSU's new slugger, is sending baseballs into orbit the way no Tiger had since Greg Deichmann got drafted. LSU coach Paul Mainieri declared Garza LSU's cleanup hitter a couple weeks earlier, and you can see why as he effortless deposits balls into the left field landing.
One particular swing sends a ball careening into LSU's brand new jumbotron, which towers above the bleachers in left. For at least one afternoon, Garza turned the playing surface at Alex Box Stadium into "Skip Bertman Field."
Garza pumped out 23 home runs in his lone season at Howard College before signing with LSU. Adding to the feat, he did so while missing a month due to a knee injury, which might've prevented him from being lost to the MLB Draft.
Even as Garza struggled in scrimmages, his knee still recovering from surgery in the fall, fans and coaches alike couldn't help but fantasize about the chiseled 6-foot-3, 229-pound catcher turning back the clocks to the halcyon Gorilla Ball days in Baton Rouge.
Only that's not what happened.
Garza began the season relegated to designated hitter duty while rehabbing his knee and frankly looked overmatched at the plate. His batting average languished around the Mendoza line (.200) and the awesome power he displayed in batting practice felt like a mirage, landing him a seat on the bench.
Fast forward to the SEC Tournament in Hoover and Garza is the player LSU hoped he would be and more. The sophomore caught 44 innings in a span of five days in the postseason heat and went 9-for-19 at the plate while doing it, earning SEC All-Tournament honors for his efforts.
LSU would not be preparing to host an NCAA Regional this weekend were it not for the way its perfume-wearing "warrior" behind the plate emerged down the stretch, and the Tigers won't make it to Omaha if it doesn't continue for at least two more weekends.
"He's doing a super job, and I think it's going to show in the NCAA Tournament," Mainieri said at the conclusion of LSU's run in Hoover. "I don't think we win three games this week without him playing as well as he did."
So how did a catcher struggling to hit his weight in March transform himself into a key cog on the No. 13 seed in the NCAA Tournament? The same way an overweight kid with no Division I offers heading into his senior year mashed his way from Howard College to LSU.
Hard work, whether it be in the pool, the classroom or the batting cages late at night.
EVEN IN HIS hometown of Edinburg, Texas, located right on the Mexican border, people had a hard time pronouncing the name Saul (sah-ool). That included Sammy, his older brother, who resigned to calling him ool.
That developed into a full-blown nickname one day when the Garza kids were watching television. The song "Wooly Bully" by Sam the Sham & The Pharoes came on, and Sammy found a new name to call his younger brother: Bule.
It's not an accident that "Wooly Bully" has been Garza's walk-up song throughout his torrid close to the 2019 season, but the boy who found it so amusing all those years ago was a far cry from the muscular athlete he is today.
In fact, to put it bluntly, Saul Garza was fairly overweight for much of his childhood and high school days.
"You look at him now, he looks like a Greek God, but he was really fat his junior year of high school," says Howard College coach Rob Martinez. "Nobody thought he could change his body."
That's why Garza went into his senior year at Edinburg North High School with no Division I offers despite solid career numbers as a catcher. But Howard, a junior college located in San Angelo, recruited him anyway, a decision that made Martinez look like a genius two years later.
Garza, who played football and baseball at Edinburg North, proved countless scouts wrong by transforming his body as a high school senior. It started, strangely enough, by Garza walking into the pool while the swim team was practicing.
Texas legend Nolan Ryan had always raved about the effects of swimming on his back, according to Garza, which gave him the idea to try it as a workout.
"I talked to the swimming coach and I asked if I could go out there to do the pool workouts," Garza says. "Then after a few practices she said I was on the team."
At first he thought swimming might be a nice, low-intensity workout to help shave off a few pounds before baseball season. One afternoon in the pool proved the first half of that assessment to be far from the truth.
"My first swimming workout was probably the toughest workout of my life," Garza recalls. "I showed up to the pool and felt like I was a pretty good athlete. I thought I'd do pretty well, and all the swimmers just left me in the dust. It was crazy."
But Garza stuck with it, and by the end of the fall he'd earned a spot in the competitive lineup. He swam 50- and 100-meter freestyles for Edinburg North because he didn't yet have the stamina to swim greater distances under racing conditions.
As Garza got deeper into the pool, the pounds started to melt off. He says he probably lost 15 pounds by the time baseball season rolls around. According to Martinez, it was more like 30.
The changes to his body precipitated a monster senior season at and behind the plate. He hit .530 during his senior year to earn District MVP honors and was named to the high school National team by the National High School Coaches Association for Region 6.
Bigger programs began to take notice of the trimmer Garza and tried to jump in late and pry him away from Howard College, but Garza decided to stick with the first coach who believed in him. He even turned down pro ball when the St. Louis Cardinals selected him in the 31st round of the MLB Draft.
"I really just wanted to stick to my commitment," Garza says. "Later on, going toward the draft, some schools started showing interest, but I was committed to going to Howard."
NOLAN CAIN PRIDES himself on always having a contingency plan when it comes to recruiting. If a signee is lost to the MLB Draft, he's got a list in his mind of interested players who can take his place.
But nobody was prepared for the perilous situation LSU found itself in last January.
LSU thought it had signed its catcher of the future in Mason Doolittle, a blue chip backstop out of Florida. Doolittle struggled immensely his first fall, which isn't irregular for a freshman, and lost the starting job to junior-college transfer Hunter Feduccia.
Doolittle went back to Florida for winter break and never returned to Baton Rouge. LSU got word just six days before the start of the spring semester that Doolittle intended to transfer, leaving the Tigers with just two scholarship catchers on the roster for 2018 and in even more serious trouble for 2019.
"I'd never had that happen before," Mainieri says. "First fall of his freshman year, he doesn't win the job and he bails before the season even begins. That put us precariously thin at the position last year, but obviously the depth took a hit. I told Nolan we need to get two guys in hopes we can hold onto one.
"That's one position where, if you don't have a guy, it kills your whole team."
The timing only made the situation worse. Most junior-college players have already signed by that point in the recruiting cycle, which limits the options, and January is a dead period. That means that Cain couldn't go on the road to see prospects with his own eyes.
That meant a lot of time working the phones. Cain called JUCO coaches, professional scouts and area scouts all over the country looking for unsigned catchers who had enough game to play at LSU.
His search led him to Howard College, where he'd seen an intriguing prospect the year before, but Rob Martinez had another name to pitch him: Garza.
The recommendation took Cain by surprise as Garza was in the middle of his freshman year at Howard. Typically speaking, four-year schools don't pluck players from junior colleges after just one year.
It's not against the rules per se, but it's a good way to make enemies out of JUCO coaches who are a valuable asset on the recruiting trail. Martinez assured Cain that he was on board with LSU recruiting Garza.
The reason why was simple: Garza wouldn't have anything left to do as a sophomore at Howard.
Brought up in a well-educated family — both of his parents went to college, and his mother is a teacher — Garza graduated Edinburg North high with a 102 average and carried 27 credit hours into college. He took 18 hours a semester at Howard and graduated in one year.
"There wouldn't be any classes for him to take here," Martinez says. "If he stayed here, am I really doing the right thing for him if he's taking a bunch of BS classes that don't matter? He's too smart for that. I couldn't sleep with myself if I did that to him."
Sold on Saul Garza the person, Cain went to school on the player. He talked to the scout who drafted him for the St. Louis Cardinals the year before. He talked to area scouts who'd seen him play in high school. They described a powerful, mature catcher with a rocket for an arm.
"We did our homework," Cain says. "We talked to the scout that drafted him. We talked to the area scouts. You're just going off of video. He just checked all the boxes. We heard it was a no-brainer and he had SEC tools and the right makeup."
LSU initially wanted to stall until March, when Cain could get back on the road, but LSU had Garza and his family on campus for an official visit shortly after the initial contact was made. Mainieri was so blown away by both the player and the family that he offered Garza a scholarship on the couch in his office.
"He's a brilliant kid, and what a wonderful family he comes from," Mainieri says. "When we had dinner with them, I thought the world of him family and how they must've raised him. He's just an awesome kid."
Two days later, Garza announced that he'd be a Tiger. He cancelled all his other planned visits and set his sights on Baton Rouge.
CONFIDENCE AND SUCCESS go hand in hand when it comes to hitting. It's hard to have one without the utter, and you could have a serious chicken-or-the-egg debate about which one must come first.
Garza arrived at LSU with plenty of confidence after mashing 23 home runs at Howard College. He was crushing the ball before tearing his meniscus during fall ball, and LSU still had enough confidence in him to install him in the starting lineup to begin the season, even though he couldn't catch.
But success didn't come right away. Garza struggled mightily to adjust to life as a designated hitter, leading to his relegation to part-time playing status. For all the preseason hype, he didn't hit his first home run until April 18 against Florida, his 25th game of the season.
"It felt like an eternity," Garza says. "Once we got the first one down, it helped me relax and not really worry about it. I've just been trying to do my job, drive in runs and help the team win."
It wasn't the first time Garza got off to a tough start. He didn't hit a home run all fall playing at Howard, but Martinez raved about the way his young catcher worked through the tough times. He was a sponge for coaching from day one.
"Always had the power, but he didn't have the right swing to make it happen," Martinez explains. "But he was one of those kids where if I told him something, he'd be in the cage at night by himself. This kid knows what he wants and he knows what he's chasing. That's why I think he's going to be successful."
Everything started to click for Garza in late April, right around the time he got his legs back under him behind the plate.
As of April 23, Garza was hitting a miniscule .188 with one home run. He's hit an incredible .444 (24-for-54) since that day with four home runs, raising his batting average by more than 100 points to .290. He's had multiple hits in nine of the 16 games he's played during that span.
"I can't remember the exact moment, but there was a game where I hit a few balls hard and they still didn't drop," Garza says. "I was like, look, I just need to worry about hitting balls hard and not worry about if they fall. Just try to do my job."
Surging confidence has certainly played a role in Garza's extended hot streak, but don't overlook the fact that he's been back behind the plate on a more consistent basis since that Alabama series.
Garza is one of the smartest players on LSU's team, which is a good thing, but thinking can be the worst thing for a hitter mired in a prolonged slump. And as a designated hitter, Garza had nothing but time on his hands to think about what was going wrong.
As a catcher, offense always comes second. Defense comes first and there's not time to dwell on bad at-bats or overcomplicate your swing. It can be freeing to go up to the plate with a clear mind and let the natural talent work.
"DH is a special thing," says LSU hitting coach Sean Ochinko. "It takes a special kind of guy because all you have is your one at-bat and then you've got an inning or two to wait until your next one. Sometimes you're dwelling on that at-bat. When you're playing your position, you don't have that time to think. Especially when you catch, you're focused on every single pitch. That's been the right recipe."
ANYBODY WITH TWO eyes could scout that Garza has light-tower power at the plate and a rocket for an arm behind it. Those talents are pretty obvious when you see them, but the skills that make Garza a good catcher are actually much more subtle.
Even before he started hitting, Mainieri strategically deployed Garza behind the plate with certain control pitchers. Let Landon Marceaux — whose early struggles and subsequent surges this season mirror Garza's to some degree — explain what makes him great to throw to.
"He's quiet. He's real quiet behind the plate," Marceaux explains. "I don't mean with his voice, I mean with his body. He receives the ball and presents it to the umpire. Sometimes you see Brock (Mathis) kind of moving around a little bit, falling forward. He's great to throw to. Big body back there."
Perhaps the most incredible part of Garza's game is his flexibility behind the plate. Next time you watch LSU play, take a look at how low Garza is able to set up despite being a 6-foor-3, 229-pound human being.
Being a swimmer certainly helps. Garza still swims regularly at the pool in his off-campus apartment complex. But he also owes that flexibility in part to an outside-the-box training regimen employed by Martinez back at Howard College.
"It's unbelievable," Martinez says. "He can squat like a catcher and literally put his butt on the ground he's so flexible. That kind of catches everybody's attention. Like holy cow, how is a kid that big that flexible? We do a lot of yoga here and he's a swimmer, so he's made himself into a good athlete for his size."
That flexibility goes a long way toward allowing Garza to handle the kind of heavy workload that he took on in Hoover. He caught the first 12 innings of that historic marathon against Mississippi State and came back to start against Auburn less than 12 hours later. He played and hit in all five games.
So is there any concern for LSU that the Texas kid who went from overweight and under-recruited to a surging star down the stretch could wear down after such a workload?
"He's the least of my concerns," Mainieri says. "He's playing great."