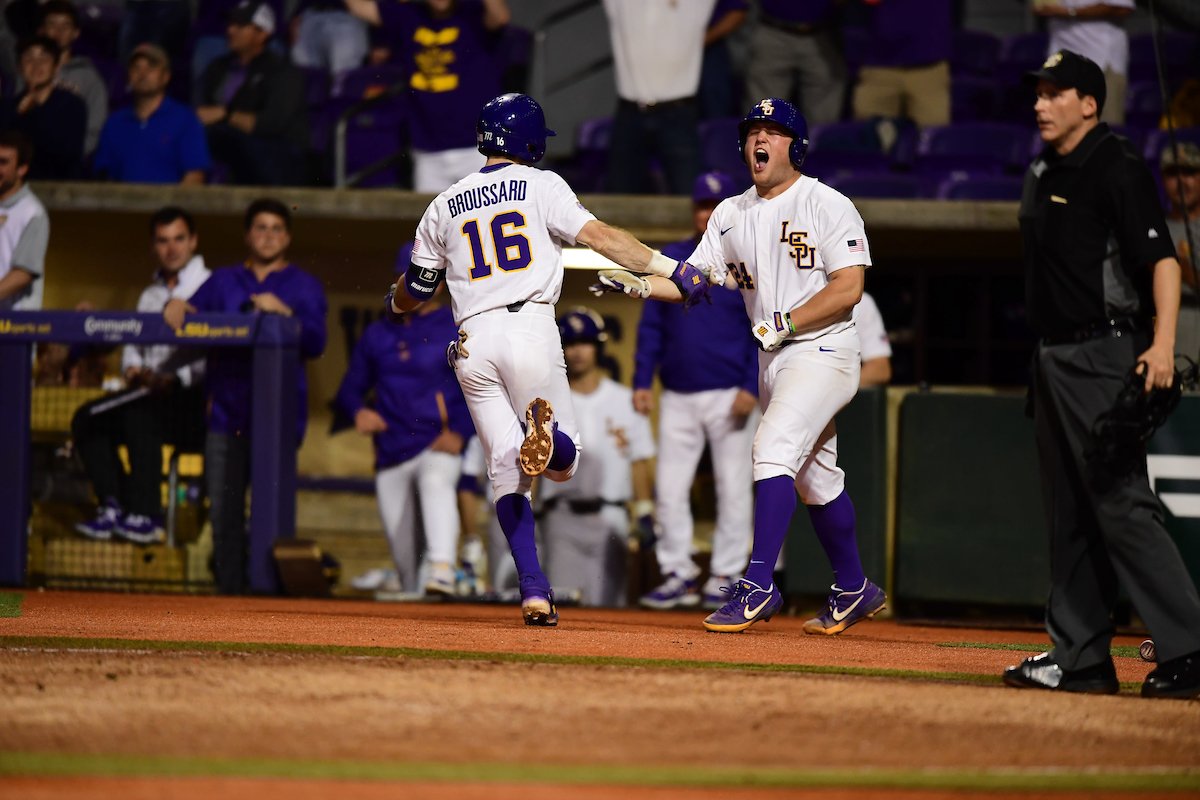 Brandt Broussard still isn't sure exactly what happened to his elbow, but a few days of rehabilitation seem to have done the trick.
The senior threw for the first time since the injury and everything felt normal on Thursday as LSU practiced for the final time before hosting the Baton Rouge Regional.
Everything went well enough that Broussard will be back in the starting lineup — presumably at second base — against Stony Brook on Friday night, LSU coach Paul Mainieri announced.
"I do think Brandt is going to be able to play," Mainieri said. "I plan on him being in the starting lineup."
Broussard began to feel pain in his elbow during pre-game warm-ups before LSU's rout of Mississippi State at the SEC Tournament.
It hurt worse with every throw, prompting LSU to remove him from the game. He had to sit out the loss to Vanderbilt in the semifinals.
LSU trainer Cory Couture diagnosed the injury as "muscular in nature," alleviating any fear of a torn UCL. Broussard had never experienced arm trouble in his career.
Throwing without pain on Thursday was the final hurdle to him returning after a week or rest and rehab. Hitting wasn't as much of an issue, even when Broussard felt the initial pain.
The injury came at a time when Broussard was playing some of the best baseball of his LSU career. He was named to the SEC All-Tournament Team having gone 6-for-13 (.462) in Hoover with four runs scored.
"It felt like I was starting to get on a little streak there," Broussard said. "So it was disappointing to have to take a step back, but that's how it goes sometimes. You just have to stick with it."
Broussard shared that he'd recently switched to a slightly smaller bat in order to be quicker through the zone.
Hitting coach Sean Ochinko made the recommendation as Broussard tried to get back to what he does best: line drives and ground balls that play to his speed.
"It was pretty immediate for me," Broussard said. "I wasn't trying so hard to get the barrel through. Bat control is a big part of it too. Trying to get less balls in the air because I've been flying out a lot this year."
"MIRACULOUS RECOVERY"
Trent Vietmeier will be available to pitch in the Baton Rouge Regional, Mainieri announced.
All parties involved thought Vietmeier's season was probably over when he suffered a significant shoulder injury against Arkansas on May 10. He's back on the active roster three weeks later.
"He's made a miraculous recovery, and I kid you not when I use that word," Mainieri said. "He must've been in mass every day … Whenever he had his MRI, we were told he had a significant injury."
Vietmeier threw two bullpen sessions this week, the most recent one on Wednesday. Everything appeared normal except the right-hander felt tired after, which is to be expected.
LATE START
LSU and Stony Brook are set for a 6 p.m. first pitch on Friday, which is a departure from the norm for LSU.
Under Mainieri, LSU typically chooses to play the early game on Friday. The logic is simple enough: if it rains and only one game gets played, make sure it is yours. And ensure maximum rest before game two.
So why is LSU playing the late game this time around?
Television, an LSU spokesman confirmed. ESPN selected the game to be broadcast in the late window, taking the choice out of LSU's hands.