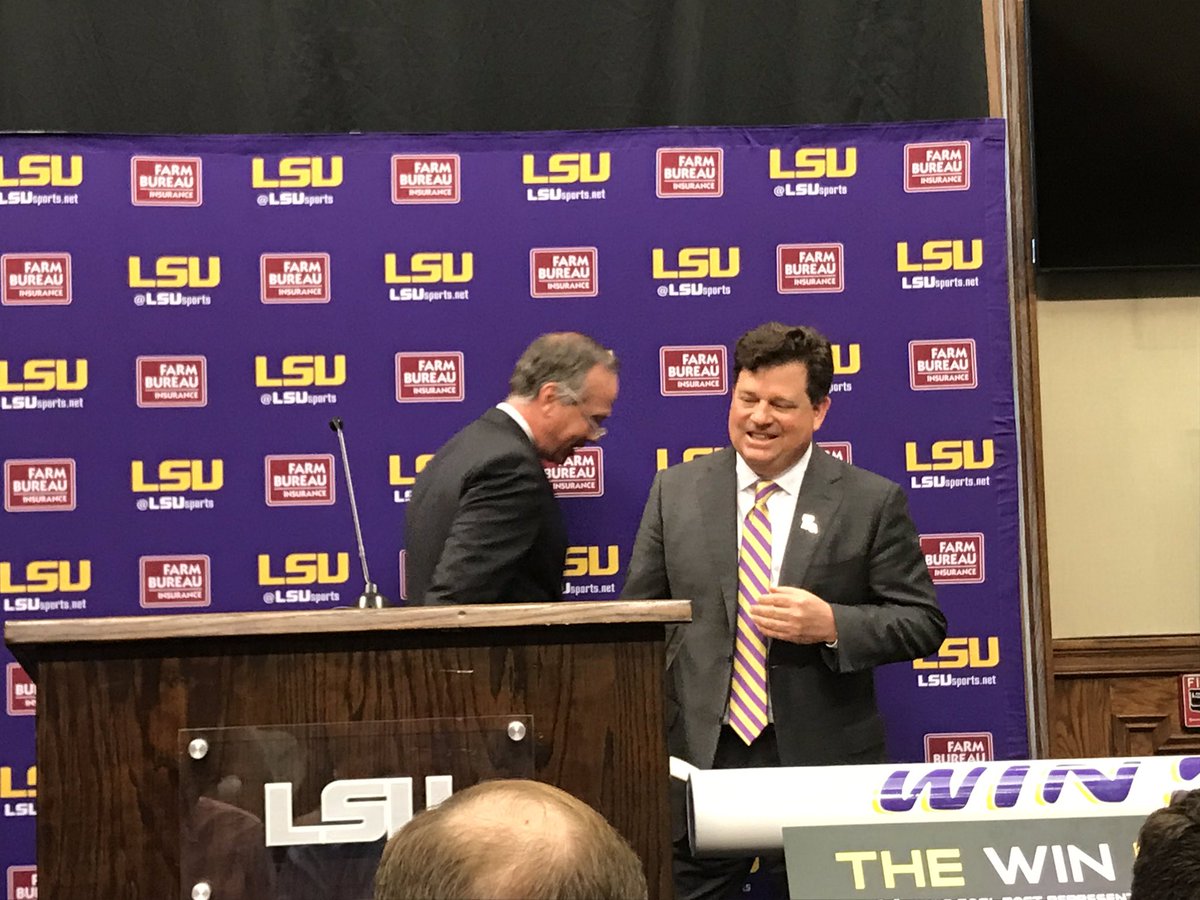 Monday marked Scott Woodward's official first day on the job as LSU's athletics director, and he spent a portion of his afternoon speaking to ESPN 1045/1049's Matt Moscona on his daily drive-time show After Further Review.
During the interview, Moscona asked Woodward about the current situation regarding Will Wade, a week after a tape of former Arizona assistant Book Robinson discussing Wade attempting to poach him from the Wildcats for assistance recruiting former LSU forward Naz Reid for whom he allegedly had a "$300,000 deal" set in place was played during an ongoing federal college hoops trial.
"Like I said in our press conference, he has our support and backing," Woodward said. "It will be that way until it's not. I hope he's our coach for a long time, but things change and minds change.
"But for the most part, everything else is guessing and speculation, and we could go round and round for hours and hours to do that. But right now he's our basketball coach."
Woodward said that he, personally, has not heard anything from the NCAA regarding Wade, though he conceded it was only his first day on the job and that could change in the future.
The allegation levied against Wade wasn't his first.
Back in October, Yahoo Sports released leaked transcripts of Wade discussing the recruitment of 2019 prospect Balsa Koprivica with one of the trial's defendants and convicted college basketball middleman Christian Dawkins.
Then, things came to a head on March 7 when another Yahoo Sports report citing another FBI Wiretap transcript seemed to show Wade discussing potentially improper benefits for then-LSU freshman Javonte Smart.
After a five-week suspension, Wade was reinstated by former athletics director Joe Alleva, followed three days later by the announcement that Alleva would step down and Woodward would take his place.
At his introductory press conference, Woodward said he had yet to discuss matters with Wade or meet him outside of social events and staff meetings, but that he stood behind Wade and considered him LSU's basketball coach until further notice.
"I need to be briefed and I need to find out what's going on," he said at the news conference. "But coach Wade is LSU's coach, and until then he's going to have my 100 percent support."
Woodwards statements on After Further Review seemed to echo that sentiment.
While Wade agreed to amendments in his contract that will allow LSU to fire him with cause if the NCAA finds him in violation of Level I or Level II infractions, Woodward seems to want more than circumstantial evidence and hearsay before pulling the trigger on any further punishment for Wade moving forward.
Photo Credit: James Moran