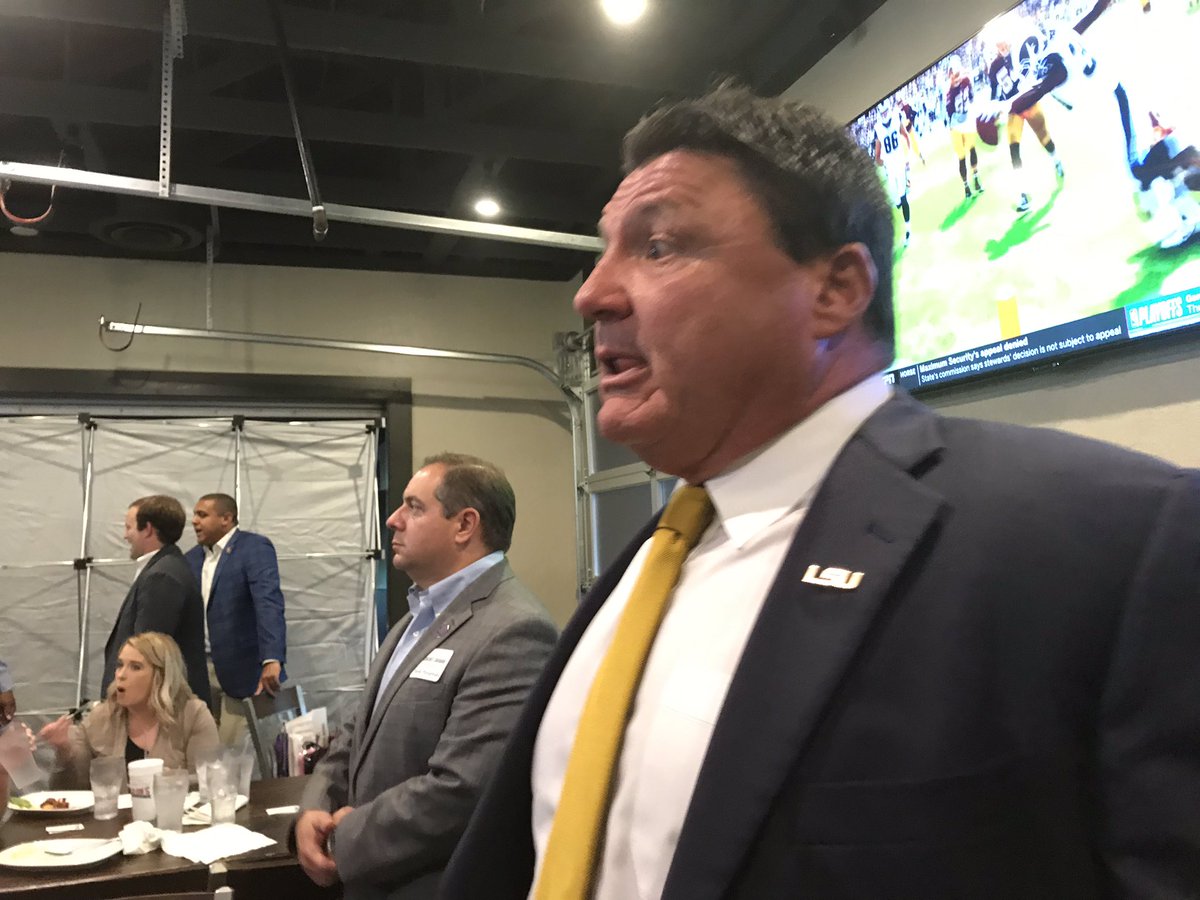 SHREVEPORT, La. — A year ago LSU was being picked to finish fifth in the SEC West and Ed Orgeron was near the top of every national hot seat list.
Now LSU is coming off a Fiesta Bowl victory, finds itself ranked in the top-five of most way-too-early polls and Orgeron recently signed a contract extension that came with a significant raise.
The momentum has certainly turned in terms of where LSU is perceived as a program under Orgeron, but the coach's top concern heading toward fall camp actually remains the same.
"The biggest thing that I see if we've got to block out the noise," Orgeron said. "Last year the noise was negative. This year it's positive. You can't do it either way. We've got to focus in on what we've got to do."
Orgeron has often credited the way his team rallied around each other during fall camp for LSU's surprising 10-win season. Low expectations aside, LSU dealt with a series of legal troubles during camp and had two of its four quarterbacks transfer in the middle of the competition.
The most important position on the field is no longer a question mark as LSU returns both starter Joe Burrow and his backup, Myles Brennan. Burrow is joined by plenty of experience on both sides of the ball and helms an offense that should benefit from the addition of Joe Brady as passing game coordinator.
All of that, plus successes on the recruiting trail, make for a lot of reasons to feel optimistic going into the 2019 season. According to Orgeron, that's precisely why his go-to phrase remains essential with about three months to go until camp opens.
"It's tougher to block out the noise when they're talking good about you," Orgeron said. "There's a lot of stuff going on out there, and I know the guys read the Twitter machine. It's going to happen, but when it comes down to camp, I'm turning it off. I'm turning it all off.
"That's the same thing we did last year. That's the same thing we have to do right now."
Lucky for us, there's still weeks and weeks of talking season before fall camp rolls around. Here's some of the most newsworthy things that Orgeron shared during the first of five LSU Coaches Caravan stops:
MIKE IN THE MIDDLE
The depth chart is written in sand, as Orgeron likes to say, but LSU's plan as of now is for Michael Divinity to begin the season playing inside linebacker.
Divinity started at outside linebacker last season and tied for the team-lead with five sacks, but LSU deployed him at inside linebacker more and more as spring practices went on.
The rationale was pretty simple: LSU is reasonably deep on the edge with K'Lavon Chaisson set to return, but the inside linebacker spots are relatively inexperienced with Devin White moving on to the NFL.
"He's going to play stack linebacker as it stands right now," Orgeron said. "We thought he had an outstanding spring, but here's what happens: we don't play a lot of base, so when we play nickel, we don't want Mike on the sidelines."
Jacob Phillips returns as a starting inside linebacker, and Patrick Queen is working behind him, Orgeron said. Micah Baskerville and Damone Clark are also in the mix.
ED INGRAM UPDATE
There's nothing new on the status of suspended offensive lineman Ed Ingram, but Orgeron did say LSU was waiting on the results of a court date this summer.
"We're not going to hear anything until they make a decision," Orgeron said. "I will say this to you: if everything is cleared, we'd love to have him back."
Ingram was suspended for all of last season due to an offseason arrest in his home state of Texas. He was LSU's starting right guard as a true freshman in 2017.
EVERYBODY ON TIME?
Four early enrollees have already gone through spring football, but the rest of LSU's 2019 signing class will report to campus later on this month.
Most of them, anyway.
Orgeron said he expects almost all of the freshmen class to report on time, but he said outside linebacker Desmond Little may be late as he has summer school work to finish up.
"I don't think Desmond Little will be there," Orgeron said. "I'm not sure yet. We're still getting final grades, but I think he has some summer work left to do. Other than that, I think we're going to be fine, but we haven't received our final numbers and all that yet."