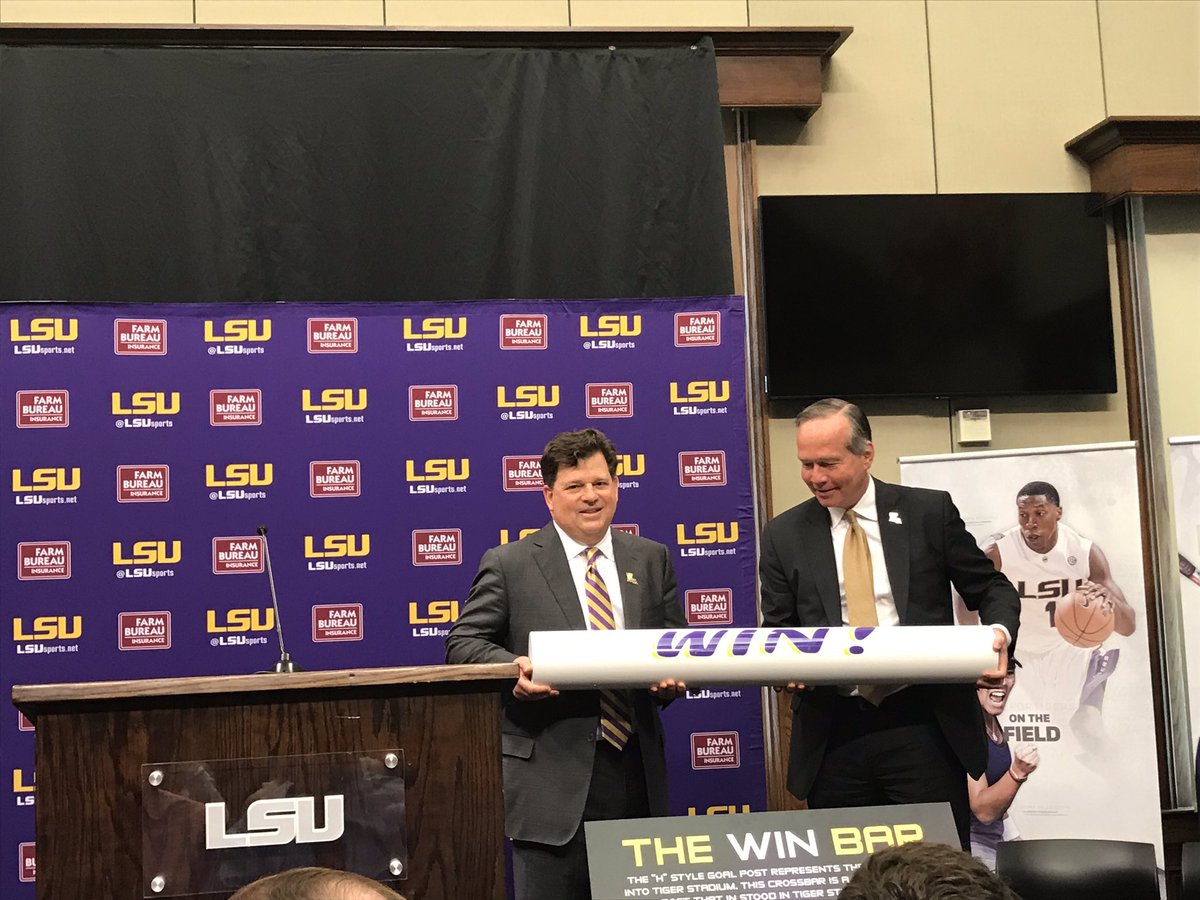 Times are changing around LSU athletics, as with a new athletics director comes new policy.
And one new policy change under LSU's new Athletics Director Scott Woodward will affect the university his department is connected to directly.
Under an unprecedented fund-transfer policy initiated by former LSU athletics director Joe Alleva, the LSU athletics department contributed millions of dollars to the academic institution that is LSU. Between 2012 and 2017, LSU athletics contributed nearly $50 million to the university under this policy despite the initial guarantee being just $36 million during that time.
But in an exclusive interview with Tiger Rag, Woodward said that policy will no longer continue under his watch, at least not as it has existed in recent years.
"It's something that's very dangerous, when universities rely on recurring money, especially from an auxiliary like the athletic department," Woodward said. "So no, I think, while I will always support the university in some form or fashion, we can not sustain what we're currently doing."
Woodward confirmed his belief that it's not the athletics department's responsibility to bail a state school out.
He also eschewed any responsibility the Tiger Athletic Foundation might have to incentivize donors to donate to the LSU Foundation or the LSU Alumni Association.
"I think that's the wrong question," he said when asked about that possibility. "I think the right question is 'What are our current donors at TAF doing for the university?' And I have a feeling that… in both places I've been (Texas A&M and Washington), on average they give 1.5 times more to the academic side. I'm sure that's the case here.
"You can't just bifurcate or trifurcate our donors as TAF donors or LSU Foundation Donors or Alumni Association donors or Ag donors or whatever kind of donors you want to put in. You get a cross in all sorts of ways. We feed off each other, and it's a very healthy, positive thing."
That reasoning somewhat echoed the words of LSU President F. King Alexander, who vaguely addressed the controversy Wednesday during a ribbon cutting ceremony for the new $28 million football operations center.
"I'd like to thank… all the TAF donors who made this happen," Alexander said. "Many of you guys, probably the vast majority have supported athletics and academics on our campus, on both sides of Nicholson Drive. We're proud that you've been able to contribute so much so consistently for our program and our university as we go forward."
The announcement came during a week in which questions arose about the perceived disparity in quality between athletic facilities and those on the academic side of campus.
LSU's new $28 million renovation to its football operations and nutrition center sparked an outcry from students and faculty about a number of budget concerns the university itself is facing, including the state of Middleton Library, which currently has flood damage among other longer-lasting issues.
Woodward made a point to make perfectly clear his support of the academic institution he received his bachelor's degree from, and he even added, vaguely, that when it comes time for a new library, LSU athletics will support the venture, though he did not specify how or whether that support will be monetary.
"There are a lot of good things going on, not only in athletics but across campus," Woodward said. "I think President Alexander did a good job of explaining that. To take things out of context anecdotally sometimes is part of it, but in no way did it detract from what we're doing. We're very proud and happy with what's going on."
During the ribbon cutting ceremony, Alexander also broke down a list of approved capital projects funded for campus under the leadership of Governor Jon Bel Edwards and Commissioner Jay Dardenne. These included a renovations to the Huey P. Long Fieldhouse ($20 million), the university's art studio ($13 million), Memorial Tower ($5 million) and the veterinary clinic ($5 million).
"It is rare that we have this capital success," Alexander said. "… In addition to being the best at what we are right here in football and athletics, we want to be the best at everything. We want to win Heisman Trophies and Butkus awards, but we also want to win Nobel Prizes."
While the university will lose some funding from this project, it seems from the outside that Woodward and Alexander are on the same page. Both want LSU to succeed in both academic and athletic venues.
"In my time here, whether I was a student or working here, I like the mantra that Mark Emmert told me: we're going to be great at physics, football and everything in between," Woodward told media at the football operations center Wednesday. "That's what matters. That's what we're about here at LSU."
LSU athletics may not directly contribute funds to the university any more, but Woodward doesn't want that to result in a lack of revenue. He just feels it will be healthier if that revenue to come from other avenues.
"We're going to continue to try to get better, not only at TAF, but I know President Alexander is working on the Foundation doing aggressive and good things, which is a matter of all of us alumni to step up and give back to the university. I think you'll see that going forward in a big way."
Sign up for our daily news letter, where we'll send you daily updates and stories on the latest news concerning LSU athletics.
Photo Credit: James Moran