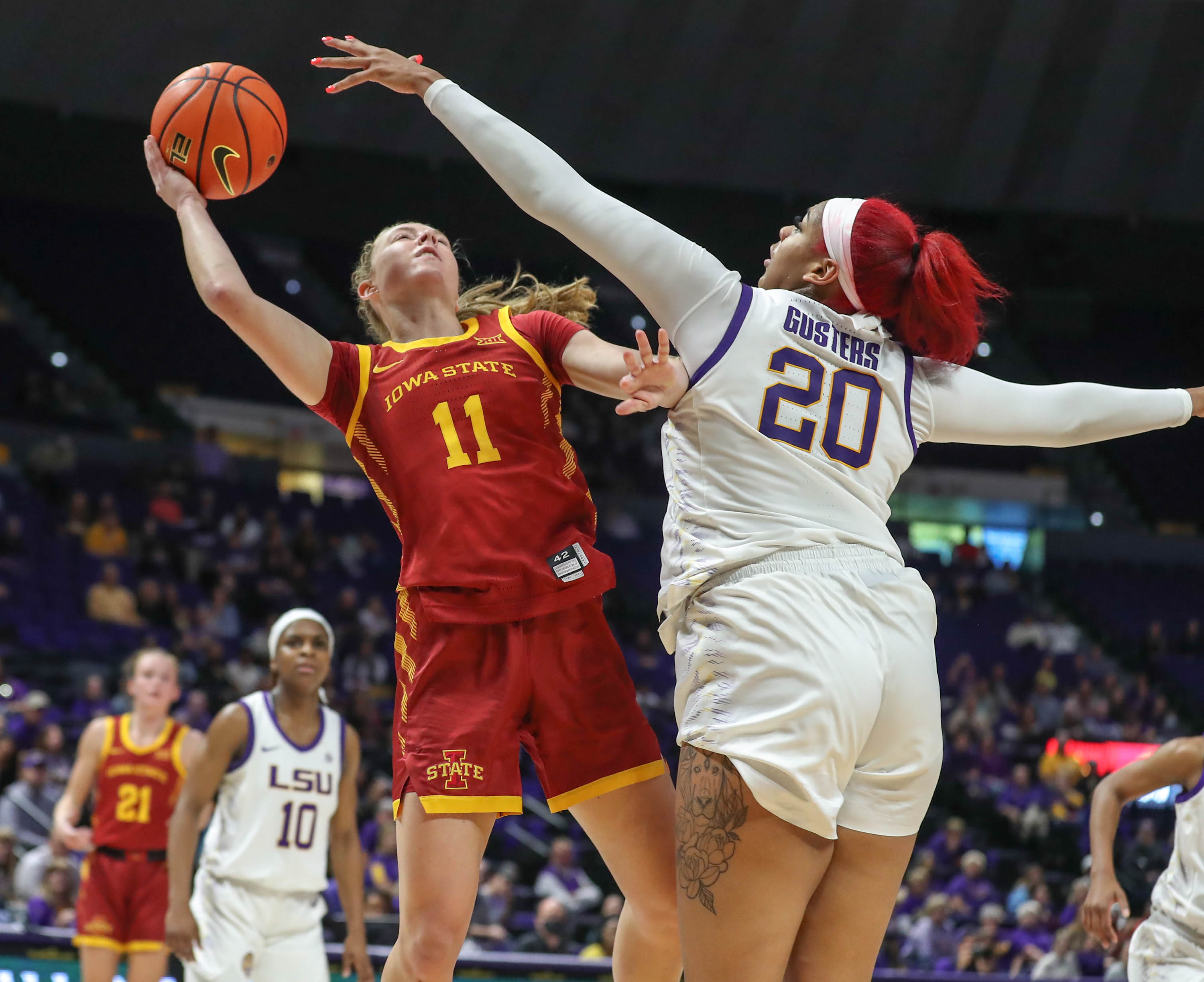 By the time LSU returned to practice four days after its 69-60 upset win over No. 14 Iowa State on Dec. 2, the Tigers found themselves ranked at No. 24 for the first time in two years.
First-year Kim Mulkey encouraged her players to bath in the moment, then return to task at hand of trying to improve individually with an eye on their next game.
"It was acknowledged at practice the first day it was announced," Mulkey said. "I said to pat each other on the back, do whatever you do and let's get back to work. I don't think it's been mentioned again."
National rankings and NCAA Tournament appearances were commonplace for Mulkey's teams during her 21 seasons at Baylor where center Hannah Gusters spent her first season before following Mulkey to LSU.
Gusters didn't underscore the significance behind the team's upset win over Iowa State, placing the game in the proper context for a program that's still building toward additional moments such as the wins over Missouri State and Iowa State.
"It's definitely something we're proud of and we take pride in," she said. "We're not satisfied, we're not content with that at all. We're going to keep working our way up and further prove ourselves."
Said LSU senior guard Ryann Payne on the national ranking: "We've been working hard. I feel like we deserve it and we're going to keep moving forward from it. It's definitely a great feeling."
LSU (6-1) concludes a 10-day span without having a played because of final exams, hosting Texas Southern (0-5) to start a stretch of three games over the next six days – all at the Pete Maravich Assembly Center.
Tip-off is scheduled for 1 p.m. with the game being streamed by SEC Network+ and broadcast locally by 107.3-FM.
Graduate student guard Khayla Pointer leads the team in scoring (18.14) and ranks fourth in the SEC, followed by senior guard Alexis Morris (14.0).
"It was pretty good being able to focus on just school and when we did practice, we focused on the things we needed to work on moving forward," Gusters said.
Mulkey said with LSU nearing the end of its non-conference schedule, which includes six more games before the start of SEC play Dec. 30 at Georgia, her team's ability to rise to the challenge in wins over NCAA Tournament staples Missouri State and Iowa State created a greater sense of belief within the program.
"You're going to acknowledge milestones and those milestones may seem trivial to a lot of people that are ranked all the time," Mulkey said. "When you're doing it for the first time with a new coach and a new program, and you're trying to regain that old energy that's been here before, it does matter.
"It wasn't just the ranking," Mulkey said. "It was beating Missouri State and the locker room after that. It was beating Iowa State. Those little milestones are big. It tells them that their hard work pays off. It tells them, 'hey guys we're headed in the right direction'."
The first game for Mulkey's team after its extended break may not result in any trepidation, but it allows the former All-American Louisiana Tech point guard to step back in time during her career when LSU hosts Texas Southern.
TSU's coached by former USC All-American and four-time WNBA Finals MVP Cynthia Cooper-Dyke, who twice led the Trojans to Final Four wins over Mulkey and the Lady Techsters, including 69-67 in the 1983 national championship game.
USC also eliminated Louisiana Tech 62-57 in the '84 national semifinals.
Texas Southern, which has former LSU walk-on Amirah O'Neal (daughter of former LSU great Shaquille O'Neal) on its roster and waiting to play at the semester break, has lost four of its five games on the road by an average of 37 points against DePaul, Arizona, Colorado and Texas A&M.
"She's played an unbelievable schedule," Mulkey said. "Don't look at their record. She's got a lot of fire in her belly. She's going to get her kids to playing hard and I know our kids will play hard. It's another opportunity for us to get better."