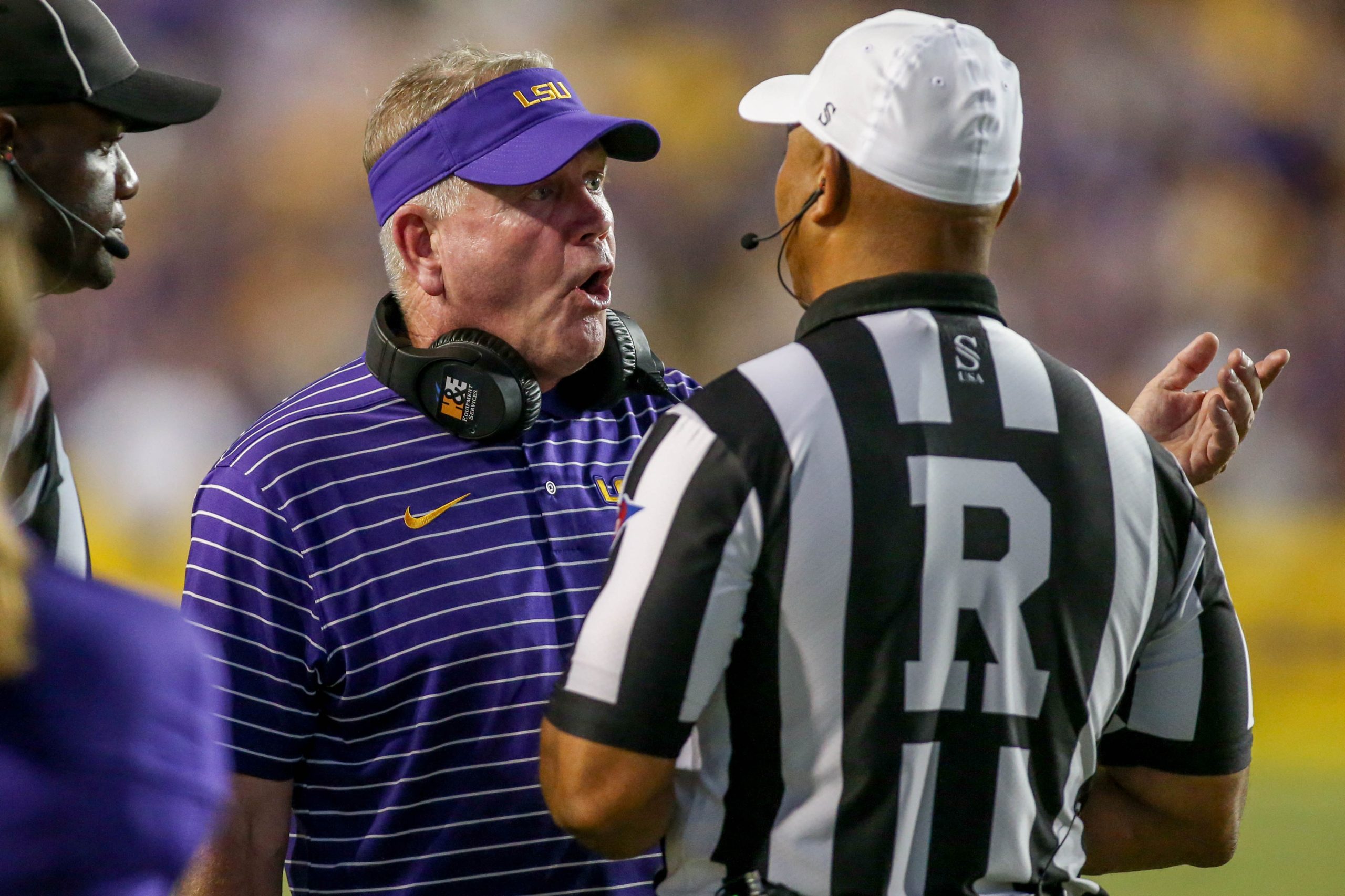 With its 45-35 win at Florida on Saturday, LSU improved to 5-2 overall and 3-1 in Southeastern Conference play. The Tigers are set to host No. 7 Ole Miss at 2:30 p.m. in Tiger Stadium with the opportunity to create a three-way tie for the lead in the Southeastern Conference's Western Division lead.
Just don't tell that to Kelly, whose team didn't fare so well, a 40-13 defeat, the last time the Tigers hosted Top 10 opponent Tennessee two weeks ago.
"No, we won't talk about tying for the West," Kelly said during his weekly news conference Monday. "I think it's too early to talk in terms of that. I think there is just too much football left to be played."
While undefeated Tennessee (6-0) has continued its ascent since leaving Tiger Stadium, including a 52-49 home win over Alabama on Saturday, LSU returns home after one of its more complete-game efforts of the season against Florida.
Quarterback Jayden Daniels engineered an offense that scored touchdowns on its first six drives and compiled 530 total yards. Daniels accounted for six touchdowns and 393 total yards, including a season-high 349 yards passing with three touchdowns. Running back Josh Williams added a career-high 106 yards on 14 carries and place-kicker Damien Ramos booted a career-long 47-yard field goal to help seal the victory.
"What we're going to talk about is how we play better at home in front of our fans against a Top 10 team," Kelly said. "Our focus will be on ourselves more so than what that means. Then we get a week off to kind of assess. Then we'll kind of put the next four weeks kind of in perspective and maybe start to talk about it from that sense."
Here's what else Kelly had to say:
Opening statement:
"Certainly, a great atmosphere at The Swamp. Our guys needed to think about the right things going into that game. I thought that we were confident. I thought they thought about how to win the game. I thought that they maintained that throughout the game even though there was some adversity. I thought they kept their emotions in check. I think those are really important. I think I talked about those last week. When you go on the road you have to eliminate distractions, and from all the things that go on in pre-game, during the game there is a lot of distractions, and I thought they did a very good job. I think the sideline was excellent, guys really being positive with each other during the game. Those all go to getting through the highs and lows of the game when you're in the road and the crowd is involved in it. So proud of our football team and the way they managed themselves and handled themselves in that situation. And then offensively we executed very well. Defensively we came up with some stops when we needed them. Clearly on the offensive side of the ball, we've got to eliminate some mistakes up front. We've got to be cleaner, and I think defensively it's pretty clear it's the big play, eliminating the big plays. But again, execution-wise our best performance offensively, and then we'll look to build on that in terms of consistency of performance. Then defensively cleaning up the big plays. I think that's it. Special teams, I think we are all seeing the same thing. First play of the game, we let the ball outside the defense. We have to contain it on a kickoff, and when I then we muff a punt. Those guys know they have to obviously be accountable, and we've got put them in a position to succeed. We'll keep coaching it, and we know we have to get better there.
(On Ole Miss)
Obviously another Top 10 team coming into the stadium. We're excited about the challenges. It's an outstanding football team, well-coached. Lane (Kiffin) does a great job with the offense, but overall, a very confident football team. It's an offense that is systematic in its play-calling. What they're trying to do, the pieces fall together quite nicely, and very talented. The quarterback (Jaxton Dart) is a true double threat quarterback. He's complementary with two outstanding backs, big receivers, and a very balanced attack that can run it equally as well as they throw it. I have a lot of respect for what they do. Defensively they're in a three-down defense. We don't see a ton of what they do. They do what they do well. I think they get pressures; I think they're second in the SEC in sacks. Difficult sometimes to know where they're coming from. Have to do a really good job with protections, scanning, and taking care of our quarterback. I'm excited to be at home. I know our guys want to play well at home before our home fans, and again, look forward to another challenge for an SEC Top 10 team."
On keeping straight face on SEC Network's interview with Chris Doering?
"I had no idea. I didn't know he was going to dress like a clown. But I think if you keep betting, you get what you deserve. Because I think he's 0-for-4. In that situation I think Pete (Burns) should just up the ante at this point, make sure there is no dress that he comes out in next time. Then there won't be any more betting."
On going along with station's good-natured fun?
"I think there is so many rivalries in this conference. This is another rivalry game, the Magnolia Trophy. There is just so many different rivalries. We saw Marcus Spears had a friendly bet with somebody. It's just there is such passion in college football, especially down here in the SEC. I love watching that, and so just makes sense to allow them to continue to have those kinds of inside bets."
On coaching against Lane Kiffin when he was at USC?
"He's a creative coach offensively, and they always have been cutting edge in terms of what they do. He's a guy that gets his team playing hard. Offensively there is always an answer to what you do in-game as well. But I think more importantly, they scout you. You better know your own self-scouting and where your tendencies are, because he's going to really dial in on if there is anything that you do – if you do anything defensively, he is going to analyze that and have an answer for it. You got to be very good at your self-scout."
On getting big play early from Kayshon Boutte and impact on game?
"This had been the seventh game and we had been confronted with those situations and haven't made them, but I don't think that there was any hesitation that we wouldn't go back to it. Those two (Jayden Daniels and Boutte) have been working hard in practice and trying to build that relationship. He was going to be the primary on that play, and Jayden got flushed out of the pocket. But he kept his eyes looking for him, and it was really the first time when those two found each other in terms of getting the ball. And then that drive, quite frankly, we had a lot of mistakes. That drive ended up in the end zone because of those two guys. They made big plays, and that's what sometimes you need, your big-time players have to step up. I think that was the first time this year that our best players stepped up to that level and made plays."
Did entire offense take the next logical step in its growth?
"I think it's got to be part of what we continue to grow towards. There will be times where guys have just got to step up and make plays. We had been kind of grinding it out. We were trying to fight for every blade of grass, and sometimes you just got to make some plays. The big touchdown throws to Jaray Jenkins … they jump offside, that's a part of our offense, take a shot down the field. Maybe earlier in the year we throw that out of bounds. Just staying at it and being consistent with coaching it, and then telling our guys that, 'look, sooner or later we got to step up and make these plays'. They did it on Saturday. Now we got to be consistent. We Can't do it one week and turn it off the next week and expect to win."
Any lessons learned from Tennessee game to Ole Miss game?
"This team each week is learning so much and growing. Unfortunately, they learned from the Tennessee loss, and nobody really wants to be learning lessons after a loss. But they learned a lot about intentionality and being purposeful in terms of preparation. We saw that during the week. It carried over to the way they played on the road. I think then you win on the road in the fashion they did, you build more confidence in your football team. I think two weeks later, I don't want to say a different team, but it's a team that has confidence. It's a team that knows if they don't play clean, if they don't have an attention to detail, they'll have similar results they did against Tennessee. I guess what I'm saying is that it's not a different team, but it's a team that has grown from the last couple of weeks, and if they take that knowledge into their preparation this week and into the game and their performance, then we should have one really fine football team."
Improvement in play of defensive backs?
"I thought there were some good things, things that we got to continue to work on. Obviously, big plays, we've got to tackle better. I think it starts there. We gave up a big play early right out of the gates. We've got to stay on top of the coverage there. It's kind of a mixed bag right now. I would like to stand up here and tell that you everything is great and we're ready to enshrine them all into the College Football Hall of Fame. That's just not the case. It's a work in progress, and we've got to continue to get better at both the corner and safety and nickel positions. I think it starts with the fundamentals, leverage, staying on top of the football, and tackling. I don't want to make it simple, but it's not that hard. We have to get better in the fundamentals. If we do, we'll be better on the back end of our defense."
On the last time you remember starting two true freshman on offensive line?
"I don't think I ever have, but I'm having a hard time with last week in memory. I don't believe I've ever started two freshmen period on an offensive line, but to have two tackles in the SEC is quite unusual. It's not necessarily the physical (aspect). They have the physical because you cannot play in this league unless you have physical traits. These guys are too fast, too big, too strong. They'll walk you back to the quarterback if you're not physically strong enough. Emery Jones and Will Campbell, physically have the traits to go in the weight room and be as strong as anybody that we have and are able to move their feet to get out and set these guys. They're going to miss a couple. We got beat inside on a couple of times they counter-moved us. These guys are extraordinary in their ability to move on to the next play. They focus and then refocus. Their mental approach to the game is so far above any freshmen that I'm used to having. They generally have that look in their eyes right about now that they're done. These guys are anxious for more. That's unusual."
On trying to stop Ole Miss' running game?
"It's perimeter based. The ball is a trying to get out on the perimeter, but you now have a quarterback that's if you're spreading yourself thin on the perimeter, he strikes down the heart of our defense. And then they have a great play-action game, and (Jonathan) Mingo is 6-3, 6-4, 225 pounds. He's a matchup nightmare. When your safeties are dropping down, you're trying to load the box, defend the perimeter, now they got one-on-one matchups that they can throw the football. Auburn was trying to stop the passing game, and then they were a little soft to the run game. They ran for 400 yards. You cannot win games giving up 400 yards rushing. Well, you can, but you're playing the game up and down the field. It's just an offense that has been set up to force the ball outside, but they have a quarterback now that can run it so effectively as well. They threw the ball last year because they had a great quarterback in (Matt) Corral. This is a different quarterback. That's what Lane does well. He's going to set his offense based upon who the player is. It's not about plays, it's about players for him, and he changes based upon who he has. He has a quarterback that's a really a dual threat."
On Ole Miss quarterback Jaxon Dart?
"He's a beautiful thrower of the football. He is California (native), you know, throw the football, I mean, he has all those traits. But he is also athletic enough and can run, that they've put him in a system where he becomes a dual threat. We played (Tennessee's Hendon) Hooker, we played (Florida's Anthony) Richardson. We're going to play (Arkansas' KJ) Jefferson. These are big bodied, thick, physical quarterbacks are really good quarterbacks that can throw, but they don't throw like this kid. This kid has the ability to drop back 50 times if they wanted to and throw the football."
On performance of running back Josh Williams meriting game ball vs. Florida?
"The theme all week was attention to detail, and so his attention to the smallest of details in that game helped us win. I wanted to make sure that that kind of was followed up with the game ball. We ask our backs to chip a lot off those defensive ends to help those young tackles (Will Campbell, Emery Jones) we just talked about. He's not 6-2, so when you talk about him having the chip, he's got to leave his feet to chip But, he was outstanding at it. He stopped the charge of their defensive ends, caught the ball coming out of the backfield, picked up blitzers. Actually, picked up the defensive end by himself a couple times when we missed a slide. Ran the ball coming out in the third quarter with authority that gave us great momentum. Just a little bit of everything. All the little jobs that you ask them to do, he does them. Sometimes he does them for the first time, so we wanted to reward him in kind.
Updated status of Jack Bech and Armoni Goodwin this week?
"Jack is day to day. Got the same back situation which is an L5. It's cranky. Hopefully we get him up and going. He's a tough guy. Hopefully we can get him loose enough where he can play. And Armoni, we'll practice him on Tuesday and see what we can get. He wants to play. Our doctors have cleared him. We'll see what kind of volume we can get out of him, and hopefully it goes well during the week."
On cleaning up big plays allowed on defense?
"We tried to punch the ball loose twice on Richardson. You've got to tackle him, that's a commitment. You got to go and wrap him up and bring him down on the ground. So that was tackling. We gave up the big-play pass where we just need to stay on top, and we did not. We gave up (the) run after the catch, and that was a tackling situation. We just have to be better at tackling. I think if we start there and really focus on just doing our job, we're going to be much better at the defensive end."
On the cheat sheet you referred to during game on sideline?
"Situational football. Mostly situational calls. (Offensive coordinator) Mike (Denbrock) called a great game I thought. I'm just looking at situational calls and just reminding the quarterback, talking to Mike, talking to (defensive coordinator) Matt (House), mostly on situational calls."
What response did you get on overturn of Brian Thomas' catch?
"I have not. My biggest concern is that we're just slowing the game down. Look, we got to pay the bills, I get it. It's four, three, four, three with timeouts. That's not going away or we're going to be obviously not paying anybody anything. But to stop the game for so many reviews, and most of them to be the play stands as called, it just takes away the flow of the game. Hopefully it's something we can look at, at the end of the season. Maybe it can be instant replay on scoring plays only or change of possession. If you feel like it's egregious, throw the red flag out there. But it just seems like we're slowing the game down. That will be a topic that we can have after the season ends."
On being involved in offensive play calling?
"Mike calls all the good plays. (Smiling.) I call all the great plays. (Smiling.) It comes down from Mike, and (wide receivers coach) Cortez (Hankton) is on the sideline. They're going through our signalers. I'm hearing them. There are a couple voices, one is obviously enough. You can't have three or four voices when you're getting the play and getting into a flow. I've been a play caller. You can't get a million suggestions going. You've got to let a play caller go. I'm reminding him on whether we're going for it on fourth down and what we need to go for it on fourth down, how many yards. I'll give him suggestions like that during the series. And other than that, (I) kind of allow him to keep in the flow of the game. I'm reminding him of time and timeouts and really time management issues more than anything else. Play-calling is an art and a science, but you can't get in the way of the art of it."
On play of kicking specialists Damien Ramos and Jay Bramblett?
Damien Ramos. It's loud. That's a big kick, that ices the game. He nails it. The snap was great, hold was great. The execution was, we've seen that has to happen, too. Just go back to the first week. The execution was great, kick was great. But he has been consistent since we put him in in camp. We've tried to simulate those with loud music, and he's been spot on. We felt really confident in that situation. And Bramblett, you saw we made a bit of a change where we directionally kicked a little bit, and he was outstanding. We were pushing that ball closer to the sideline to squeeze our coverage teams into a better location. He's capable of kicking it 50 plus every time. We don't want to stretch our coverage teams quite as much."
On the pace of the season? Preparation for Ole Miss which can be unconventional at times?
"We look at all those numbers, and there are some similarities there in terms of making sure our guys understand they'll be on the field for most of the fourth down situations that will be occurring. We've already had that meeting with the coordinators. I'm enjoying the heck out of it. When you're enjoying what you're doing, it doesn't seem like it's October. It just feels like this is what I wanted to do. It's flying by."
On strengths of Ole Miss' defense?
"It's hard to know exactly where the birds line up all the time. It's three down, it's four. They're playing with nickel and dime (packages), some invert. You don't know where some of the pressures, where they're striking from the field, from the boundary. You've got to be on your toes. This is a week where recognition and understanding where it's coming from is going to be really important. The quarterback has to be on it, he is going to have slide (the protection) the right way. Our backs are going to have to go coast to coast in some of the read progressions. There has to be better attention in that regard. Sometimes when you're in four down, you know where the overload blitz is coming from four-down situations because you got to tip it. You got to lock in on safeties. This is a week where you really got to do a really good job against them."