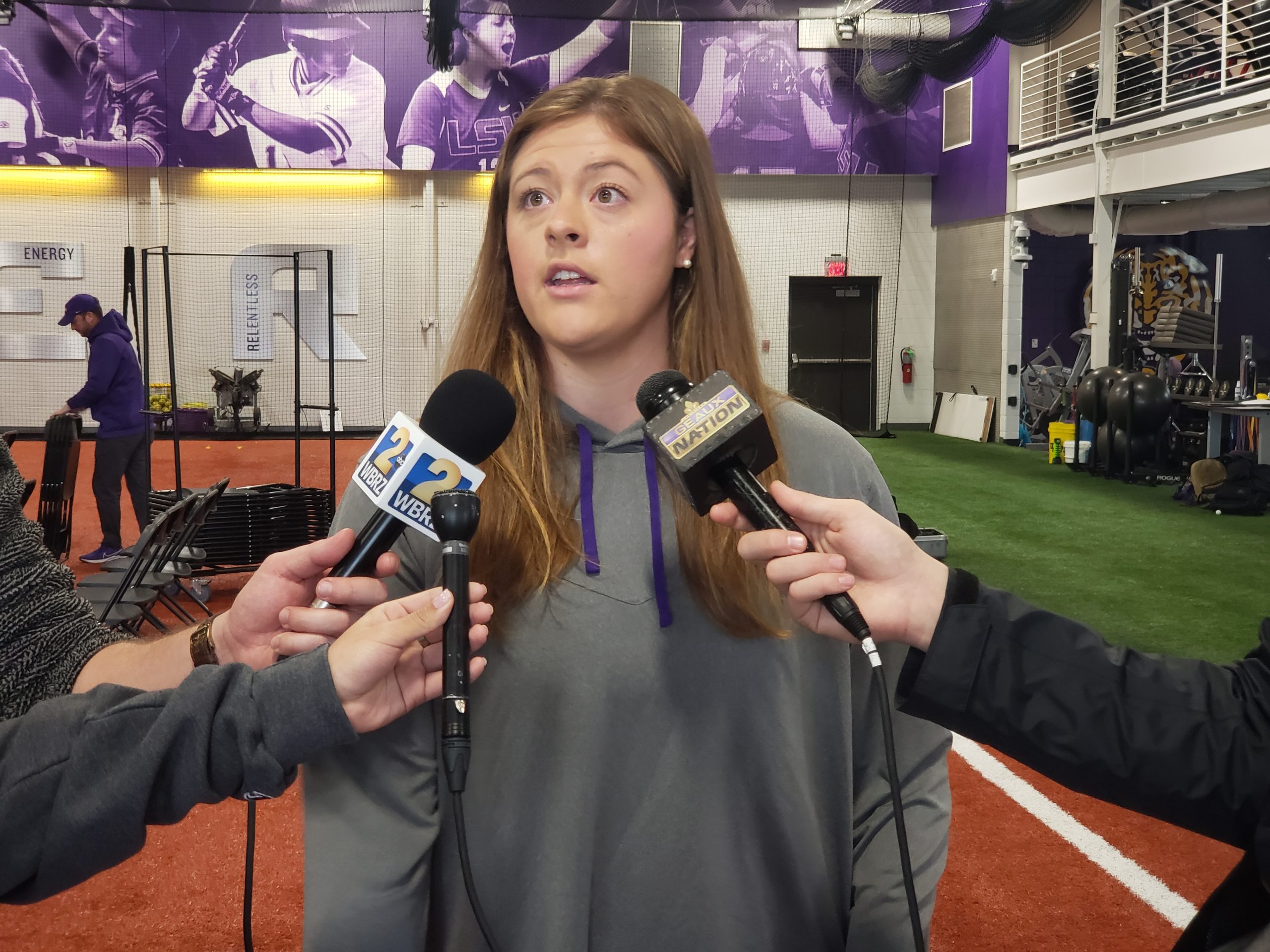 LSU hasn't had a season come crashing down on it before like the end of the 2022 campaign.
The Tigers dropped their final four games of the season, including a first for the program with an 0-and-2 showing in the NCAA Regional in Tempe, Arizona.
Those stinging season-ending losses to San Diego State and Cal State Fullerton have served as the fuel for a program determined to make amends in 2023.
"For those who lived through it, it's in everything we do," said 12th year LSU softball coach Beth Torina during Tuesday's Media Day. "It's in every moment. It is gasoline on a fire. It was already burning, and it makes it even brighter. I don't think a day goes by here we don't know if we can do more or want to do more.
"Do we want those moments? Of course not, but maybe it's a necessary evil to get you to where you want to go," Torina added. "You realize what it truly takes to be one of those last eight (teams), to be that last team. Sometimes it takes a little reality check, a little learning moment. We learned a lot last year. I'm still taking with me the things that I learned. I've seen efficiency in our practices that we didn't have before."
LSU returns 13 players, including seven starters, from last year's 34-23 team. The Tigers have been a preseason pick to finish fifth in the talent-rich Southeastern Conference and carry a No. 20 ranking in the ESPN/USA Softball preseason poll.
"We've waited a long time to put this particular group together," said Torina, who is 579-314 overall and 450-203 at LSU. "We even got some added bonuses with a couple of COVID fifth years (seniors). We got them all together and we've worked really hard to get this group together."
Besides a pared down roster of 21 players, down six from a year ago, Torina trumpeted greater harmony within her team which begins the season at home Feb. 10 in its own LSU Invitational. The Tigers open with New Mexico at 6 p.m. and face No. 25 Oregon State at 2:30 and New Mexico on Feb. 11 and close with Oregon State at 12:30 and Nicholls State at 3 p.m. on Feb. 12.
Torina believes the additional time off the field, experiences that include eating dinner together or bowling, have fostered a greater bond within the team.
"There are some players that aren't with us anymore. It was a sad moment," said Torina, who has guided the Tigers to four trips to the Women's College World Series with the last one in 2017. "We wish they were here. Honestly, we have the right group together right now. This is an incredible team. They like each other. They pull for each other."
LSU returns four graduate transfers in pitcher Ali Kilponen, first baseman Georgia Clark, catcher Hannah Carson and outfielder Savannah Stewart.
Kilponen (18-9, 2.29 ERA, 145 Ks) was a first team All-SEC performer in '22 and the undisputed leader of this year's deep, but young, pitching staff.
Sophomore Raelin Chaffin (6-2, 3.23) is the only other returning pitcher with experience, while the Tigers welcome a talented group of freshmen that include Sydney Berzon, Emma Strood and Alea Johnson.
Torina also pointed toward redshirt sophomore Emilee Casanova (0-0 in '22) as someone who has worked herself somewhere into the team's rotation this season.
"It's exciting to have her lead this young group of pitchers," Torina said of Kilponen. "These guys don't have to go out and be all everything in year one. They get to follow her example and be protected at times."
Kilponen's one of five returning players to have earned either All-SEC or All-South Region honors along with junior third baseman Danieca Coffey (.379, 72 hits, 26 RBIs, .474 slugging percentage, 10 stolen bases). junior center fielder Ciarra Briggs (.368, 70 hits, 2 HRs, 32 RBIs), Clark (.301, 16 HRs, 61 RBIs) and junior shortstop Taylor Pleasants (.295, 12 HRs, 48 RBIs).
"We return a great core of players," Torina said. "I love this core of returners. It's a very different feel at practice every day than the last two years. It felt like we were having to really coach a lot of young kids. It's very player-led, a different feel. A really exciting feel to be at the helm of this group."
Junior Ali Newman (.284, 7 HRs, 35 RBIs), established herself in left field with both her bat and glove and gives LSU one of its top outfield units along with Briggs in center and sophomore McKenzie Redoutey (.242, 3 HRs 19 RBIs) in right. Stewart (.268, 4 2Bs) is also expected to push for playing time in the outfield.
LSU added experience to its lineup with the additions of Carson of Michigan, a catcher/designated player, and Karli Petty of Oklahoma State, a second baseman.
A talented signing class, which produced Berzon, Johnson and Strood in the circle, will also have Maia Townsend contending for playing time in right field, former Louisiana Gatorade Player of the Year in catcher Maci Bergeron and mid-year enrollee McKaela Walker in the infield.
"These guys are a special team," Torina said. "We have the right personnel, the right people. That was a big part of just pouring into each other a little bit more in having the right group and we have them."