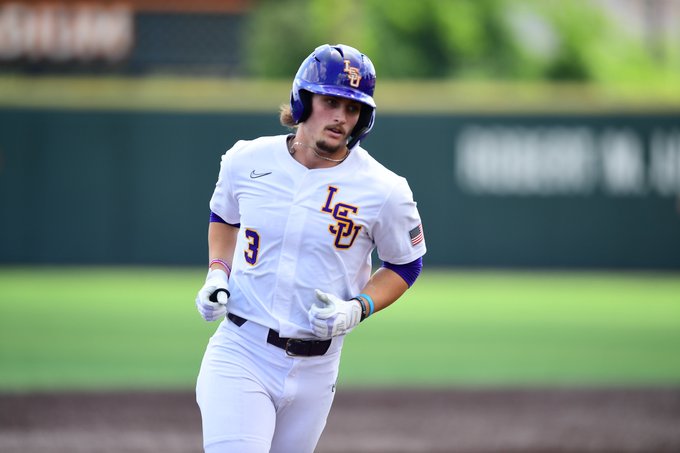 When the acoustics reached Dylan Crews, he knew a good summer was ahead for USA Baseball's Collegiate National Team. Better yet, it meant LSU might have another star in a program that grows them in bushels.
Back in Baton Rouge, the technical term is "C'est Bon."
The sound of a great baseball swing operates like obscenity. Supreme Court Justice Potter Stewart set the base-line test for the vulgar and profane. He knew it when he saw it.
In Crews' case, he heard it. The crack of cork and rubber meeting bat crested in his ear. Even the weariest of ball players noticed. Crews nodded. This cat from Arizona can hit.
Crews had a vague familiarity with Jacob Berry, his new LSU teammate, and for the next two months, they shared a dugout on the national team. Berry had signed with the Tigers just before USA Baseball workouts began in North Carolina.
First impressions are measured in seven-second intervals. In this case, it was with a single at-bat.
"When he gets hot, it's pretty scary," Crews said. "We were pretty much back-to-back the whole time and it was great to hit behind him and hit in front of him. It kind of gave me an idea of what the year is going to be like and it was a lot of fun."
Berry, a freshman All-American at Arizona in 2021, oozes West Coast cool. Crews is a Florida man by birth, down to the mustache and mullet. He too was a freshman All-American, but edged Berry for Perfect Game's National Freshman of the Year Award.
It made for an odd pairing superficially. The Valley of the Sun meets the son of the Seminole swamps. Geographic differences aside, they had plenty to discuss and found kinship through shared experience.
Crews had one piece of advice for Berry. Just get ready. LSU baseball is like nothing you've ever seen.
He was right.
The culture shock didn't sink in until the first fall scrimmage. Alex Box Stadium was packed. LSU fans are famous for their pregame consumption. But this was the middle of the day. Shouldn't these folks be at work? Not when baseball is involved. Berry wasn't in Arizona anymore.
"I went to a few football games when I was at the University of Arizona and there were more people at our scrimmages," Berry said. "The first thing I noticed when I got here was all the LSU flags everywhere. This is definitely a different culture and people really value sports.
"We had fans at Arizona but nothing like this and I'm excited to get rolling in the season and play for everybody here."
RAIDING ARIZONA
Jay Johnson walked into an empty office on his first day as LSU's baseball coach. It was June 27. The walls were bare and hallways sparse. All that lingered from Paul Mainieri's 15 seasons was the man himself.
Mainieri led his successor on a tour of Alex Box Stadium. Every nook and cranny brought back a story. From SEC championships to Super Regionals and trips to Omaha.
"There's a lot expected of you," Mainieri reminded Johnson. He nodded.
Those expectations were why Johnson left an Arizona program he'd just taken to the College World Series. It was why his wife, Maureen, a former college athletics administrator, told her husband this was a once in a lifetime opportunity.
"It was a unique process," Johnson said. "I was a fan of Coach Mainieri and I watched a little bit of his retirement press conference with no thought of coming here. We still have plenty of work to do and frankly I did not hear from LSU for a long time."
Mainieri, who coached LSU to five College World Series appearances and the 2009 national title, announced after the SEC Tournament that he'd retire after the 2021 season. The Tigers finished an uncharacteristic ninth place in the SEC. Grumblings persisted through the year that it would be Mainieri's last.
LSU got hot in the postseason and advanced to a Super Regional. Mainieri was the No. 1 active coach in career wins when he retired.
The timing was perfect for Johnson, who was preparing Arizona to face No. 1 Vanderbilt in Omaha. The Wildcats were two and done, losing by one run to the Commodores and then to Stanford in an elimination game.
"After we won the Super Regional, I think that maybe caught their attention," Johnson said. "Their patience to let me prepare my team for the College World Series said a lot to me about them. Things sped up pretty quickly after our season was over and it was only difficult because I loved the players who played for me at Arizona.
"Being invested in that group and leaving them was gut-wrenching, but everything else about the move was positive and this is where I wanted to be."
Berry was shocked when Johnson left for LSU. Johnson had convinced him to stay instate and sign with Arizona. He appreciated how Johnson had showed up at his high school games. While a routine practice for college coaches, the way Johnson engaged players was different. Berry felt valued and that personal touch won him over.
Without Johnson, Berry wanted the opportunity to visit other schools. He entered the transfer portal on June 29. Bryce Collins and Riley Cooper, two up and coming pitchers at Arizona, followed Berry into the portal.
"I had to step back and keep my options open," Berry said. "I was still committed to the University of Arizona at that time, but my dream was to play for Coach Johnson my whole college career.
"He called and offered me a scholarship and that kind of settled it. He's a great coach and a mentor. I've had such a good relationship with him and that's why I'm here now. "
While awkward for his former bosses in Tucson, Johnson knew if he didn't recruit the Arizona trio, someone else in the SEC would. Berry visited Vanderbilt in high school. Collins and Cooper were also hot commodities inside the conference.
"If I did not recruit Jacob Berry, he'd be playing against us at Vanderbilt this year," Johnson said. "If I didn't recruit Riley Cooper, he'd be playing against us at Ole Miss and If I didn't recruit Bryce Collins, he'd be playing against us at Texas A&M.
"Recruiting them after they decided to go into the transfer portal was what was best for LSU. I'm not doing my job if I think a player can help us here and I don't recruit them as hard as I can. That doesn't make any sense."
Berry left LSU's recruiting up to the staff. Unbeknownst to him, Cooper was taking visits to campus. Collins announced he was transferring to LSU on Jul. 16. Cooper followed the same day.
"Riley and I were going to be roommates this year at Arizona, but obviously when he committed here it was perfect," Berry said. "Bryce was another one that surprised me. I didn't talk to him about the process, but fortunately Coach Johnson gave him and opportunity and I'm excited to compete with them again."
CONVINCING CREWS
Word travels fast around Baton Rouge in any arena.
The pace intensifies when the conversation swings to LSU, where rapidity is only rivaled by the sheer volume of responses. This was the intrigue that awaited Johnson upon arrival.
Crews, like the rest of his teammates, were just happy to have a coach.
"The first time I met Coach Jay, he won me over with his energy and how professional he was," Crews said. "He pulled me right in and it's been great ever since. The atmosphere on the team has been awesome."
The resume didn't hurt. Johnson has over 300 wins as a head coach. In six seasons at Arizona, he made the College World Series twice and was the 2021 Pac-12 coach of the year. The Wildcats were the national runner-up to Coastal Carolina in 2016.
Johnson studied the roster before sizing it up in person. This was not Morris Buttermaker inheriting the dregs of the Southern California little league. LSU had fallen in the SEC pecking order, but Johnson saw an operation in need of a tune-up, not an overhaul.
"We've had a really productive time since we've been here because I didn't expect them to trust me or our staff right away," Johnson said. "I think that's our job to go earn that, but they gave us the platform to earn it and collectively I'm really pleased with the attitude and the buy-in from this returning group."
The lineup is potent with Crews (.362, 18 HR), Tre' Morgan (.357, 6 HR), Cade Doughty (.308, 13 HR) and Gavin Dugas (.295, 19 HR). Last season at Arizona, Berry hit .352 with 70 RBIs and 17 home runs.
Johnson, who came up as a hitting coach, collects bats the same way PT Barnum once collected glandular giants and other biological oddities.
"What I really like is how when we work on something, we stick to one thing until we master it before we move forward," Crews said. "Coach is all about the details. We're going to practice until we do it right."
It benefits any first-year coach to bring along "his guys" to a new locale. Johnson, the son of a football coach, has adopted the same approach Bill Parcells applied to rebuilding NFL franchises. With the benefits of the transfer portal, he had "his guys" to school their LSU teammates on attitude and expectations.
"The expectation is to win and that's the basic saying with Jay Johnson," Berry said. "He's going to put the people out on the field he trusts and I think that's come a long way from the first practice until now."
HEAVY IS THE HEAD…
While no one has crowned LSU just yet, pundits have noticed the plate production in the lineup. The Tigers enter the year as a unanimous top-10 team in the preseason polls — No. 4 by Perfect Game, No. 8 in DI Baseball and 10th by Baseball America.
Too much too soon? The thought has come up in the clubhouse.
Vanderbilt, last season's national runner-up, is a consensus pick at second nationally behind No. 1 Texas, who LSU plays in Houston on Mar. 5. Arkansas, the 2021 SEC West champion, and Mississippi State, who played in the College World Series, are also nestled in the top-10.
"This is LSU and that's just how it is here," Crews said. "We just go about our business and trust our preparation each day. Jay is the best at that. Expectations are always going to be there, but the only thing we can control is our effort and that's what really matters."
If LSU returns to Omaha after a four-year absence, it will be at the mound. Pitching was the key culprit in last season's regression. Ace Jaden Hill was injured during SEC play and never returned. By April, the staff had a combined 5.23 ERA and was off to their worst start since 1969.
Johnson has three weekend starting spots to fill. Ma'Khail Hilliard, a career reliever, grabbed the Sunday spot late last season. The pitching additions didn't stop with Collins and Cooper. LSU went portal shopping again for Eric Reyzelman (San Francisco) and Trey Shaffer (Southeastern Louisiana). Paul Gervase (Pittsburgh Community College) arrived from junior college.
Cooper made 29 appearances in 2021, including wins in the Regional and Super Regional.
"The only expectation I have in terms of what has to be impressed on the players is maximum effort preparing and executing," Johnson said. "With that being said, we don't have a player on our roster that has competed in a College World Series or played for a national championship. It's probably the first time in a long time that an LSU roster doesn't have a returning player that's played in Omaha.
"My job is to develop the team, which means developing the players, so my focus goes beyond just winning. I'm well aware of what the expectations are, but what we have to do is focus on the work needed to get there."
The only mystery left in the lineup is what position Berry plays. He has experience at first base and third base, but those slots are occupied by Morgan and Doughty. There is an opening in the outfield or the DH role, where Berry played at Arizona.
"Wherever Coach Johnson needs me, I'll fill that role," Berry said. "Obviously I hit pretty well and I think I can play defense just as well, so it'll be what is best for the team. We've bought into each other and worked extremely hard.
"Everybody is a little eager to get going and I'm just going to leave it at that."