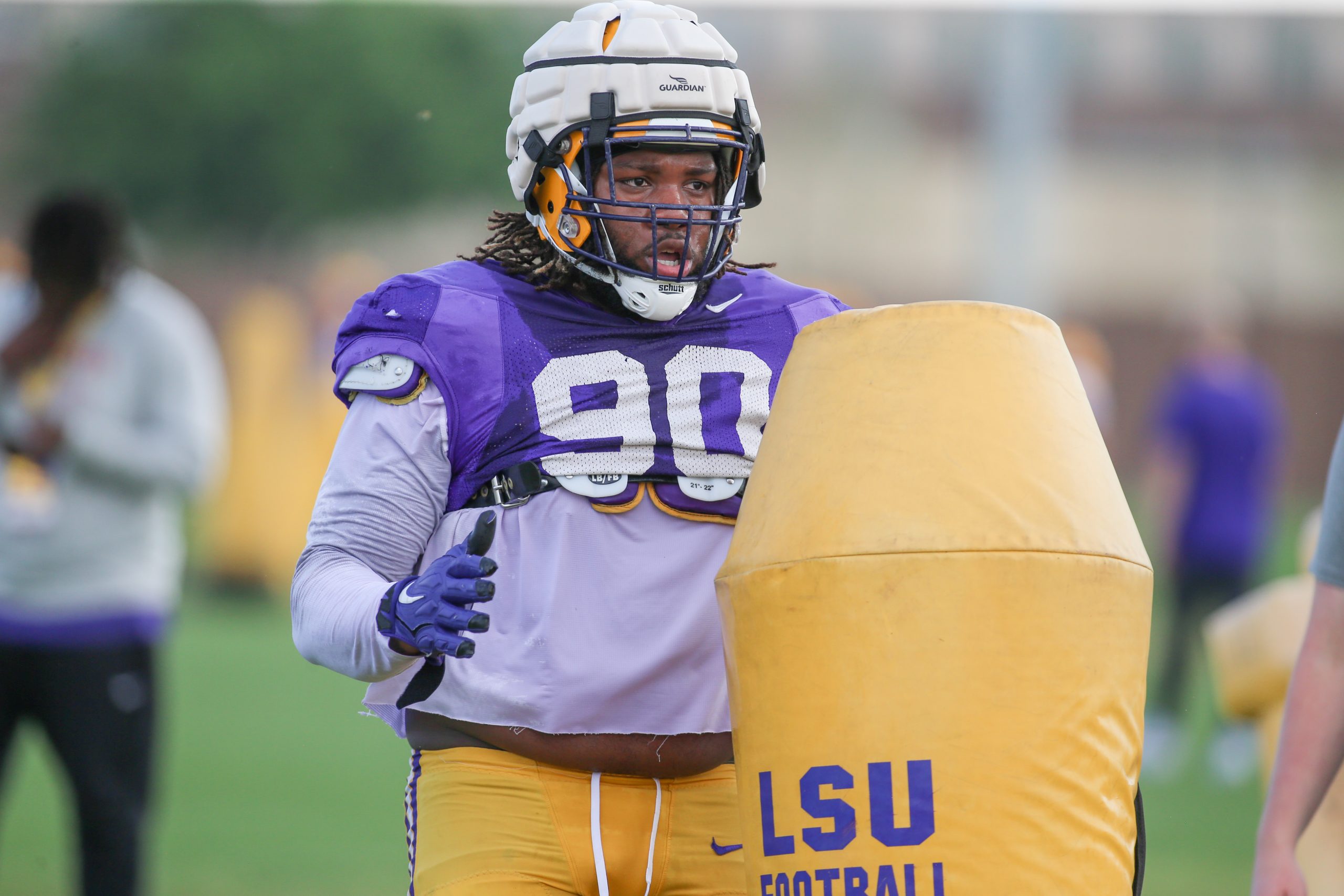 LSU's defensive line is far from complete as a unit heading into the third week of spring drills. But one of its returning members – one that's wise beyond his years – believes the Tigers have the makings of something special.
"With the group we have now, and with the group we've got coming in, I still expect us to be one of the best defensive lines in the country," said redshirt junior Jacobian Guillory after Saturday's practice.
The basis for Guillory's theory is that the current LSU defensive line is without returning third team All-America selection Mekhi Wingo and Maason Smith, who suffered a season-ending knee injury in the first quarter of last year's season opener against Florida State.
Second-year coach Brian Kelly made the interior line a priority in the transfer portal this past offseason, landing Jalen Lee of Florida, Jordan Jefferson of West Virginia, Paris Shand of Arizona, Bradyn Swinson of Oregon and Ovie Oghoufo of Texas.
All but Jefferson, who is injured, are available this spring at the tackle and end positions, where the Tigers are looking to rebuild after the departures of ends BJ Ojulari and Ali Gaye, along with tackle Jaquelin Roy.
"This is why you come to LSU," Guillory said. "Coming here, I already knew we were going to be deep at defensive line and I was going to have to wait my turn. I kind of got in there a little bit, but this year I'm trying to take that next step. This is what I've been waiting for.
"Being the oldest guy in the room is different," Guillory added. "I'm so used to letting everybody go first and then it's my turn. Now me and Sai'vion (Jones) are going first. I'm the old head in the room. I'm telling these boys to go. No hands on hips. We've got to finish the day."
With Smith's sudden exit from last year's defensive line, LSU was forced to make adjustments without ample depth.
Wingo, a Missouri transfer, was thrust into a starting role and played in all of his team's 14 games which ended with a 63-7 victory over Purdue in the Citrus Bowl. He wound up with 44 tackles, including six stops behind the line for minus-34 yards, to go with three sacks for minus-29 yards, five quarterback hurries, four pass break-ups, two fumble recoveries and a forced fumble.
Guillory, a former four-star recruit out of Alexandria High School, was also impacted by Smith's injury. He experienced an increase in playing time, seeing action in 14 games with 14 tackles and a quarterback hurry, but has increased expectations for this spring and 2023 season.
"Being more consistent," Guillory said of his conversations with defensive coordinator Matt House. "I've always known that I can do it. I had a conversation with coach Kelly, like he was loving the way I could put plays together, not just one play and I was tired after that. It's putting play after play after play and that's been my big focus. How can I be better this year for the team? To be able to play a 10-play drive. It might be hard and for me to take that next step and be consistent. That's my biggest thing this year."
The 6-foot-2, 320-pound Guillory arrived at LSU as the nation's ninth-best defensive tackle prospect and state's fifth-best player by Rivals.com. He understood that he had to wait his turn, seeing action in only one game in 2020, before increasing his playing time as part of the team's rotation at defensive tackle with nine tackles, 1 ½ tackles for loss in 11 games without a start.
"Before I got here, watching Rashard (Lawrence), getting here and watching Neil (Farrell), watching Jaquelin do it," Guillory said. "I've had so many teachers. Those are still my brothers, but they taught me so much. Sometimes we bumped heads. It's just them teaching how to be one of the best d-tackles on the field. That's what my goal is. Maason's got that goal, Jordan (Jefferson) has that goal, Sai'von's got that goal. We've all got that same goal to be the best defensive line out there."
Guillory said Smith plays a significant role in LSU achieving such distinction as the nation's top defensive line unit. Smith is expected to take part in individual drills but avoid contact this spring.
The sight of seeing Smith hobble off the Superdome turf and never to return was a jolt, a development Guillory has taken personally and has a greater purpose when he takes the field.
"To see him go down, in the back of my head this is for him," Guillory said of Smith. "I'm doing all of this for him. Even with him out there hurt, but still trying to do drills, I'm out here for him. That's my little brother. When he went down it really hurt. But on the sideline, you can't let that show. You've got to stay locked in. Last season was for Maason, now Maason's going to be a part of this. Now we're fixing to take this to another level.
The addition of Shand and Lee, a former Live Oak High standout, will not only provide LSU with experience but depth that should also factor in redshirt freshman Tygee Hill.
"Every day Paris and Jalen Lee are making strides to do it the right way," Guillory said. "I tell them it's the little stuff that will make the big stuff work. Each day they're making big strides so we can go in the right direction so we can be a big group and help each other.
"Even with the little bit we have now, I still think once we get back, I'm telling them boys we're going to be the best group in the country and I remind them of that every single day," Guillory added. "That's how I feel about the defensive line here."