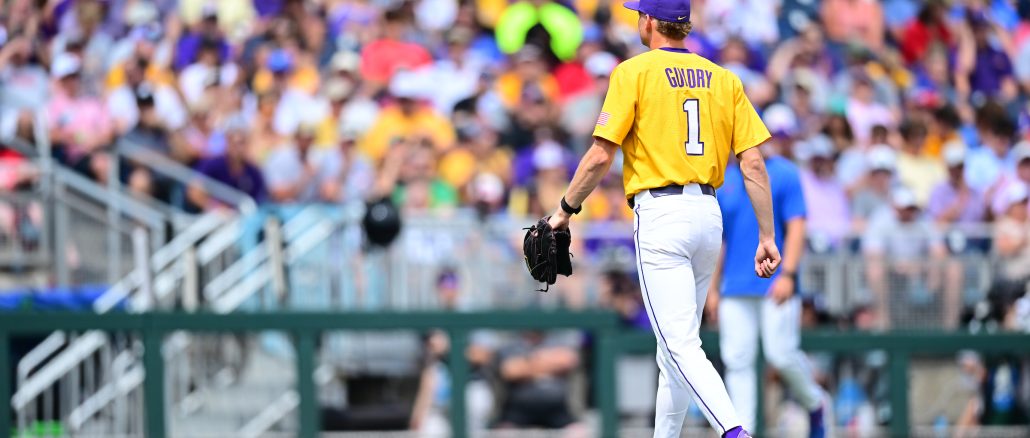 ---
There was nothing wrong with the start LSU experienced in Sunday's College World Series. Needing a game to sweep the best-of-three series from Florida, the Tigers established a 3-1 lead through two innings.
But it could have been so much more.
LSU left the bases loaded in both the first and second innings and instead of possibly building a substantial lead, the Tigers grabbed a two-run lead on Tre' Morgan's sacrifice fly to left field.
"We got off to a good start offensively," LSU baseball coach Jay Johnson said. "Did a nice job with (Florida starter Hurston) Waldrep. It would have been good to maybe get a two-out hit in either the first or second and put a little more pressure on them, but we didn't do that. You have to credit them. It was just an onslaught of at bats and barrels. They're a great team and played they great today."
Florida roared back in the top of third with six runs on four hits against two different pitchers, including a game-changing grand slam homer from right fielder Ty Evans, to take the lead for good en route to a 24-4 victory over LSU and to tie their CWS series and force a third and deciding game at 6 p.m. Monday for the national championship.
"We felt like we were in it the whole time," LSU junior center fielder Dylan Crews said. "We've made some pretty remarkable comebacks in our career. It is what it is. And the end of the day, you've just got move to on."
The Gators put together three consecutive singles against LSU starter Nate Ackenhausen and tied up the game at 3-3 when a defensive lapse cost the Tigers.
Ackenhausen pitched brilliantly in LSU's elimination game on Tuesday against Tennessee, allowing four hits in a career-high six innings. He didn't walk a batter and struck out seven.
The first four batters for the Gators safely reached base in their six-run third when Ackenhausen had the opportunity to get out of the inning with a 3-3 game.
Ackenhausen got the first out of the inning with a strikeout and appeared poised to get a potential double-play groundout when shortstop Jordan Thompson committed a fielding error that loaded the bases. Freshman Gavin Guidry struck out the first batter he faced for the second out until Evans hammered his first offering down the left-field line for a grand slam homer and 7-3 advantage.
That ignited a stretch of 23 unanswered runs scored by the Gators until Brayden Jobert's solo homer in the bottom of the ninth.
Ackenhausen (3-1) was charged with six runs (three earned) on five hits, one walk and five strikeouts.
Florida's emergence further magnified LSU's inability to drive in runners when the Tigers had the lead in the first two innings. Jobert bounded into an inning-ending double play in the first and Hayden Travinski hit into a fielder's choice after a nine-pitch at bat, resulting in Gavin Dugas being forced at third for the final out.
Even after Florida's onslaught, LSU loaded the bases with one out in the bottom of the third when Tommy White bounced into a double play to close the inning. The Gators turned three double plays and committed one error late in the game.
The second of those double plays, initiated by side-winding winning pitcher Blake Purnell (2-0), enabled the Gators to wipe out a lead-off walk to Morgan and Travinski hit into a fielder's choice after Cade Beloso drew a two-out walk.
"It was 7-3 in the fourth and we had the bases loaded and hit into a double play," Johnson said. "I felt we were fine there. Credit their relievers, they executed some pitches and made it hard on some guys for us that had been swinging the bats really well. That was a killer, the double play when the bases were loaded when it was 7-3.
"We still felt OK about it which is why we sent Gavin back out to the mound," Johnson said. "At 8-3, we went to Bryce (Collins) because he pitched well against them last year and it was largely the same lineup. He was good in his first inning (pitched around a lead-off single), but not his second (four runs on three hits) and it just kind of snowballed from there."
LSU's pitching staff, which had caught fire during the CWS, endured a difficult task in slowing down Florida's offense which registered 23 hits and hit six homers.
The Tigers turned to the following in relief after Ackenhausen: Guidry (1.2 innings, 2 hits, two runs, walk, 2 Ks), Collins (1.0 innings, 4 hits, 5 runs, strikeout), Blake Money (1.1 innings, 3 hits, 2 runs, 2 strikeouts), Christian Little (1.2 innings, 4 hits, 4 runs, two walks, strikeout) and Sam Dutton (1.0 innings, 5 hits, 5 runs, two walks, three strikeouts).
Moreover, LSU's defense was guilty of five errors with two by Thompson which led to five unearned runs. White, Travinski and Ethan Frey also committed errors. The Tigers had committed three errors in six prior games in the CWS.
"He's been our starter for two years and played very good shortstop this year," said Johnson, who doesn't plan to bench Thompson. "I think he came up too early, trying to do too much. They put some pressure on us with first and second and nobody out. On the second it's just a case of trying to do too much. Trying to wheel and back pick. I'm not really sure where he was throwing to be honest.
"I love Jordan," Johnson added. "We wouldn't be in the College World Series without Jordan and how he's played this year. He's had a tough tournament offensively but there's been a lot of stories in the College World Series of guys struggling and then get a big hit for you. Make a big play for you. I think he's a great candidate for that."