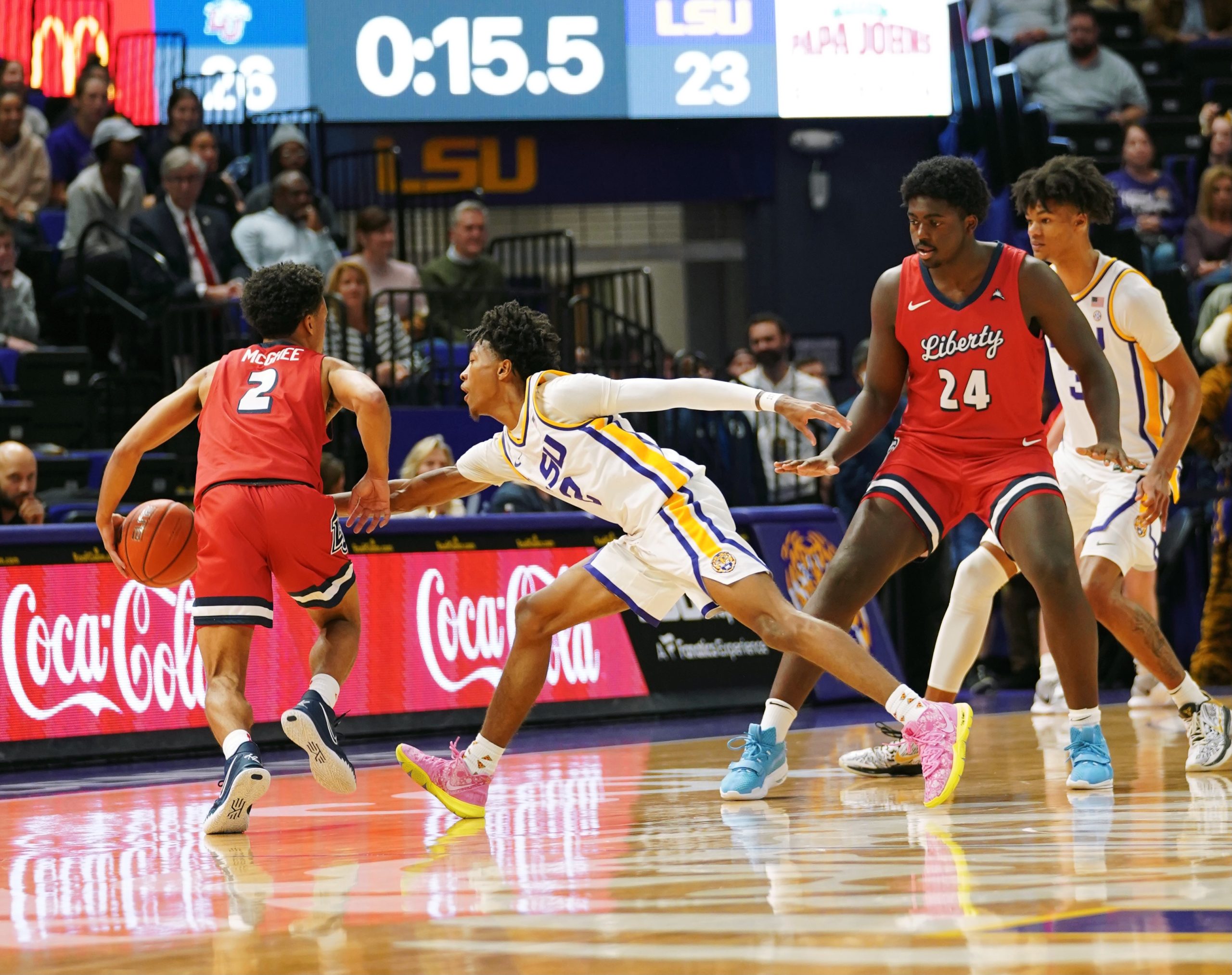 The calendar says it's dead center in the middle of November, but LSU and Liberty played a basketball game Monday night in the Pete Maravich Assembly Center that felt like full metal jacket March Madness.
"I told them (his team) it was like a first-round NCAA tournament game," said Tigers' coach Will Wade after LSU turned a five-point deficit with just more than seven minutes left to play into a runaway 74-58 win over the three-time defending ASUN regular season and league tournament champion Flames.
Just about the time when Liberty (1-1) hit four straight second-half 3-pointers on four consecutive possessions, the Tigers came alive on both ends of the floor.
And while LSU senior forward Darius Days will likely get credited for a large role in flipping the game back towards the Tigers after scoring 20 of his game-high 26 points in the second half, Days was happy to tell everyone in the postgame media conference why LSU won.
"Eric Gaines," Days said.
The Tigers' sophomore reserve point guard, who is at his very best when he's buzzing around the court like bothersome gnat who can't be shooed away, spearheaded LSU's 27-6 game-closing blitz . It came after the Tigers trailed 52-47 with 7:06 left following Wade's second technical foul in as many games.
Gaines lit the fuse on LSU's scoring burst that started with a 10-0 run keyed by him assisting Days and freshman guard Brandon Murray on consecutive 3-pointers, making two steals leading to five Days points (including the aforementioned 3-pointer) and sinking a pair of free throws himself.
Not only did he create chaos to work his teammates into a frenzy that finally took the high-disciplined Flames out of their patient offensive tempo, he handcuffed Liberty guard Darius McGhee.
McGhee, a senior who was named the 2021 ASUN Conference Player of the Year and won MVP honors in the league tournament, scored 13 points in the first half. It was half of Liberty's offensive output as the Flames took a 26-25 lead at halftime.
Part of the problem was McGhee consistently found mismatches against LSU's man-to-man defense that switched on-ball defenders when screened. Too many times after switches, the Tigers' 6-11 freshman center Efton Reid didn't have the quickness to stop McGhee's drives and couldn't reach McGhee on his high-arching stepback threes.
Wade solved that in the second half by putting Gaines, his man-to-man attack dog, on McGhee and having Gaines step around the top of the screen with no switch of Tigers' defenders.
McGhee finished with 22 points, but 4 of his 9 second half points were free throws as he made just 2 of 6 field goals after intermission including 1 of 3's. He didn't hit another field goal after his mid-range jumper gave Liberty a 45-38 lead with 11:53 left.
"Coach told us not to let him (McGhee) get the ball, so I did my best to faceguard him," said Gaines, who had 10 points, 3 assists and 5 steals of LSU's 16 steals. "Just deny him the ball."
Down the stretch in the Tigers' fiery finish to the final buzzer, LSU made 7 of 9 field goals including five 3-pointers. Three came from Days and 1 each from Murray and Reid, who finished with 13 points, 6 rebounds, 2 steals and 2 blocked shots despite being limited to 20 minutes because of foul trouble.
LSU's 56.7 percent second half field goal shooting helped the Tigers' finish at 45.8. Also, LSU's 17-10 second half rebound margin allowed the Tigers to be outrebounded by only one, 36-35.
But the most important numbers belonged to LSU's defense. In the second half, the Tigers had 10 steals, forced 11 turnovers, scored 13 points off turnovers and held Liberty to 42.9 percent from the field.
"We played so hard defensively," Wade said. "That's three straight teams we've held under 60 points. Eric Gaines' defensive intensity and his energy totally changed the game for us."
LSU plays again Thursday at home vs. McNeese State before getting in the last of its five-game home season opening stand next Monday against Belmont.