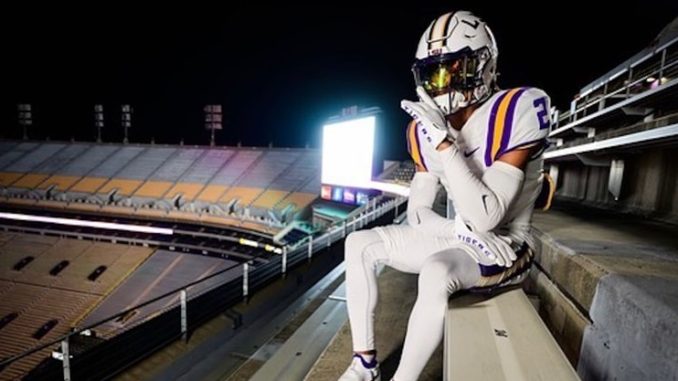 The fertile recruiting grounds of Texas paid off yet again in LSU's burgeoning Class of 2024.
The Tigers secured their 23rd commitment and fourth from a prospect in Texas on Friday with a pledge from four-star wide receiver Jelani Watkins of Houston-Klein Forest.
The 5-foot-10, 160-pound Watkins, also a standout in track who will take part in the sport at LSU, is originally from the New Orleans area before moving to Houston during his elementary school days.
"I really want to be able to run track and play football," Watkins told On3's The Bengal Tiger. "When I was at LSU, I was with (LSU wide receivers coach Cortez Hankton) and (LSU track-and-field coach Bennie Brazell), and we went over it all. They had made a schedule for me for both sports. They showed me how I could be with each team, so that was cool. I also got to watch the track team practice. I want to be able to run the 100-meter and 200-meter, and I could run the 4×4 if they needed me."
Watkins, the No. 105 overall player by ESPN, selected LSU over Texas, Texas A&M and Arkansas. He released a video on his social media account, filled with his high school highlights that ended with him committing to the Tigers that was complete with an LSU hat.
"For the next three to four years," Watkins said, "I'll be taking my talents to LSU."
Watkins, whose lead recruiter for LSU's staff is wide receivers coach Cortez Hankton, followed up an official visit to LSU with another trip to last week's 'Bayou Splash' recruiting event. Watkins' pledge gave the Tigers their fifth commitment over a two-week span and fourth from a wide receiver.
ESPN ranks Watkins the nation's No. 10 wide receiver and No. 19 prospect in Texas followed by 247Sports at No. 22 and No. 21, respectively.
LSU moved into 247's top 10 team rankings at No. 9 followed by No. 10 according to On3.
"It was a good official visit, for sure," Watkins told On3. "I had gotten to see some of my people, and being around the players again was cool. It was just good vibes from everybody. It feels like home when I go back."
Watkins caught 37 passes for 612 yards and 6 touchdowns last season Klein Forest. He joins a receiver group committed to LSU: Kylan Billiot of Terrebonne, Michael Turner of John Curtis and JoJo Stone of Fairburn, Georgia.
Watkins helped Klein Forest to its second straight Class 6A state track and field championship in the spring, successfully defending his title in the 200 meters with a time of 20.54 seconds. He had season's best times of 20.39 in the 200 and 10.33 in the 100 and also ran a leg on the 4×100 relay.
He was named the All-Greater Houston Athlete of the Year in track.