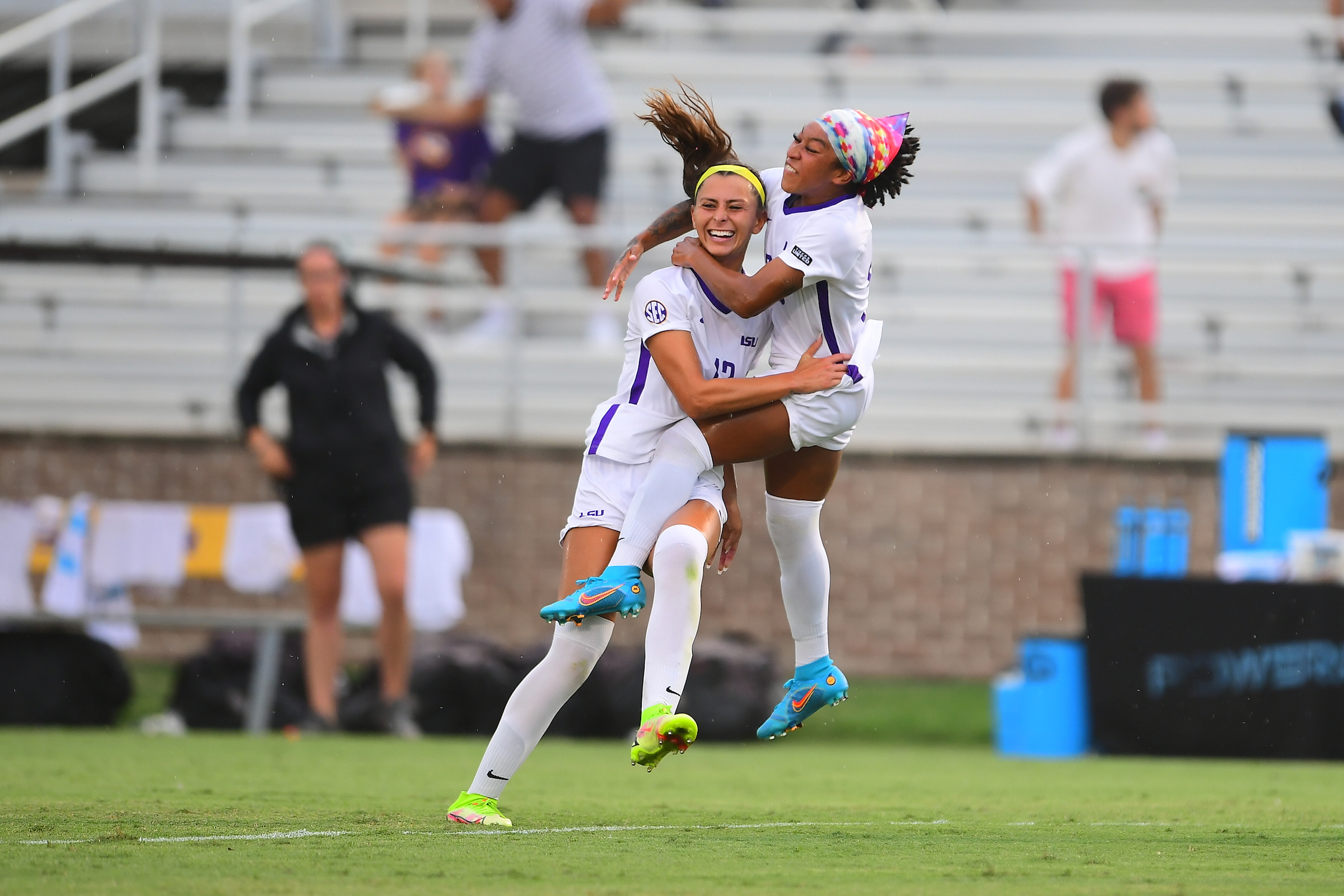 Junior forward Taylor Dobles delivered LSU's first brace – scoring the first and last goals of the game – in two years to lead the Tigers to a 5-0 victory Thursday over Stephen F. Austin in the season opener for both teams at LSU Soccer Stadium.
The Tigers, who enjoyed a healthy 25-1 advantage in shots and 12-1 edge in shots on goal, built a 2-0 halftime lead for third-year coach Sian Hudson and added three goals in the second half.
LSU's offense was backed a shutout from the goalkeeping combination of Mollee Swift and Bella Zanotelli.
It was largest margin of victory in an opening game for LSU since 2017, when the Tigers beat Mississippi Valley State 5-0.
"We're really pleased with the performance tonight from the team," Hudson said. "To win 5-0 in our first game is a great accomplishment. I'm proud of the players in terms of possession and ball movement. I think we wore them (Stephen F. Austin) down through the game and as they got tired, we were able to take advantage of that."
The Tigers used 24 players with only three of them (Shannon Cooke, Angelina Thoreson and Lindsi Jennings) getting more the 60 minutes on the field.
Dobles, who last scored during the 2020 season, gave LSU an early 1-0 lead when she took a pass from Rammie Noel, got past her defender inside the 18-yard box and unleashed a shot that not only beat another rushing defender but also sailed over leaping goalkeeper Lydia Sattler and into the far post netting at the 14:25 mark.
Sophomore Mollie Baker made it 2-0 with a one-time shot into an open net at the 29-minute mark. She took a perfectly placed ball from Thoreson between two defenders in the 6-yard box and easily scored.
Freshman Sage Glover gave LSU a 3-0 lead in the 46th minute when she headed in a loose ball that wasn't cleared by SFA's defense and deposited into the far, left corner of the goal.
The Tigers distanced themselves with a pair of goals in less than two minutes.
Jordan Johnson scored in the 75th minute following a deflection off the left post and Dobles completed her first multi-goal outing following a shot from Alesia Garcia that was not secured by SFA's Koral Hughes and rebounded into the far, right corner.
NEXT: LSU plays host to Central Florida at 1 p.m. Sunday.