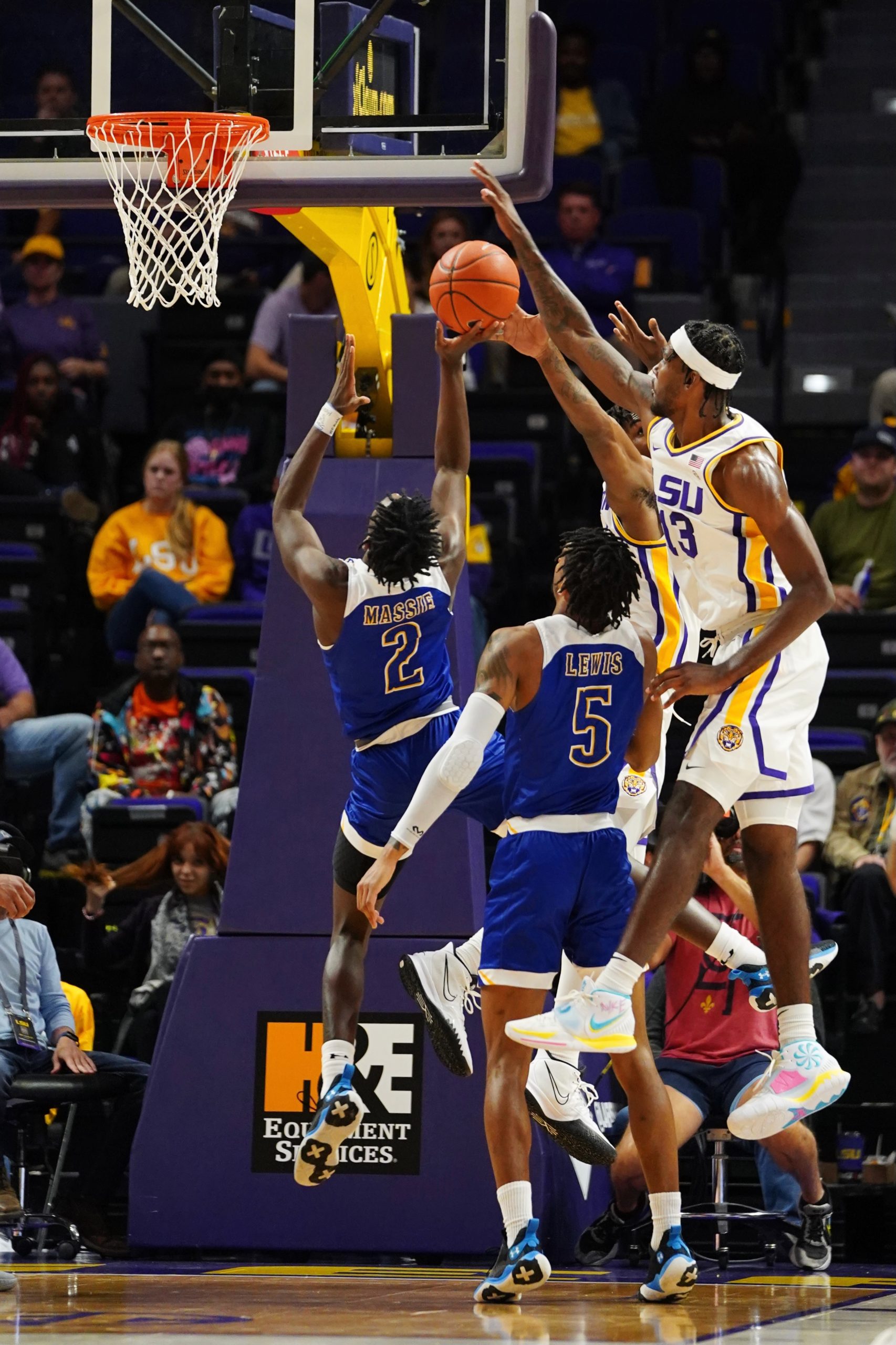 It took LSU men's basketball coach Will Wade five minutes of watching film after last season of then-Cincinnati freshman forward Tari Eason to know he wanted to immediately pluck him from the transfer portal.
"I was just stunned how talented he is," Wade said. "And now, everybody is getting to see it. He's just a workhorse who's very, very consistent. He's just scratching the surface on some things."
The 6-8 Eason had his third double-double off the bench for the 4-0 Tigers with 19 points and 14 rebounds in LSU's 85-46 runaway victory over McNeese State Thursday night in the Pete Maravich Assembly Center.
"If you watched me last year and you're watching me this year, you know it's kind of like night and day," said Eason, who averaged 7.3 points, 5.9 rebounds, 1.3 assists and 1.2 steals in 19.5 minutes mostly off the bench last year with Cincy as an All-AAC freshman team honoree. "I put in a lot of work in the gym over the summer. With that comes freedom to play my game and just do what I got to do."
What Eason does, along with freshman forward Alex Fudge and sophomore guard Eric Gaines, is provide an initial triple jolt off the bench for the Tigers when they are often substituted together usually with games four or five minutes old.
Against McNeese (1-3), LSU's defense caused seven Cowboys' turnovers in the first four minutes. But the Tigers led just 4-3 because they made just 2-of-9 shots.
Wade then tapped into some offensive juice when Eason, Fudge and Gaines entered with 15:41 left in the opening half.
Immediately, LSU had a 11-3 burst in just under 2½ minutes to build a 15-5 lead, featuring Fudge throwing down a dunk with his head almost even with the rim after catching a lob pass from starting point guard Xavier Pinson.
McNeese whittled the Tigers' margin back to five points before LSU found another gear scoring 19 consecutive points. Five different Tigers scored with Eason scoring 7 points ending the rally with a 3-pointer after he made a steal.
As a demonstration of LSU's versatility and depth, by the time the Tigers built a 24-point lead, Darius Days, who normally leads the team in scoring, had just 2 points.
"Tonight wasn't my night," said Days, who still finished with 14 points and 10 rebounds, "but we just have a lot of weapons who can come at you in a lot of different ways. It's just fun to see everybody chip in with a team win."
LSU dominated every stat category, led by a defense that had 17 steals and forced 27 McNeese turnovers leading to 33 points.
"They play hard, they are going to be really good," McNeese State coach John Aiken said of the Tigers. "What you saw out of them, 27 turnovers and 17 steals, that is what I hope we can eventually get to."
A key was LSU's ball pressure from Gaines and Pinson, who were absolutely lethal together when on the floor at the same time.
Gaines and Pinson combined for 15 points, 9 rebounds and 14 assists.
"I love playing two point guards together, I did it both years at VCU (where Wade coached before LSU)," Wade said. "The more ball-handlers you have on the court and more playmakers you have, the better. I can't have enough of them. I love playing like that."
The Tigers play their last of a season-opening five-game homestand vs. Belmont on Monday night at 7 p.m.