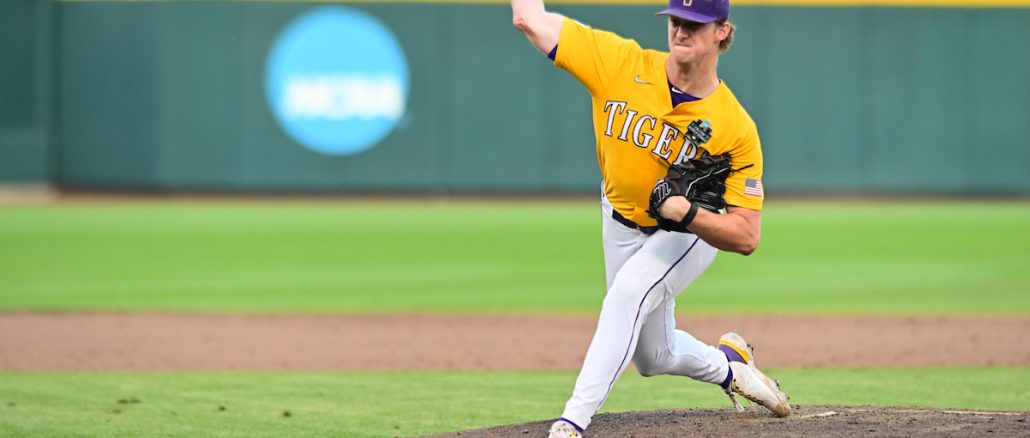 ---
A day before LSU was about to commence on the start of its 2023 season, second-year coach Jay Johnson was asked of the role UCLA transfer pitcher Thatcher Hurd would handle on this year's team.
Knowing that he was coming off a back injury that halted his first season, Johnson remained confident Hurd could have a significant part in either the Tigers starting rotation or bullpen.
"For us to be the best team we can be, he needs to go figure into that starting mix," Johnson said back in February. "Do I think the guy's going to start significant games this year? The answer is yes."
Fast-forward more than four months later and Hurd, a 6-foot-4 sophomore, found himself with the ball in his right hand with the opportunity Monday to lead LSU past Florida in a best-of-three series at Charles Schwab Field.
"You might be the most important recruit of my entire career," Johnson said of his recruiting pitch to Hurd last summer. "I knew what the other three (Dylan Crews, Cade Beloso, Jordan Thompson) on this stage were going to do, but to win a national championship and get to the NCAA Tournament, we needed aces and that's a real ace right there. He's one of the best pitchers in the country."

With immense speculation surrounding the availability of Dick Howser Trophy winner Paul Skenes and his potential for starting the final game, Hurd proved to be the man for the job. He allowed two runs on two hits in six innings to help LSU wallop Florida, 18-4, and capture the school's seventh national championship – a milestone the Tigers achieved without Skenes – the game's Most Outstanding Player – throwing a pitch in the three-game series.
Hurd didn't blink, even after falling behind 2-0 on a two-run homer by Wyatt Langford to left field in the bottom of the first. He silenced the potent Gator bats without a run or hit over his remaining five innings.
"That's the last game of the 2023 Tigers, we didn't have to get ourselves amped up," Hurd said of the team's motivation. "We knew what we were playing for. We played for that, we played for each other."
Hurd (8-3) walked two batters and struck out seven in his 90-pitch outing. It was his second win of the World Series, taking over in last Thursday's 0-0 elimination game against Wake Forest and pitched three scoreless innings with a walk and strikeout in a 2-0 win in 11 innings.
Hurd was terrific for the Tigers down the stretch with four wins in his last five outings. He had 34 strikeouts, 10 walks in 27.1 innings of work.
LSU's bats, which erupted for six runs and took a 6-2 lead in the top of the second, eased the burden on Hurd during his outing which was his longest since March 6 when he started and went six innings in a 12-2 victory over Butler.
The Tigers' momentum at the plate shifted to Hurd who promptly went out in the bottom of the second and retired Florida in order, including a pair of strikeouts of Luke Heyman and Tyler Shelnut.
Hurd was just getting warmed up. He put together an impressive stretch of retiring 10 consecutive batters from the third inning until a two-out walk to Josh Rivera in the sixth.
Florida had two runners on in the third with a walk to Langford and hit by pitch against Jac Caglianone when Hurd struck out Rivera looking at a 1-2 pitch to close the third.
"When the offense is producing like that my job is to get back in the dugout as quickly as possible and that feels suffocating for the other team," Hurd said. "I just had to tell myself don't give them an inch."
Shortstop-turned-second baseman Jordan Thompson snared a liner for the first out of the fourth, executing LSU's defensive shift, and Hurd got fly ball outs to Dylan Crews in center and Tommy White in foul ground at third.
Hurd set down Florida in order in the fifth with Thompson drifting into shallow left field for the first out and Hurd finished the inning with strikeouts of Colby Halter and Cade Kurland.
By that time the game's biggest subplot came to life when ESPN cameras caught Skenes under the stadium beginning to gear up for an anticipated appearance in the game.
Johnson said he believed that after his usual pre-game testing, Skenes would have been capable of giving LSU 30 pitches in the game. He felt the Tigers would have been better served to save him in the event the game turned tense in the latter stages.
"It became a decision of when do you use those 30 pitches? I felt like we would have given Florida a shot in the arm had I started him, thrown two innings and taken him out of the game," Johnson said. "I didn't want to do that. I felt like with a three-run lead in the eighth, and they see him trot out there, the psychological help for our team would have been enough to finish a close game."
With LSU's lead ballooning to 10-2 following a four-run fourth, the need to get Skenes in the game diminished, but the potential No. 1 draft choice in next month's Major League draft walked out to the team's bullpen to a standing ovation from Tigers faithful.
Hurd issued a two-out walk to Rivera when BT Riopelle lined out to Crews in center, his final batter of the game.
Johnson turned to World Series star Riley Cooper for an inning who allowed a run in the seventh, followed by an appearance from Gavin Guidry in the eighth and ninth, enabling Skenes to return to the team's dugout where he had a clearer path to the team's celebration on the infield.
"The three in the eighth, it felt like the wind was out of their sails and you could kind of see the pressing in some of their at bats," Johnson said. "We were able to keep piling up quick outs. After three innings, I didn't think we'd get Thatcher through six, but we started to separate there and made it 10-2 and we got a couple of quick innings. That made a huge difference.
"Riley had one inning in him and a 10-2 lead," Johnson added. "I felt like we could get a quick seventh and then there's Gavin and Paul's begging me to pitch the ninth. I'm like, 'absolutely not. If they get within five, we'll get you up and throwing."