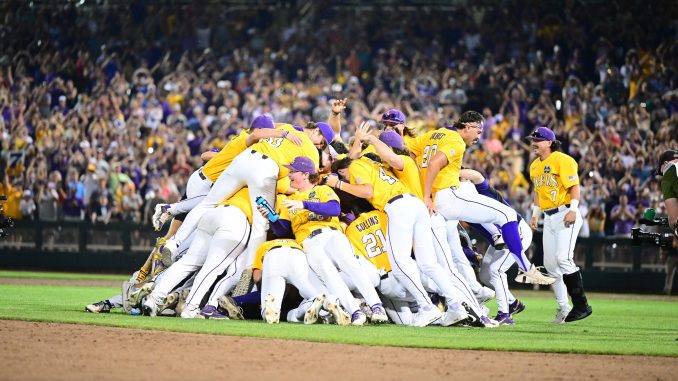 The return of LSU's baseball team to the College World Series for the first time in six years was met with record numbers.
Crowds at Charles Schwab Field in Omaha, Nebraska totaled a record 75,428 for the three-game championship series where LSU took a 18-4 victory Monday in the third and deciding game, claiming the school's seventh national championship.
The Tigers were also part of a record number of viewers across ESPN's platforms during the 16-day College World Series which averaged 1.65 million viewers – a 48% increase over 2022 – according to an ESPN release. It was the 31st championship event produced by the cable giant.
LSU capped its first trip to the CWS since 2017 with its first national championship since 2009. The Tigers won an extra-inning affair 4-3 in 11 innings on Saturday in part behind the 17-strikeout performance from Ty Floyd. Cade Beloso supplied the go-ahead run in the top of the 11th with a solo homer and Riley Cooper finished up for his third save of the CWS.
Florida evened the series with a 24-4 triumph on Sunday – recording a CWS record 23 hits – to force a winner-take-all game Monday.
LSU rallied from a 2-0 deficit with six runs in the bottom of the second, added four more in the fourth and never looked back. The Tigers eclipsed the Gators record with 24 hits, led by four-hit performances from Dylan Crews, Tommy White and Brayden Jobert and White and shortstop Jordan Thompson each drove in three runs.
The LSU-Florida series averaged a record-setting audience of 2.86 million viewers which was an increase of 75% from last year's two-game series.
The Tigers experienced a Game 1 viewership of 2.75 million – up 68% from a year ago – that made it the most-watched Game 1 final in ESPN history. Game 2 drew 2.25 million viewers – an increase of 38% over a year ago and finished at the second-most-watched Game 2 final ever by ESPN.
The Game 3 finale became the most-viewed CWS game by ESPN with an average of 3.58 million viewers which peaked at 4.2 million.