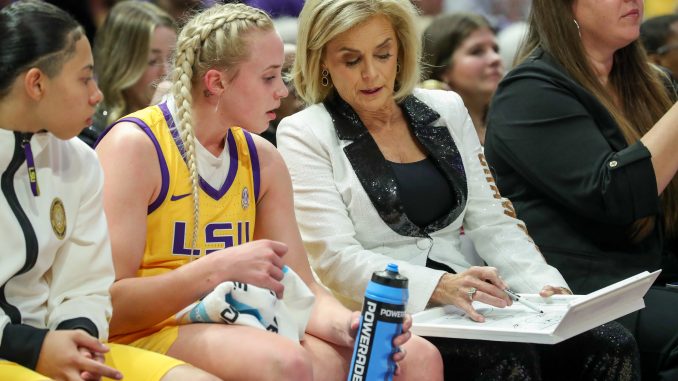 During her acceptance speech two years into the Naismith Basketball Hall of Fame, Kim Mulkey referenced her journey from her tiny hometown of Tickfaw (population 647) to find herself among some of game's true giants.
Even though she was born in Santa Ana, California there's no disputing her roots after Mulkey and her family moved to rural Tangipahoa Parish. She went on to become a youth baseball and basketball star in Hammond, leading her high school to a 136-5 record and four state championships between 1977-80.
The four-time NCAA national championship coach even has a road named in her honor – Kim Mulkey Drive – in her hometown and it's those childhood memories that will converge when she brings No. 7 LSU (3-1) to visit Southeastern Louisiana (2-1) at 7 p.m. Friday at the University Center in Hammond.
The game in the 41-year-old 7,500-seat arena is sold out. The game will be streamed by ESPN + and can be heard locally over 107.3-FM.
"I have classmates and people from there asking me if I could help them get tickets," Mulkey said during a press conference Thursday. "It will be good for the game. It will be good for Southeastern. It will be good for LSU. That's more important than me. My mom (Dru) won't have to travel far."
This will actually mark the second time in her 24-year head coaching career that Mulkey will bring a team to Hammond to face Southeastern. During her second season at Baylor, Mulkey's team defeated the Lions, 70-55, on Dec. 2, 2002.
"Four state championships. Who could ever forget that," Mulkey said of playing for Hammond High. "I would imagine when we pull up, I'm going to start seeing some of my old classrooms. Wonderful memories. That's my hometown. That's where I grew up. I'll see lots of family and friends."
Mulkey saw enough of Southeastern last season during her team's national championship season to give her a bit of apprehension to return the game.
The Lions, who earned the school's first NCAA Tournament bid under coach Ayla Guzzardo, trailed the Tigers 56-52 with 5:21 left in the game before homestanding LSU went on a 7-0 run to open some breathing room and went on to a 63-55 hard-fought victory.
During LSU's opening 23-game win streak to open the 2022-23 season, the game with SLU represented the team's closest margin of victory in nonconference play and one of six wins that were under double digits.
"Coach Guzzardo called me, and they wanted me to come, they wanted to see the place out," Mulkey said. "And I said, 'After you almost beat me here last year'? In response, I was also bragging on her team. I'm so proud of her. I know her family."
Guzzardo, now in her sixth season, led SLU to a 21-10 record last season which included the championship of the Southland Conference tournament. That qualified the Lions for their first NCAA Tournament, losing at eventual NCAA runner-up Iowa, 95-43.
The Lions return their top two scorers from a year ago in 5-foot-10 senior guard Hailey Giaratano (12.2), a cousin of Mulkey, and 5-9 senior guard Alexius Horne (12-0), who finished her high school career at Denham Springs.
This season SLU sandwiched blowout wins over Millsaps (61-30) and Southern-New Orleans (90-30) with a 67-46 road loss against Mississippi State.

"You're going to see a well-coached team," Mulkey said. "They're athletic. They have athleticism, pretty much at all positions. They have NCAA experience. They're confident. This may be the largest crowd in the history of that building. That has to be exciting for them. That's their home court. I think it's going to be a tremendous challenge for us. I know we have the utmost respect for them because of what happened here last year."
LSU, which is 37-12 all-time versus SLU, is led by freshman guard Mikaylah Williams who scored a career-high 42 points in Tuesday's 107-79 victory over Kent State.
Williams leads a team averaging 102 points per game with a 22-point average on 62.3% shooting from the field. First team junior All-American Angel Reese, who did not play in the second half of Tuesday's game, averages a double-double with 17 points and 10.3 rebounds followed by sophomore Sa'Myah Smith (16.8 points, 8.8 rebounds), junior Aneesah Morrow (13.3) and graduate point guard Hailey Van Lith (10.8, 5.3 assists).
"Obviously, it means a great deal to me. That's home," Mulkey said. "My high school that I graduated from; you could throw a rock from that arena to the gym where I scored all of those points. It will be emotional for me, but not more emotional with what we have to do to win a basketball game."