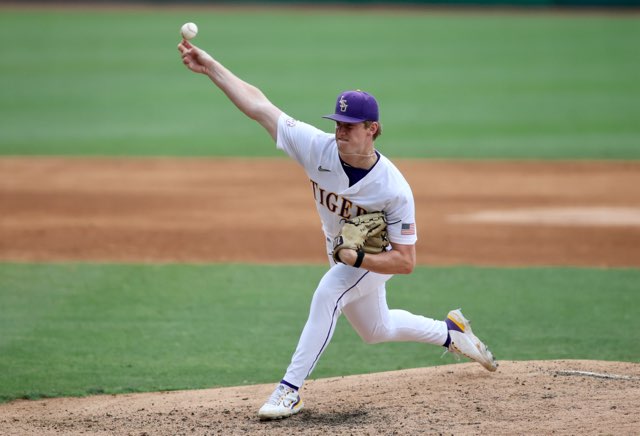 Three hours after LSU starting pitcher Ty Floyd departed with a one-run deficit against Oregon State, the Tigers turned to reliever Thatcher Hurd in a time of need.
The Tigers needed someone steady out of the bullpen to keep the visiting Beavers offense within arm's reach, a prospect that became increasingly challenging throughout Sunday's NCAA Regional at Alex Box Stadium.

Hurd provided exactly what LSU needed, a bend-but-don't-break mentality, and the Tigers backed their winning pitcher with five home runs to remain undefeated in a tense 6-5 victory to reach Monday's NCAA Regional Championship game.
Hurd (6-2) picked up his third straight victory, the second in relief, with a five-inning outing filled with plenty of ebbs and flows. He allowed four runs on seven hits with three walks but increased his level of performance in the latter stages of the game and equaled his career best with 12 strikeouts.
"Thatcher came out and gave us a brilliant performance with 12 strikeouts," LSU baseball coach Jay Johnson said. "He was the best pitcher in the country tonight."
By that time LSU snapped a 5-all tie in the bottom of the eighth on Brayden Jobert's solo homer to center and the Tigers turned over the ninth to Gavin Guidry for his second save. Guidry allowed a one-out single and had the potential tying run at second when pinch-hitter Tyce Peterson struck out swinging to end the game.
LSU's pitching combined for 19 strikeouts, allowed 13 hits and stranded 13 runners.
"I knew with the delay there was a chance as soon as I heard that, before any coaches told me. I was getting mentally prepared to go in," Hurd said. "So, when they told me I was pretty excited, I was very excited to get the ball and so I was just gonna be ready to start started back up until they told me I wasn't."
Floyd fell behind in the top of the third on Travis Bazzana's solo homer. The Beavers retained their one-run lead when inclement weather and lightning resulted in a three-hour delay and forced Floyd from the game after throwing 43 of 71 pitches for strikes. He yielded five hits, walked two and struck out five.
Hurd made his postseason debut with a 5-2 record and 6.41 earned run average. It was his 20th appearance of the season, his 10th in relief, but this represented his first postseason outing after his freshman season at UCLA was cut short last season by a back injury following an April 3 outing against Oregon.
Hurd quickly watched the one-run deficit he inherited balloon to a 3-0 following a solo homer to Brady Kasper and an infield single that resulted in another run in his first inning – the top of the fourth.
LSU's big bats came to life in the bottom half of the inning. After Josh Pearson tripled with one out, Dylan Crews launched his 16th homer of the season and drew the Tigers to within a run, 3-2.
LSU took a 5-3 lead in the sixth on consecutive homers from Hayden Travinski and Cade Beloso in the fifth and Pearson's solo shot in the sixth.
Oregon State tied the game in the seventh on Gavin Turley's massive two-run homer to center field when Hurd responded with consecutive strikeouts of Tanner Smith and Kyle Dernedde to end the inning.
"It's one pitch at a time," Hurd said. "I think I've grown from my outings good or bad and flush them the next day and just get back to work."
Hurd retired OSU in the eighth on three strikeouts and Jobert led off the bottom half of the frame with a solo homer that turned out to be the game-winner in support of Hurd's winning effort.
"Not only did we need outs, but we needed length," Johnson said of Hurd. "I didn't think they were picking him up. That was a great swing by Turley obviously. The rest of them (hits) were kind of scattered, even the first homer."