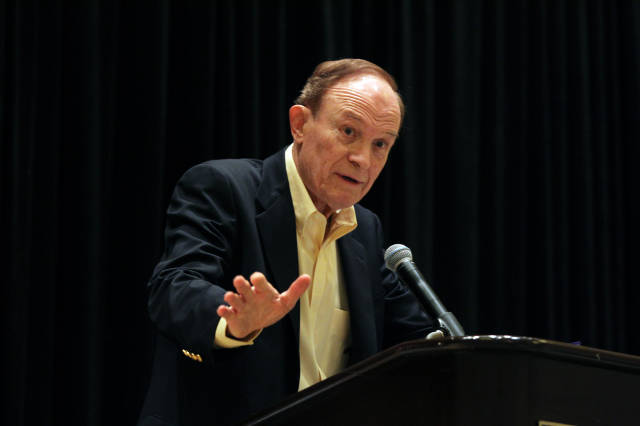 Dale Brown turned 84 Thursday.
There may not be a more appropriate Halloween Day birthday than Brown, who had an abundance of tricks and treats in his 25 years as LSU's iconic basketball coach.
By the way, there's no need to buy him a gift.
The NCAA gave him one Tuesday when it approved a proposal to allow college athletes starting in January 2021 to profit from their name, image and likeness "in a manner consistent with the collegiate model."
Translated, "in a manner consistent with the collegiate model" probably means the NCAA will want a cut of the cash.
Nevertheless for a man who spent a lifetime railing against the NCAA's "lack of human decency," it was a major victory at last.
Starting in September 1983, Brown wrote 1,200 letters in a five-month span to NCAA school presidents, chancellors, athletic directors, faculty reps, head football and basketball coaches, Division 1 conference commissioners and NCAA staff.
"I made recommendations to change 43 rules," Brown said. "I was looked at as a maverick. Now, 32 of those 43 have been changed."
That's 74.4 percent, which is likely better than the free throw shooting accuracy of some of Brown's teams.
Brown, whose program was hit with NCAA sanctions at the end of his career for his recruitment of Lester Earl (Earl admitted in 2007 he was pressured by the NCAA to lie about Brown or lose years of eligibility), has been a consistent proponent of college athletes getting a piece of the financial pie.
"The NCAA didn't seem to know how poor people were," Brown said.
Brown has numerous examples, but one close to home involves Van Gilmore, a Brown family friend who attended LSU road games during Brown's years as the Tigers' coach.
Gilmore recently told Brown something he never knew that illustrates many athletes come from economic backgrounds that don't have the luxury of extra spending money.
"Van was on one of our road trips and the flight got held up four hours, " Brown said. "He hadn't eaten breakfast before he left, so he was hungry. He was sitting with Shaquille O'Neal, who was then a freshman.
"He asked Shaq if he was hungry. Shaq said he was "starving", so Van and Shaq went over to the pizza place in this airport. Van ordered this huge piece, sat down and Shaquille didn't order anything. When Van asked him why, Shaq said he didn't have any money.
"Van told him, 'I'll buy you a piece, just don't tell Coach Brown.' When Van finally told me this story, I told him 'I would have let you buy him the whole damn pizza.'"
The irony of this all these years later is O'Neal, who retired in June 2011 after a 19-year Naismith Hall of Fame NBA career and who has a current net worth of $400 million, is an investor, spokesman and a member on the Papa's John's pizza chain Board of Directors.
In his heyday, Brown's verbal full court press against the NCAA was relentless to the point one of LSU's chancellors asked him to dial it back.
"He was real nice," Brown recalled. "He called me and asked, `Coach, can you kind of lower your rhetoric a little bit with the NCAA? They're going to come in and investigate the football program and everybody else. You're kind of agitating them.'
"I didn't agree to it. I just thanked him for his call."
About a week later, Sports Illustrated visited Brown to write a story.
"The writer's final question was 'Just in a nutshell, how would you describe the NCAA organization?'" Brown said. "I replied, 'A bunch of gestapo bastards.'
"That was printed obviously. The Chancellor never called me again to lower my rhetoric. I think he feared I'd get worse."
Brown understands providing athletes financial compensation won't quit being a hot button issue. The NCAA's approval earlier this week was only done because the state of California passed a bill in late September that would starting in January 2023 prohibit athletes at their schools from being punished for accepting endorsement money.
The NCAA has given itself more than a year to figure out the parameters. The questions are never ending. Will there be a cap on how much an athlete can earn? Will schools use this in recruiting? How will coaches quell the in-house jealously on a team when a select few players are raking in all of the endorsement cash?
Most of the time when the NCAA passes legislation, it's the start of a growth process that fine tunes the rule. Or in this case, it may eventually lead to more expansive legislation such as all scholarship athletes in every sport being paid the same amount annually by their schools.
If that happens, it could be that the schools in the Power 5 Conferences — the SEC, ACC, Big Ten, Big 12 and Pac 12 — that have the biggest budgets and cash flow force the NCAA to create an elite division for them.
In any case, the NCAA started the ball rolling downhill and no one knows what it will run over along the way or when it will finally stop. But as far as Brown is concerned, the ball needs to keep going and going and going.
"They've made significant changes," Brown said of the NCAA. "They've come a million miles, but they've got light years to go. Light travels 186,000 miles a second, so. . ."
"